RAID Data Recovery
Whether you're a small business owner with a small network attached storage (NAS) device or part of a corporate IT team taking care of a massive enterprise-class servers, you're bound to experience a RAID crash eventually and we are here for you.
When you can't get that data back on your own, you can rely on the experts at Gillware for help. For especially mission-critical business data, our expedited emergency RAID data recovery services can get your business back up and running in no time at all.
Our RAID experts have more than 10,000 hours of data recovery experience in our lab. Using advanced engineering techniques, we can recover data from RAIDs large and small, from three- or four-drive NAS devices to SAN devices with dozens of hard drives.
Gillware Offers RAID Data Recovery from the Following Array Types:
What Is RAID Data Recovery?
RAID data recovery is the process of salvaging data from a RAID array, like the kind used in your server or NAS device. There are many different RAID configurations, all with their own advantages and disadvantages. When your server's RAID array fails–typically due to multiple hard disk drive failures overwhelming its fault tolerance–you will need to turn to skilled computer scientists who can repair the damaged hardware and carefully piece your RAID array back together.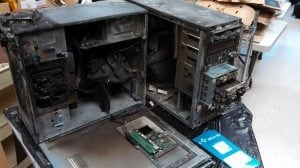 RAID Server Data Recovery
Occasionally, the type of server your business used has an effect on how your crashed RAID array has to be rebuilt. Gillware's experts are well-acquainted with all brands and models of NAS devices and servers by all major manufacturers, such as Synology, Dell, HP, IBM,  XenServer, SnapServer, Buffalo, Drobo, and FreeNAS.
Below are a few case studies covering some popular RAID data loss scenarios:
View and Download Gillware's Free RAID Infographic
Gillware's comprehensive RAID infographic contains information on all common RAID setups and their points of failure. Never let your RAID lull you into a false sense of security again!