Dell Server Data Recovery Services
Dell has become the world leader in the enterprise server industry.
In the fourth quarter of 2018, Dell owned 18.7% of the server market globally. This was a 1.2% increase from the year before. This equates to $4.43 billion in revenue from the sale of servers, a 20% increase for the same quarter the year before.
What this all means is that there are a good number of Dell servers out in the world and like any other electronic device, they can fail. While Gillware doesn't specialize in network issues servers may have or even broken fans, we are the world leader in recovering data from hard drives, which are the heart and soul of any server.
Servers are usually the "heart" of a company's infrastructure, containing proprietary company data, payroll and accounting, employee files, and other critical data.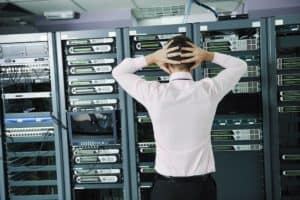 Not having access to this data can bring a company to a screaming halt, which is never a good thing.
Gillware has performed thousands of recoveries from hard drives coming from Dell servers, deftly handling issues like deleted LUNs, ransomware, failed rebuilds, "foreign configuration" error, and much more. Our engineers are at the forefront of RAID and virtualization recovery methods, and can get your data back to you so you can be up and running as quickly as possible.
Below you will find some of the more popular servers Dell offers. Click on the buttons below each server to learn more about data loss situations we have encountered as well as some common error codes you may come across with your Dell server.

Talk to a Dell Server Data Recovery Expert Today!
If you would like to contact us to receive a no-pressure consultation, click the button below. This will take you to a page with our phone number and email. This page also provides you with the option to schedule an appointment with a Client Advisor at a later time or date, or chat with them online.

Our client advisors are available by phone during business hours (M – F: 8am – 7pm; Sat: 10am – 3pm).

Send us an email including the type of device you have and the problem you are experiencing. A client advisor will respond within 25 minutes during business hours (M – F: 8am – 7pm; Sat: 10am – 3pm).

Have a quick question about the data recovery process? Use our chat feature to chat with one of our client advisors (not a robot!) during business hours (M – F: 8am – 7pm; Sat: 10am – 3pm).
Click here to chat!

Want to schedule a call for a time that is convenient for you? Click the button above to schedule a brief consultation with one of our client advisors.
Click here to schedule a call
Looking to get data recovered from a different device? Click HERE to see a list of our other services.
Click the button below if you would like to send in your device. Sending in your device is financially risk-free. You will be asked to fill out a short form. Once you have completed the form, we will send a shipping label to the address provided. After we receive your device, we will begin a free evaluation and contact you with a firm price quote.