Drobo was founded in 2005 (as Data Robotics) with a mission of creating innovative storage solutions for storage intensive consumers and small to medium sized businesses (SMB). Drobo offers a number of enterprise grade storage solutions.
Drobo storage products have seen tremendous success in many industries and for a number of purposes. Not only do Drobo storage solutions provide a user friendly interface for expansive storage requirements, but Drobo appliances are also a cost effective solution for advanced storage needs.
What is Drobo?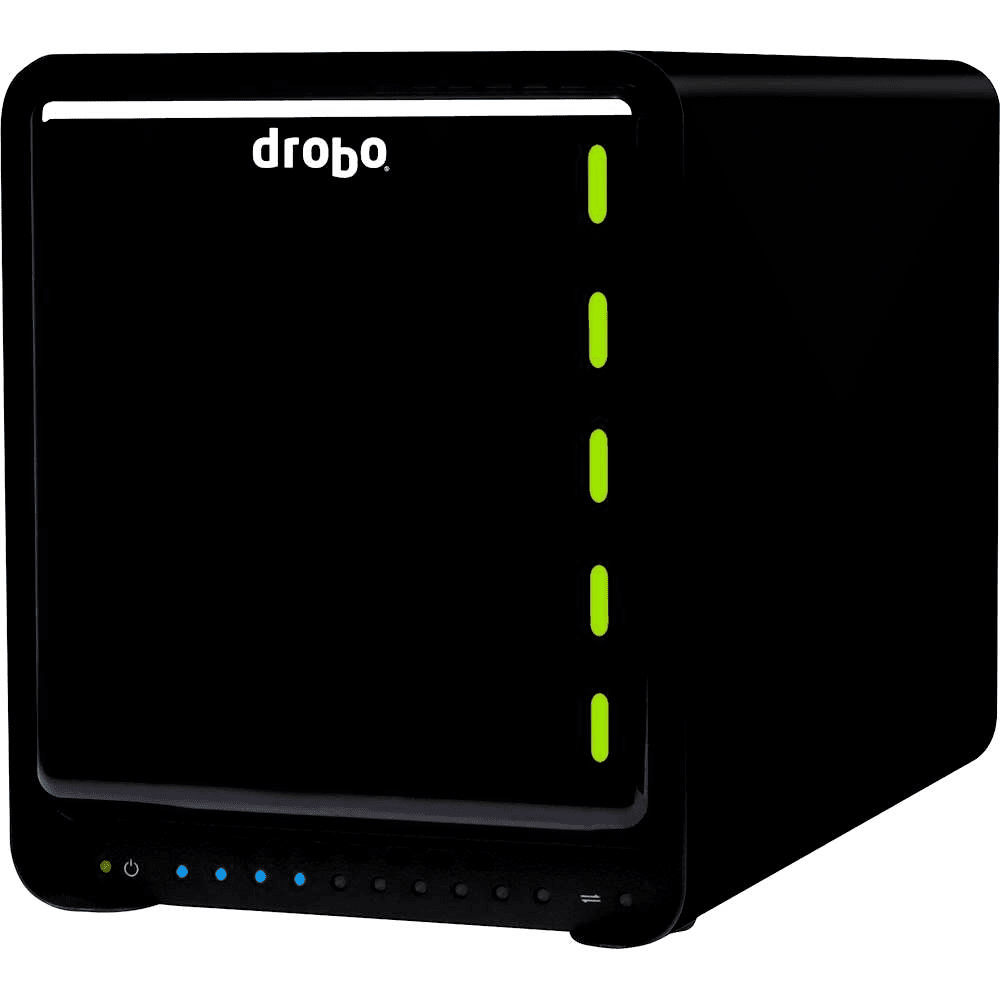 Government organizations often have an increased need for regulatory compliance. Educational institutions often need to store administrative data, research papers, primary sources, or even large scientific data sets. When a small business starts to grow, the last thing the proprietor needs is to begin managing a complicated storage infrastructure. Drobo BeyondRAID storage appliances are a solution to each of these scenarios.
A wide variety of professional and amateur photographers have also made use of the various Drobo storage appliances. With the spectacular technological improvements in DSLR photography, an individual photo can reach over 25Mb. Both professional and amateur photographers can take tens to hundreds of thousands of photos in a year. This means that photographers will often need several terabytes of storage capacity. Whether your photography business is based on weddings, graduations, or wildlife, if you utilize a Drobo storage appliance, you can focus on your work.
What is RAID?
RAID is an acronym for redundant array of independent (or inexpensive) disks.
In 1987, computer scientists at the University of California at Berkeley theorized that a redundant array of average independent disks could outperform a single high-performance hard drive. Over the past 35 years, through continuous advancements in hardware, software, and firmware, as well as collaborative efforts by top engineers in the field, RAID storage has evolved into a versatile enterprise data storage solution, catering to the diverse needs of modern businesses.
RAID systems are primarily designed with data redundancy in mind. For instance, if a business stores client data on a single 1TB hard drive and that hard drive fails, the consequences could be disastrous. However, with a RAID 1 storage solution, data mirroring ensures that there are always two copies of your data, providing increased fault tolerance. One of the main benefits of RAID is this enhanced data protection, but cost can be a limiting factor for small businesses interested in RAID technology, as they would need two 1TB hard drives for equivalent storage in a RAID 1 array.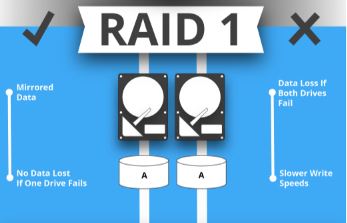 RAID 1 ensures that there are always two copies of your data, providing enhanced fault tolerance—one of its primary advantages. However, the cost may pose a challenge for small businesses considering RAID technology, as they would require two 1TB hard drives to achieve the same storage capacity as a single drive in a RAID 1 array.
Traditional RAID storage solutions often require a system administrator with technical expertise. While storage virtualization may not be rocket science, it's not something the average computer user can handle. Drobo's proprietary system, BeyondRAID, aims to change that by simplifying the process and making RAID technology more accessible.
BeyondRAID: The Future of Storage
Experience the Next-Gen Storage Solution: BeyondRAID
As storage demands grow, traditional RAID solutions may not be enough. Enter BeyondRAID, a cutting-edge storage technology that outshines its predecessors. With its unique approach to data storage, Drobo's BeyondRAID simplifies the complexities of traditional RAID systems and offers unparalleled advantages.
Advantages of BeyondRAID:
Simplicity: BeyondRAID's user-friendly interface makes RAID technology accessible even to those without technical expertise.
Instant Expansion: Need more storage? BeyondRAID allows for seamless expansion without disrupting your workflow.
Hot-Swapping: Swap out hard drives without powering down your system, ensuring minimal downtime and maximum productivity.
Expert Drobo Data Recovery Solutions at Your Fingertips
Like any storage system, Drobo devices can sometimes fail. Common causes include:
Firmware corruption
Hardware malfunctions
Human error
When facing Drobo storage device failures, trust Gillware's proven expertise in data recovery. Our skilled engineers possess extensive experience in recovering critical data from Drobo devices, ensuring your peace of mind during the recovery process.
Gillware's Drobo Recovery Breakthrough
Revolutionizing Drobo Data Recovery with Cutting-Edge Techniques
At Gillware, we're always striving for excellence. Our engineers have recently developed a groundbreaking technique for data retrieval via the serial COM port for external Drobo storage devices. This innovative method brings several benefits for our clients:
Increased Speed: Recover your data faster with our advanced recovery techniques.
Higher Success Rate: Our state-of-the-art approach enhances the likelihood of successful BeyondRAID recovery.
Choose Gillware for all your Drobo data recovery needs and experience the advantages of our breakthrough recovery techniques.
Failed Drobo Storage? Having trouble with your BeyondRAID?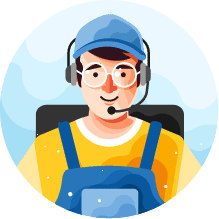 In Conclusion: Trust Gillware for All Your Drobo Data Recovery Needs
As storage demands continue to grow, BeyondRAID offers a powerful and user-friendly solution for businesses and individuals alike. Drobo storage devices provide a seamless and cost-effective way to manage your expanding storage needs without requiring extensive technical knowledge. However, like any storage system, Drobo devices can sometimes encounter issues that may result in data loss.
At Gillware, we understand the importance of your data and the need for reliable, efficient, and professional data recovery solutions. Our team of expert engineers has extensive experience and a proven track record in Drobo data recovery, ensuring that your valuable information is in safe hands. With our breakthrough recovery techniques, we offer increased speed and a higher success rate for all your Drobo storage device recovery needs.
Choose Gillware as your trusted partner for Drobo data recovery and experience the difference our cutting-edge techniques and unparalleled customer service can make. Don't leave your valuable data to chance—reach out to Gillware today for all your Drobo storage and BeyondRAID data recovery requirements.