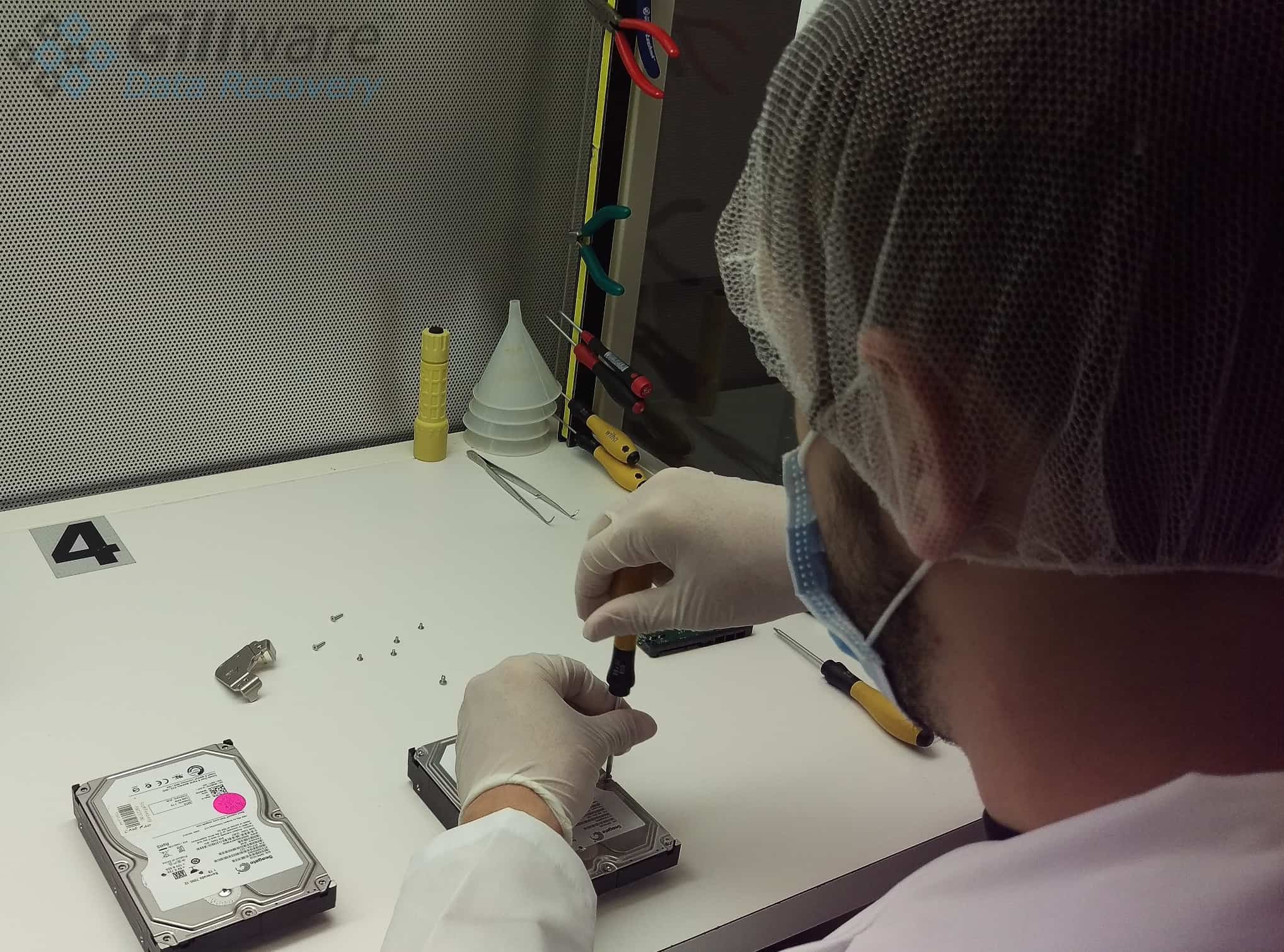 Gillware has been providing hard disk drive data recovery services for close to 20 years. Our leading team of professional services and data recovery engineers have years of experience and tens of thousands of hours logged in our labs and clean rooms, and many of our engineers have been with us since Gillware was founded back in 2004.
No one likes to lose data, and our top priority is to get our clients their data back; it's that simple. We exist to recover data. Hard drive recovery is a significant part of our day-to-day business operations, and our success rates for hard drive recovery are around 96%.
The Gillware data lab and clean rooms are located in Madison, Wisconsin. This lab is the central hub for all of our hard disk drive data recovery activities.
Why Trust Gillware with Hard Drive Recovery?
Our driving principles are exemplary customer service backed by leading technical ability. Our express data recovery options are extremely popular with our business clients; if you have a data recovery emergency, this service is exactly what you'll need for ludicrously quick recovery turnarounds. Our "No Data, No Fee" guarantee, free consultation service, and free inbound shipping are just 3 other reasons to make Gillware your next choice for hard drive recovery.
Our data recovery service costs are the most competitive in the industry, but we don't cut corners to get the price down – you get an expert, secure data recovery service from the best in the industry.
Recover Data: It's What We Do
Our Data Recovery Engineers are the heart of our company, and together with our data scientists, we have devised a seamless recovery process for any data storage device. No matter the hard drive format or the nature of the incident surrounding the data loss – perhaps you have accidentally deleted files, or you are recovering from a system crash – if you need to recover hard drive data, Gillware hard drive recovery services are here to help!
The team has seen just about every conceivable scenario for data recovery, lost data, and lost files. We also offer an option for hard disk recovery software – you can engage us for a quote for hard drive recovery services if our hard drive recovery software is unable to fix your data loss problem. Gillware is a professional hard drive data recovery company, and our hard disk recovery service uses proprietary in-house software and R&D toolsets only found at Gillware!
Some of our greatest successes have been recovering data from property ravaged by fire or flood or from business-critical storage systems that were logically destroyed, scenarios that any other data recovery company would have deemed impossible to recover.
You might be tempted to look into a DIY home fix for data recovery, but the risks associated with a DIY solution are high. Hard disk drives are extremely delicate. Only well-trained specialists in a clean room data recovery environment have the tools and expertise necessary to successfully repair them and achieve hard disk data recovery. You'll find these specialists and more at Gillware.
We Can Recover from Any OS or File System
Operating Systems

Windows

Mac

Linux
Filesystems
Gillware Data Recovery can recover files from any hard drive manufactured in the last 30-40 years. It does not matter the manufacturer or the type of hard drive you have – Gillware is a data recovery company you can trust with any device. We have accumulated an extensive spare parts library from which our engineers can source any parts needed for customer's hard drives. The Gillware team has seen countless data recovery cases with clicking or beeping external hard drives. Fortunately, experience is a byproduct or practice, and the data recovery specialists at Gillware are extremely experienced with fixing beeping or clicking hard drives. Not only are Gillware's data recovery experts well versed in beeping and clicking hard drives, but we also have decades of experience addressing scenarios where a hard drive not showing up.
We support peripherals such as flash drives, laptop drives, external drives, solid-state drives. Whether the drive is physically damaged, reporting a pending hard drive failure, failed after a virus infection, suffering a mechanical failure, or if it is a dead hard drive; Gillware can help you recover your important data and important files. We even offer cryptocurrency data recovery!
We Can Recover from Any Storage Device

Laptops, desktops, and tablets

External hard drives

Internal hard drives

Solid-state drives

Spinning disk drives

Encrypted drives

Flash drives

Cell phones

SD cards

Servers, NASes, and RAID configurations

Tape media

Miscellaneous and proprietary digital storage
And more!
Gillware hard drive data recovery can work on any manufacturer; in fact, we are proud partners with many of the biggest names in the industry and each of our hard drive engineers has extensive experience working on products from many different manufacturers.
We support and recover the biggest names in the hard drive industry, including Western Digital (WD), Seagate, Samsung, and Toshiba. Western Digital are the big players in the industry as they own both G-Tech that makes macOS hard drives and Hitachi's hard drive division. Our teams are also skilled in Dell, IBM, and HP server and storage hardware.
We Can Recover All of the Major Hard Drive Manufacturers

Seagate

Western Digital

Samsung

Toshiba

Hitachi

Kingston

Mushkin

SanDisk
And more!
The Gillware Difference!
We can achieve this multi-discipline data recovery process because of our custom-designed data recovery techniques that have been created in-house. Gillware Data Scientists and R&D teams have created specialist tools that are exclusive to Gillware like our Glide Burnish Machine that scans the surface of disk platters looking for faults and damage. The tool can then repair the platter to a 100% working state.
Other proprietary tools used by Gillware include Hombre, which is our in-house data recovery software that not only speeds up the data recovery process but can also build images from damaged complex data, even if it's missing data blocks! Hombre excels at intelligently rebuilding client data into a useable format. In possibly the most difficult client recovery we have undertaken, Hombre was key to getting the client data back.