Dell Data Recovery
Losing data is stressful. We know all too well that from family photos to financial documents, the data you keep on your PC is often irreplaceable. And unfortunately, losing that data is all too easy. You might accidentally delete a file or folder you need. Your PC could start having trouble starting up and you might lose data after doing a system restore. Or the hard drive in your PC could break, showing you a Dell PSA 0141 or 0142 error when you try to troubleshoot your computer. When these things happen, it might feel like the end of the line for your data. But there is still hope. Gillware Data Recovery has a special partnership with Dell, providing affordable, world-class data recovery services to Dell customers. The Dell data recovery experts at Gillware can help you retrieve your data.
Are you a Dell customer in need of data recovery?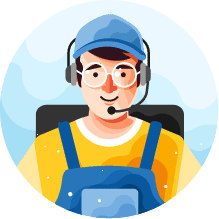 Dell Data Recovery Services
There are two general categories of data loss—physical and logical data loss. All of your data lives on the hard disk drive inside your computer. The hard drive stores your data on extremely sensitive spinning disks. Damage to the hard drive's internal components, whether due to an accident or general wear and tear, causes the device to break down and its data to become inaccessible. This is physical data loss.
Data loss can also happen when the logical structure of the hard drive breaks down. In these situations, the drive "forgets" how to find the data. This "logical" data loss is what happens when you accidentally delete data from or reformat a hard drive, or when a hard drive's filesystem becomes corrupted and the drive becomes inaccessible.
When these data loss situations happen, it's best to leave data recovery to the professionals. Software data recovery tools can occasionally help you recover data in logical data loss situations. But using data recovery software improperly can also decrease your chances of a successful recovery. Many software tools are also not designed well enough to successfully recover data when there has been severe damage to the drive's logical structure.
When your hard drive is physically damaged, only data recovery professionals can safely salvage your data. Damaged hard drives may require repairs to get them up and running again. These procedures can only be done in dust- and contaminant-free cleanroom environments by highly-trained experts to prevent further damage and irreversible data loss.
World-Class Data Recovery Professionals, Tools, and Techniques
In Gillware's data recovery lab, world-class professionals use industry leading tools and techniques to recover your data. Our data recovery experts have years and thousands of hours of combined experience. In total, our experts have thousands of successful data recovery cases under their collective belts.
---
ISO 5 Class 100 Clean Room
---
Gillware conducts hard drive data recovery in a ISO 5 Class 100 Clean Room. When a hard drive is disassembled it is absolutely essential that the environment is devoid of particles and dust.
Gillware also operates under stringent security measures to ensure your data doesn't fall into the wrong hands. Gillware maintains strict adherence to the American Institute of Certified Public Accountants (AICPA) System and Organization Controls 2 Type II.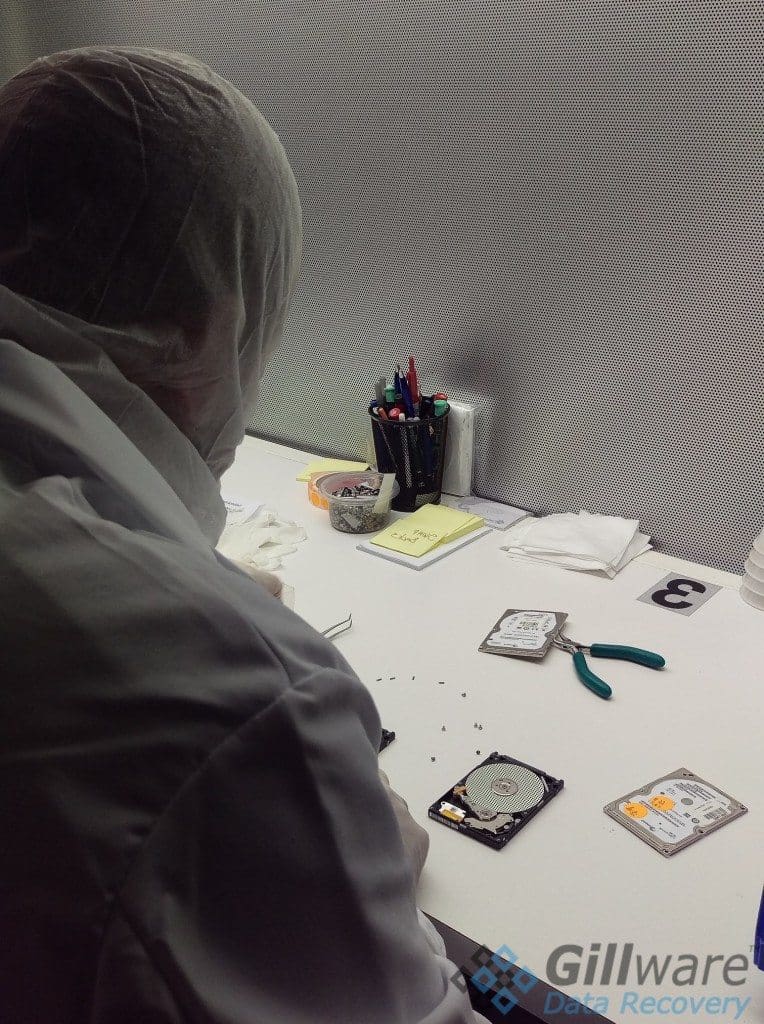 ---
With help from our fault-tolerant disk imaging and analysis tools, our skilled data recovery engineers and technicians can recover data from just about any data loss situation, whether the damage is physical or logical. Fault-tolerant imaging helps our technicians salvage data from hard drives that have trouble performing or have been repaired. Our powerful data analysis tools assist our technicians in recovering data after accidental reformats, file deletion, or filesystem corruption. These data recovery software and hardware tools are 100% proprietary and can't be found anywhere outside our data recovery lab.
When your hard drive's internal components break down, it can put your data at risk. A hard drive making a scraping, clicking, or grinding noise when you turn it on may be scratching the delicate hard disk platters containing all of your data. While excessive scratches do make data recovery impossible, many other data recovery labs will see even slight platter scratches and give up. These scratches kick up dust, which embeds itself in the platter surfaces and is very hard to remove. However, with Gillware's special burnishing tools, our engineers can remove large amounts of debris from platter surfaces. We can salvage data from scratched hard disk platters, even when other data recovery labs cannot.
Secure Data Recovery Facilities
Gillware's data recovery facilities are held to high standards of data security. We are rigorously audited for SOC 2 Type II compliance. From the day your failed hard drive arrives in our lab to the days after your recovered data returns to you, we keep your information safe. None of your data leaves our doors unless it's on its way back to you. We place your recovered data on a secure, password-protected Western Digital hard drive. This ensures that no one can intercept your data after it ships out. We wipe our customers' data completely from our system after they have received their data and had a chance to confirm that everything works as expected.
Special Pricing for Dell Data Recovery Clients
Gillware's services for Dell data recovery clients are both affordable and financially risk-free. We charge no upfront fees for our evaluation of your data recovery needs, or for our data recovery efforts. With our "no data, no charge" policy, we don't charge you for our efforts until we've successfully recovered your important data. Our clients can safely and easily verify the results of our recovery efforts upon request. We can show you the results of our efforts using our secure data recovery customer portal.
To make our services truly financially risk-free, we even cover the cost of shipping your hard drive to us. We can provide a prepaid UPS shipping label or a prepaid shipping box with all the materials you need to safely package your hard drive for transport.
Thanks to our partnership with Dell, Dell data recovery customers receive special pricing for Gillware's hard drive data recovery services. On average, Dell data recovery cases tend to cost our clients around $350. Data recovery services require seasoned professionals with years of experience and specialized tools and techniques. Gillware provides its world-class data recovery services at prices far lower than industry standards.
Technology
Best-in-class engineering and software development staff
Gillware employs a full time staff of electrical engineers, mechanical engineers, computer scientists and software developers to handle the most complex data recovery situations and data solutions
Strategic partnerships with leading technology companies
Gillware is proud to be a recommended provider for Dell, Western Digital and other major hardware and software vendors. These partnerships allow us to gain unique insight into recovering from these devices.
RAID Array / NAS / SAN data recovery
Using advanced engineering techniques, we can recover data from large capacity, enterprise grade storage devices such as RAID arrays, network attached storage (NAS) devices and storage area network (SAN) devices.
Virtual machine data recovery
Thanks to special engineering and programming efforts, Gillware is able to recover data from virtualized environments with a high degree of success.
Security/Privacy
SOC 2 Type II audited
Gillware has been security audited to ensure data safety, meaning all our facilities, networks, policies and practices have been independently reviewed and determined as completely secure.
Facility and staff
Gillware's facilities meet the SOC 2 Type II audit requirements for security to prevent entry by unauthorized personnel. All staff are pre-screened, background checked and fully instructed in the security protocol of the company.
We are a GSA contract holder.
We meet the criteria to be approved for use by government agencies
GSA Contract No.: GS-35F-0547W
HIPAA compliant
Our entire data recovery process can be handled to meet HIPAA requirements for encryption, transfer and protection of e-PHI.
Pricing
No obligation, no up-front fees, free inbound shipping and no-cost evaluations.
Gillware's data recovery process is 100% financially risk free. We only charge if the data you want is successfully recovered.
Our pricing is 40-50% less than our competition.
By using cutting edge engineering techniques, we are able to control costs and keep data recovery prices low.
Instant online estimates.
By providing us with some basic information about your case, we can give you an idea of how much it will cost before you proceed with the recovery.
We only charge for successful data recovery efforts.
We work with you to define clear data recovery goals for our technicians, and only charge you upon successfully meeting these goals and recovering the data that is most important to you.