NAS Server Data Recovery
While initially more widely-used among small business owners due to their convenience and ease of use, NAS devices for home and personal use are beginning to catch on as well. Like any other data storage device, NAS devices can fail and leave you unable to access the files you've stored on them. At Gillware, we offer financially risk-free NAS server data recovery. We also include free inbound shipping and evaluation and expedited NAS server data recovery service options.
Since so many NAS devices are also RAID arrays, the procedure to recover data from a failed NAS device is often very similar to recovering data from a RAID array. Because of the way RAID arrays connect hard drives, the individual hard drives are useless on their own (with the exception of RAID-1 mirrored arrays). As part of the NAS server data recovery process, the hard drives must be repaired if needed and then analyzed to determine how the drives were connected within the device. Our NAS data recovery technicians then use custom software to reconstruct the degraded array and navigate the NAS device's (occasionally proprietary) filesystem and recover the user's files.
As NAS devices are so popular among small businesses, when your NAS device crashes, you may be locked out of the critical data your business needs to continue functioning properly. At Gillware, we have an excellent track record for NAS device data recovery. We also offer expedited data recovery services to reunite you with the data stored on your failed NAS device as quickly as possible and minimize your downtime.
What is a Network-Attached Storage Device?
NAS is an acronym for "Network-Attached Storage". If you own or work for a small business, you may be making use of a NAS device, such as the Buffalo Terastation, Netgear ReadyNAS, or Drobo 5N every day at work. You may even use a NAS device in your home. Personal use of NAS devices such as the Buffalo Linkstation, Synology DiskStation, or Western Digital My Cloud or My Book World Edition has been increasing over the past few years.
A NAS device geared more toward personal use may have only one hard drive inside of it. Or it may have two drives arranged in a mirrored RAID-1 array. A NAS device intended for use by small businesses will usually have several hard drives inside of it. These drives are linked together as a RAID array for extra capacity and some insurance against drive failure.
If you're looking for an external device for your home or home office at Best Buy and see, for example, a Western Digital My Book and a My Cloud on the same shelf, they might look almost the same to you. But the NAS device has no USB port. Instead of connecting a NAS device to your computer via USB cable, you connect the device to your wireless router via ethernet cable, and from there, you can access the device and store and retrieve files on it.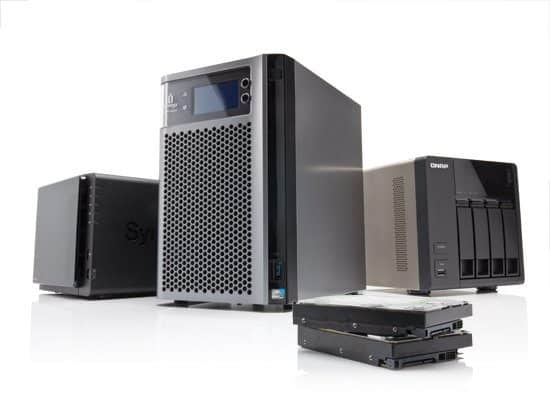 In fact, anyone with permission to access your network can also get on your NAS device. This makes them popular for small business owners. One little device, easy to set up out-of-the-box, can give all of your employees access to a single storage space. Shell out for a RAID-5 or RAID-10 NAS device with space for four to eight drives or more and you can have dozens of terabytes of remotely-accessible storage space for your business.
Another huge difference between NAS devices and other external hard drives is in the hardware. A hard drive on its own doesn't have any network capabilities—it's just a hard drive. There's no simple way to attach a dongle to a hard drive and make it accessible via network the way external hard drive manufacturers make their external hard drives accessible via USB. To make network-accessible storage space, NAS devices need to have a lot more to them than external hard drives.
There's a lot going on under the hood of your NAS device, whether it's a Buffalo Terastation, Netgear ReadyNAS, QNAP TS-251, or any other brand. NAS devices have a lot of stuff in them that you won't find inside the casing of your typical My Book external hard drive. The NAS device itself is actually a tiny computer. It even has its own operating system. A NAS device's O/S isn't something full-featured like Windows 10, though. Rather, it is a stripped-down, proprietary version of Unix or Linux designed to do exactly what it needs to do and nothing else.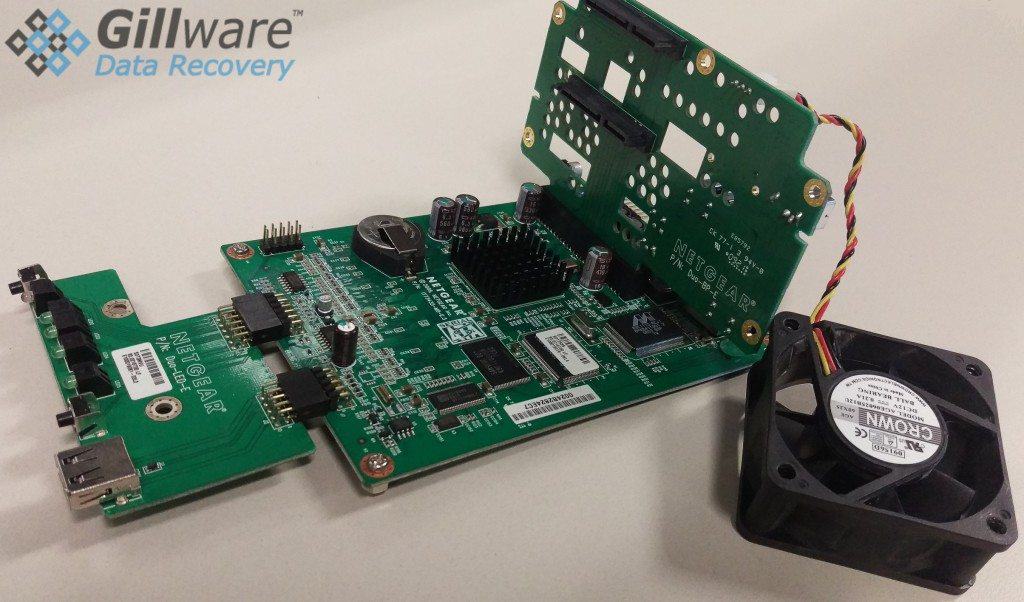 How Do NAS Devices Fail?
There are many ways your NAS device could crash. One or more of the hard drives inside your Netgear ReadyNAS device may start clicking. You may turn on your Western Digital My Cloud one day after updating its firmware and find that it won't power on. Or you may power on your Buffalo Terastation only to be greeted by a series of blinking lights informing you that the internal fan or RAM has encountered an error.
The hard drives inside your NAS device are just like any other hard drives. Sooner or later, they fail, in all the myriad ways a hard drive can fail: The read/write heads can break down, the hard drive firmware can become corrupt, the spindle motor can seize up, the PCB can short out, et cetera.
If you have two or more hard drives linked in a RAID array, you can configure your NAS device to alert you when one of the hard drives fails. The NAS device can even tell you who to contact to have the drive replaced.
But many NAS devices are not optimally configured out-of-the-box. They are so convenient and easy to set up and get working that many people will not realize that they can change the configuration to better suit their needs.
Instead of getting an immediate notification when one hard drive dies, you'll keep using your NAS device for months without realizing anything is amiss. When another drive dies six months later, the entire Z: drive you and your coworkers depend on will suddenly vanish.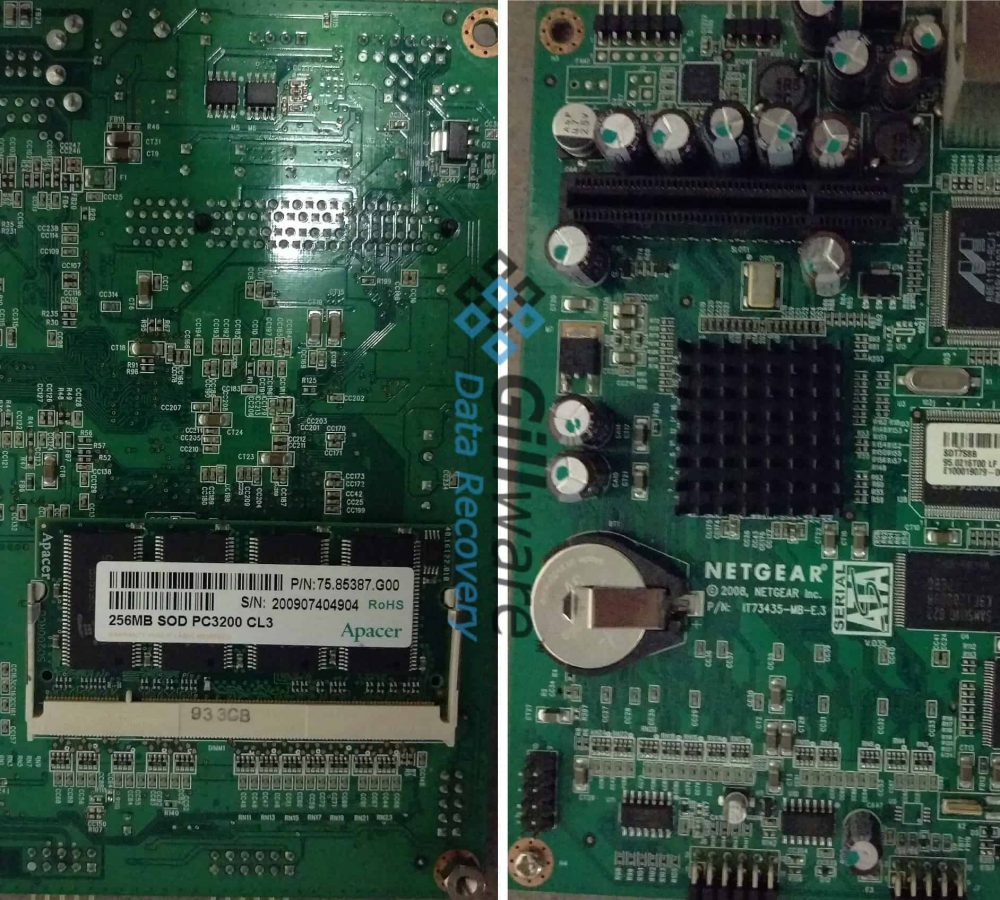 In addition, NAS devices aren't just external storage spaces. Your NAS device may not look like a miniature computer, but it is one. Because NAS devices are tiny computers, they can have basically all the same problems as any other computer. The power supply can short out, or the RAM or motherboard can fail. A part of the O/S can become corrupt, or a bad sector can stop the O/S from booting up. A human error could accidentally reset the NAS device. A simple firmware update could go awry and brick the unit. Any of these things will make the data on your NAS device inaccessible (even if the hard drives are physically healthy).
Technology
Best-in-class engineering and software development staff
Gillware employs a full time staff of electrical engineers, mechanical engineers, computer scientists and software developers to handle the most complex data recovery situations and data solutions
Strategic partnerships with leading technology companies
Gillware is proud to be a recommended provider for Dell, Western Digital and other major hardware and software vendors. These partnerships allow us to gain unique insight into recovering from these devices.
RAID Array / NAS / SAN data recovery
Using advanced engineering techniques, we can recover data from large capacity, enterprise grade storage devices such as RAID arrays, network attached storage (NAS) devices and storage area network (SAN) devices.
Virtual machine data recovery
Thanks to special engineering and programming efforts, Gillware is able to recover data from virtualized environments with a high degree of success.
Security/Privacy
SOC 2 Type II audited
Gillware has been security audited to ensure data safety, meaning all our facilities, networks, policies and practices have been independently reviewed and determined as completely secure.
Facility and staff
Gillware's facilities meet the SOC 2 Type II audit requirements for security to prevent entry by unauthorized personnel. All staff are pre-screened, background checked and fully instructed in the security protocol of the company.
We are a GSA contract holder.
We meet the criteria to be approved for use by government agencies
GSA Contract No.: GS-35F-0547W
HIPAA compliant
Our entire data recovery process can be handled to meet HIPAA requirements for encryption, transfer and protection of e-PHI.
Pricing
No obligation, no up-front fees, free inbound shipping and no-cost evaluations.
Gillware's data recovery process is 100% financially risk free. We only charge if the data you want is successfully recovered.
Our NAS data recovery pricing is 40-50% less than our competition.
By using cutting edge engineering techniques, we are able to control costs and keep data recovery prices low.
Instant online data recovery estimates.
By providing us with some basic information about your NAS data recovery case, we can give you an idea of how much it will cost before you proceed with the recovery.
We only charge for successful data recovery efforts.
We work with you to define clear data recovery goals for our technicians, and only charge you for data recovery upon successfully meeting these goals and recovering the NAS data that is most important to you.