Buffalo Data Recovery
Buffalo is a popular Japanese manufacturer of quality storage devices; they make a wide range of Buffalo NAS devices, SSD external hard drives, and portable data carrier devices, like flash drives. A typical Buffalo external hard drive is targeted at the home users' market and small to medium-sized businesses.
Some of the most famous Buffalo products are the Buffalo Terastation devices and Buffalo Linkstation. These brands are popular as they are affordable for the end-user and, though they have a relatively modest capacity range, they also have great feature sets, including support for multiple RAID configurations.
The Buffalo Terastation is the most common external hard drive we see at Gillware.
Need Help Now?
We Can Help with Buffalo Data Recovery
Talk to an expert about your Buffalo device and getting your data back. Get a no-hassle consultation today!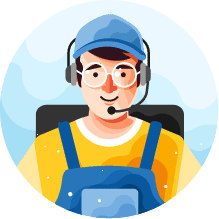 What Can Cause Buffalo Data Loss?
Buffalo Technology is renowned for their reliability, but as with any modern NAS device, they can still be susceptible to failure and data loss. These failures are often associated with a specific error code that provides some indication as to the nature of the failure:
E04 – The firmware is corrupted.
E14 – The RAID array cannot be mounted.
E15 – The bad sectors in the hard drive have reached a dangerous level.
E16 – Unable to find the hard drive. The drive may be disconnected or may have failed.
E22 – Mounting of hard drive failed.
E23 – An error occurred, so the hard drive was removed from the RAID array.
E30 – The hard drive may be damaged.
The most common cause of Buffalo external hard drive data loss is a disk failure; this might be a single disk or multiple disks simultaneously.
Most business users will implement a RAID configuration on their Buffalo external hard drive, but if they are impacted by multiple disk failures this can potentially destroy the RAID Array, making data recovery extremely difficult.
The next most common cause is some form of physical damage to the Buffalo external hard drive. It may have been dropped or kicked by mistake, or perhaps there has been an electrical fault that has damaged the internal PCB or caused a head stack crash.
Our lab reports that several Buffalo external hard drives have arrived with software and firmware faults, such as a Buffalo external hard drive or Buffalo flash drive not booting up, being readable, or experiencing firmware mismatches in the event logs.
We also get sent Buffalo external hard drives that have lost data due to accidental deletion, user error, or some kind of human error. This is not uncommon, but Gillware's engineers are experts in hard drive data recovery and we are more than capable of getting your recovered files back!
Can Lost Data Be Recovered?
Buffalo hard drive recovery is a specialty service provided by Gillware – the data recovery experts. We handle thousands of hard drive data recovery incidents every year at our 12,000 square foot lab here in Madison, Wisconsin.
The lab is home to our highly skilled data recovery experts, many of whom have been with Gillware since we were founded way back in 2004.
If you are experiencing issues with your Buffalo Hard Drive, Buffalo Terastation, or Buffalo Linkstation and you urgently require a hard drive data recovery or to get your missing files back, reach out to our hard drive data recovery experts who will be more than happy to assist.
You may be tempted to perform Buffalo data recovery at home; this is not something we recommend simply because a home fix is not guaranteed to work. In fact, the reality is that you are more likely to inflict further damage to the Buffalo drive by attempting a home fix, making it much more difficult (if not impossible) to recover, even for a data recovery company like Gillware.
If you are missing important data and you have no backup storage media, then act quickly to work with Gillware. Together, we will get the best possible outcome for your data.
Gillware's engineers consistently recover data from many diverse situations, such as performing data recovery after a fire or flood incident or helping a business to recover data and assist with a criminal investigation. No matter the reason, data recovery companies like Gillware offer professional data recovery services to avoid data loss.
How Do I Recover Data Files from a Buffalo NAS Drive?
The Gillware Buffalo Data Recovery Service is available with a risk-free option that includes free shipping and a free evaluation. You, the customer, have the final say if you want to proceed with data recovery of your files or if you want to accept the loss. There is no pressure put on our customers; it's your choice whether to instruct Gillware to get your files with a Buffalo hard drive data recovery.
You can log a case directly on our website, or if you prefer to discuss your case, you can contact our team of data recovery experts on 877-624-7206. Our team will provide a label to ship the Buffalo device or Buffalo HDD.
Our team will talk you through what needs to be shipped; sometimes we need the entire Buffalo external hard drive enclosure, other times it's just the Buffalo hard drive.
Upon arrival, the disk is sent to the lab for an initial investigation. At this stage, our experts will investigate the root cause of the problem, provide an estimate of how long data recovery will take, and estimate what percentage of data can be saved.
Only after instructed by the customer will our data recovery engineers perform data recovery.
What Is the Average Cost for Data Recovery Services?
Gillware has built its business on providing excellent service at an affordable cost to the customer. You'll get great service from a team of highly skilled experts; we do everything we can to keep our costs down to pass savings onto the customer.
Our teams have put together the following content on our social networks to help explain the costs to our customers.
For more information see these useful links:
Click here for General Cost Information
Click here for RAID Recovery cost information
How Does Gillware Recover my Data?
The first task is to get the external hard drive into a readable state. If your Buffalo Technology device is suffering from data inaccessibility and it needs a physical repair, the hard drive will need to be disassembled in our clean room environment as part of the recovery process.
The fix needed depends on the fault. We may need to replace the spindle motor, the PCB, or any number of the sensitive internal components. This must be done in a cleanroom to ensure that no foreign contaminants are introduced which can potentially brick the hard drive recovery.
If the delicate spindles are scratched or damaged, Gillware has built a custom-made burnishing tool for data recovery; this sophisticated tool will remove scratches and deep impacts on the disk platter, just one example of how Gillware is a different data recovery company, one that goes above and beyond other secure data recovery companies, putting the customer first!
Once the disk is readable, and to avoid permanent data loss, our team will attempt to image the external hard drives. We do this by using proprietary data recovery software. You will not find this data recovery software anywhere else, as it was created by our very own data scientists.
Our data recovery software will create a raw copy of your Buffalo external hard drive, we can then apply any number of logical fixes to the hard disk file system. A logical fix can rebuild the layout of the hard drive and recover missing files.
What Happens to My Recovered Files?
Upon completion of recovering data, Gillware's engineers can upload your recovered data to a secure environment hosted on our website. If the deleted data for your Buffalo external hard drive is too big to upload or if you do not want your data stored online, then we can arrange for the lost files to be copied onto another external hard drive that can be shipped direct for a small charge.
The customer can also provide storage devices for us to use as long as they ensure that the external hard drive has enough storage capacity.
Rest assured that security is the number one priority for Gillware, so all Buffalo external hard drive data will be protected to industry best practices when stored on our internal systems.
Need Help Now?
We Can Help with Buffalo Data Recovery
Talk to an expert about your Buffalo device and getting your data back. Get a no-hassle consultation today!