Data loss happens. There are dozens of things that can cause it, from accidental reformats to virus attacks. It can happen on accident or on purpose, as human error, or as an "act of God". When it does happen, no matter who or what causes it, you need professional data recovery services.
Most people just aren't prepared to encounter data loss, whether you've dropped your external hard drive or deleted your family photos. Most people have never even given much thought that there are professionals out there who make a living fixing broken hard drives and salvaging lost family photos and Quickbooks documents. This can leave you stressed out, panicking, and not quite knowing who you can turn to.
Don't panic: You've come to the right place.
Our data recovery specialists have encountered just about every data loss culprit in our lab at least a dozen times. We here at Gillware are happy to offer you our world-class and financially risk-free data retrieval services.
Our engineers provide data recovery services for desktop, laptop, and portable external hard drives of all brands and models.
Our engineering ingenuity and partnerships with SSD manufacturers have allowed us to make great strides in SSD data recovery services.
Our RAID recovery engineers provide data recovery services for crashed enterprise-grade SAN and NAS devices.
No matter the size of your business, a server crash can be disastrous. Gillware offers expedited emergency server data recovery services.
Our computer engineers and programmers have developed groundbreaking techniques for our virtual machine data recovery services.
Tiny and portable, flash drives are easily damaged. Our engineers can repair and recover data from failed USB thumb drives.
For many people, SD cards are often the only place where their photos, videos and contacts are stored. Our engineers can recover data from SD and microSD cards.
People often forget how much critical data they store on their phones. If your phone is damaged, our data recovery engineers can help you.
Photo Data Recovery
Next to business-critical documents such as Quickbooks and Outlook files, family photos are among the most-requested files our engineers are tasked with recovering. Whether you've lost them from your mobile phone, a bent or broken USB flash drive, or an external hard drive that's given up the ghost, our engineers can help.
Mac Data Recovery
Gillware is a proud member of the Apple Consultants Network. We offer data retrieval services for all sorts of Apple computers, including the Macbook, iMac, and Mac Pro. Our engineers have developed techniques for salvaging data from crashed Apple Fusion Drive systems as well as traditional hard disk drives and SSDs.
Small Business Data Recovery
Data loss can strike at any time, and a dropped hard drive, broken thumb drive, or crashed RAID server can spell trouble for your livelihood. Fortunately, Gillware is on your side. We know all about the trials and tribulations of running a small business. Adding a broken computer or crashed NAS device to all those problems is a recipe for a nightmare. Fortunately, Gillware can have your business up and running again before you know it.
Enterprise Data Recovery
Even top-of-the-line enterprise grade hardware breaks down, and it can take your company's data with it. In other words: Bad things happen to good servers. When it comes to recovering data from massive servers or SANs, virtual environments, or iSCSI targets and LUNs, our engineers have the smarts and skills to take on these challenges.
Emergency Data Recovery
If you're a business owner or a freelancer, data loss can be all the more devastating. Whether you use consumer-grade hard drives or enterprise-class hardware, hard drive failures and server crashes can be delayed, but are ultimately inevitable. Data loss can mean lost money, lost productivity, and worst of all, lost customer trust. Not only do you need your data back—you need it back pronto.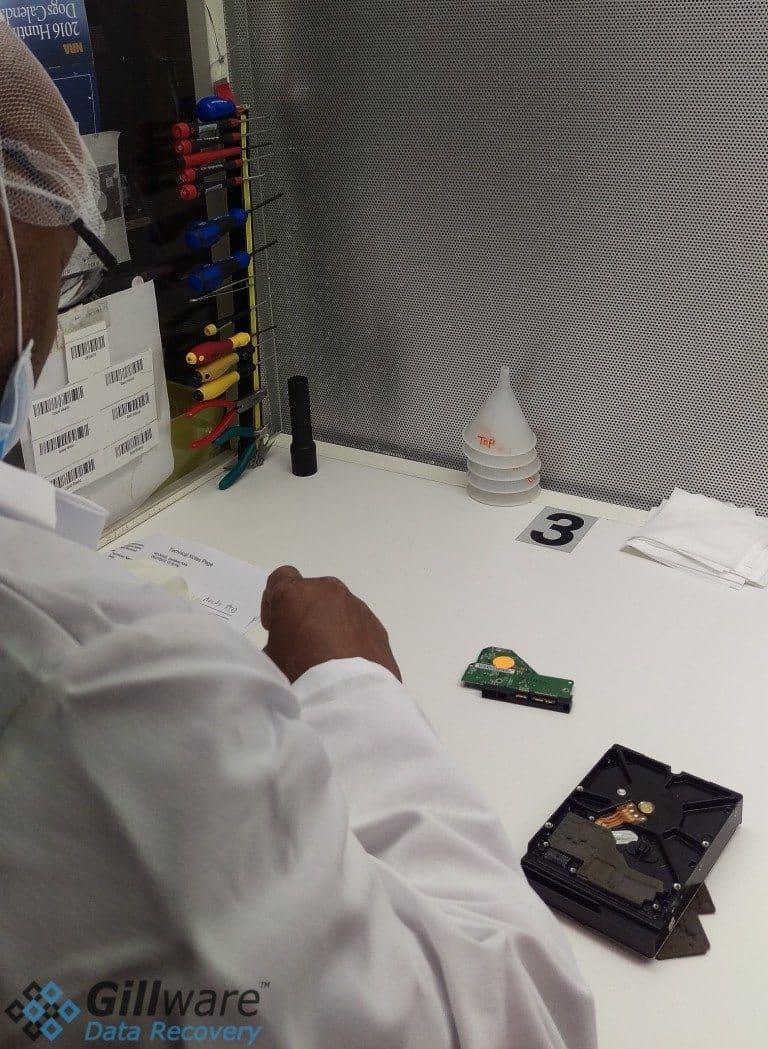 Explore Our Clean Room Data Recovery Lab
Our lab has world-class tools and environment for hard drive repair and logical device recovery. In our cleanroom, our engineers work at ISO 5 Class-100 certified modular cleanroom benches. These workstations provide all of the environmental control and safety of an entire cleanroom at a fraction of the cost—one of several factors which enable us to offer our services at, on average, 40-50% of what our competitors charge.
Read more about our data recovery lab environment
Secure Data Retrieval Services
All of our services follow our SOC II Type 2 security protocols. At every step of the data recovery process, you can rest assured that all of your recovered data is completely safe. We are the perfect choice for clients from medical clinics with HIPAA-sensitive data recovery needs, and government agencies.
Read more about our data recovery privacy protocols
A History of Quality Data Retrieval Service
Founded in 2004 by Brian Gill and his brothers Tyler and Wesley Gill, Gillware Data Recovery has been meeting clients' needs for over twelve years. Over a dozen full-time data recovery experts with years of experience staff our Madison, Wisconsin lab. From dropped hard drives and bent USB drives to failed RAID servers and virtual machine setups, there is nothing our engineers haven't seen.