Data Recovery Services: Hard Drives, SSD, RAID, Flash, Phones & More
In our data recovery lab, our skilled engineers recover data from every type of digital storage device, no matter how big or how small.
Is your hard drive clicking?
Did you spill coffee on your laptop?
Has your USB drive been snapped in half?
Is your NAS struggling to boot up?
Do you need data recovered from a virtual disk?
Our data recovery services will help you through any of these situations–and more.
Data loss happens.
There are dozens of things that can cause it. Data can be deleted by accident or on purpose. You or your cat might knock your external hard drive off your desk, or the hard disk in your desktop PC might just break down from old age after serving you faithfully for 5-10 years. Whether your data is stored on a hard disk drive, a solid state drive, a USB flash drive, a microSD card, your phone, your tablet, or a server, data loss is one of those things that just happens–especially when you least expect it
When it does happen, no matter who or what causes it, you need professional recovery engineers to perform the data recovery services you need… and you've come to just the right place to find those people.
Gillware is a top data recovery company with more experts under its roof than anywhere else. We do all of our work in our professional, ISO-5 Class 100 clean room data recovery lab in Madison, Wisconsin, provide free shipping to send your device to our lab, and evaluate your device in our lab for free before we tell you how much your case will cost. Our procedures are completely goal-oriented, and we work with you to define exactly which data is most valuable to you. And we never send you a bill until we've recovered the data you need at a price that makes sense to you.
Gillware takes pride in the incredible skill exhibited by our engineers every day. We are constantly conducting research and development to better meet the needs of victims of data loss and are always improving and expanding on our capabilities, from laptop data recovery to encrypted data recovery and RAID data recovery.
Gillware is trusted, reviewed, and certified by many different independent organizations, with satisfied clients ranging from home users, freelancers, and small business owners to government agencies and Fortune 100 companies. We are a GSA-certified contractor for federal, state, and local entities of the government of the United States of America, and our high standards for secure data recovery make us capable of properly handling data recovery for HIPAA-covered entities and business associates.
As an organization, Gillware takes great pride in standing with the little guy, providing the highest-quality comprehensive data recovery services to end users and small businesses and large corporations alike.
Speak to one of our representatives to get an immediate price range estimate by calling our toll-free number, or submit a case online to get started and send your device to our lab.
Why Choose Gillware?
Immediate price range estimates
Free shipping to our lab
Free evaluation in-lab followed by a firm price quote
No fees for cancellation or unsuccessful attempts
Work is never outsourced to other labs
Goal-oriented data retrieval procedures
No Data, No Charge Guarantee
World-class service for all types of data and all types of devices
Get your data back quickly and securely
Some of Gillware's data recovery services include...
Mac Data Recovery
Gillware is a proud member of the Apple Consultants Network. We offer data retrieval services for all sorts of Apple computers, including the Macbook, iMac, and Mac Pro. Our engineers have developed techniques for salvaging data from crashed Apple Fusion Drive systems as well as traditional hard disk drives and SSDs.
Photo Data Recovery
Aside from business-critical documents such as Quickbooks and Outlook files, photos are among the most-requested files our engineers are tasked with recovering. Whether you're a home user who's accidentally deleted their family photos from the past five years or a professional photographer who's just lost an entire photo shoot to hardware failure, Gillware is here to help.
Small Business Data Recovery
Data loss can strike at any time, and a dropped hard drive, broken thumb drive, or crashed RAID server can spell trouble for your livelihood. Fortunately, Gillware is on your side. We know all about the trials and tribulations of running a small business. Adding a broken computer or crashed NAS device to all those problems is a recipe for a nightmare. Fortunately, Gillware can have your business up and running again before you know it.
Enterprise Data Recovery
Even top-of-the-line enterprise-grade hardware breaks down, and when it does, it can take your company's data with it. In other words: Bad things happen to good servers. When it comes to recovering data from massive servers or SANs, virtual environments, or iSCSI targets and LUNs, the computer engineers and scientists in our lab have the smarts and skills to take on these challenges and emerge victorious.
Logical Hard Drive Failure Recovery
Not all data loss situations involve your device breaking down. Sometimes your computer will stop booting up because data on a sector of your hard drive containing critical metadata will become corrupted. Your hard drive might not have a scratched platter or a seized spindle motor, but it is inoperable nonetheless. Just as Gillware has the tools and expertise to repair physical issues, we also have powerful tools and extremely-skilled experts to tackle these logical issues as well, from file system corruption to accidental file deletions and reformats.
Tablet Data Recovery
Gillware's professional data recovery services don't just cover hard disk drives–We also recover data from all sorts of mobile devices, including tablets from all manufacturers. Whether you have a Samsung Galaxy Note, a Microsoft Surface, or an iPad, our engineers know these devices inside and out–which is vital, because recovering data from them sometimes requires taking their insides out. When you can't recover data from your tablet on your own or with the help of a local computer and phone repair shop, you can count on Gillware to be in your corner.
XFS Data Recovery
While XFS is better than many filesystems at preserving your data, no system is 100% immune to data loss. And sometimes, the only way to get your data back is to put it in the hands of world-class professionals. Gillware's experts are specialists in all of the most widely-used open-source filesystems, including XFS, and understand many of these filesystems just as well as their creators.
Emergency Data Recovery Services
If you're a business owner or a freelancer, data loss can be all the more devastating. Whether you use consumer-grade hard drives or enterprise-class hardware, hard drive failures and server crashes can be delayed, but are ultimately inevitable. Data loss can mean lost money, lost productivity, and worst of all, lost customer trust. Not only do you need your data back—you need it back pronto.
While data can't be recovered immediately when you need in-lab recovery services, Gillware offers three levels of data recovery services to meet everybody's needs.
From home users to small business owners who can't go another day without the data that was on their crashed server or NAS: Standard, Advantage, and Priority. With Advantage and Priority service, you get preferential treatment in our case queue to make sure our engineers recover your data as quickly as possible. Depending on the situation, a Priority-level case may only spend less than a single day in our lab before we've successfully retrieved your critical data.
Remote Recovery Solutions for Enterprise Users
If your business can't stand even the least bit of downtime, Gillware's remote data recovery services may be the right option for you.
In data loss situations that do not involve physical or mechanical failure of the storage media, Gillware's specialized team of computer scientists and computer engineers can securely and safely remote into your network to perform remote data recovery without you having to uproot your entire server and send it to our lab. Situations such as:
Deleted virtual machines/VMDKs/LUNs
Corrupted Virtual Machine or Database
File System and Partition Corruption
Devices We Recover Data From
No matter what type of device you need data recovery from, Gillware's technicians have seen it before.
In fact, after more than fifteen years and 100,000 successful recovery services performed, our technicians have most likely seen your exact situation dozens or even hundreds of times before.
Gillware's recovery service has no equal among data recovery businesses.
We can handle any device, including these:
A History of Quality Data Retrieval Service
Founded in 2003 by Brian Gill and his brother Tyler Gill, Gillware Data Recovery was created to offer the same level of professional services labs at the time offered almost exclusively to large corporations to small businesses and home users at sensible prices. Gillware pioneered free in-lab evaluations and "no data, no charge" policies when every other data recovery business in the world was still charging up to hundreds of dollars just for the privilege of looking at a customer's failed hard drive. Gillware has stuck to its mission to be there for the little guy for the past fifteen years without fail.
Explore Our Clean Room Data Recovery Lab
Our lab has world-class tools and environment for hard drive repair and logical device recovery. In our cleanroom, our engineers work at ISO 5 Class-100 certified modular cleanroom benches. These workstations provide all of the environmental control and safety of an entire cleanroom at a fraction of the cost—one of several factors which enable us to offer our services at, on average, 40-50% of what our competitors charge.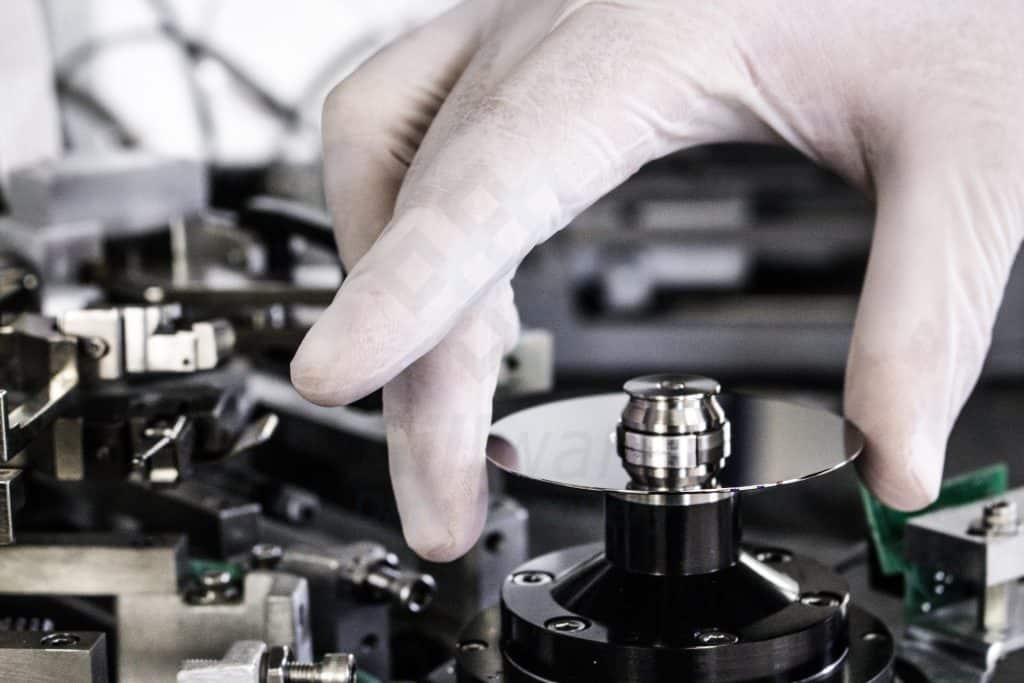 Having a professional data lab means more than having the best data recovery tools and most skilled experts. It also means offering…
Secure Data Retrieval Services
All of our services follow our SOC II Type 2 security protocols. At every step of the data recovery process, you can rest assured that all of your recovered data is completely safe. All recovered data is analyzed and stored using internal networks which never communicate with the outside world, and all recovered data is shipped on fully-encrypted, password-protected hard disk drives to ensure that nothing can fall into the wrong hands. We are the perfect choice for clients from the healthcare industry with HIPAA-sensitive data recovery needs, government agencies, and anybody who values the privacy of their personal data.
Gillware Cares About Providing the Best Data Recovery Service Possible
There's still a chance to save your data. Send your device to us for a free, comprehensive evaluation and we'll give you a prepaid UPS label for free inbound shipping to our lab.
Learn More About Data Recovery Services
iMac Data Recovery Case Study: Fusion Drive Recovery
Apple's Fusion Drive uses special software built into the Mac OS X operating system to seamlessly combine a hard disk drive with an SSD. It makes the two-drive setup look like a single volume with no seams or gaps.
Do " Data Recovery Services Near Me " Matter?
When you need a service performed, it's a natural instinct to look for places nearby that can help you. But this instinct won't help you when you need professional data recovery services.
Professional Hard Drive Repair FAQ
In this video, you'll learn about the hard work and expertise that goes into hard drive data recovery services with Kirk Harvell, one of Gillware's most experienced experts in hard drive repair.
Dropped Hard Drive Data Recovery Case Study
Follow the chain of events that lead to a hard drive that falls off a desk or table breaking down and learn and how Gillware's data recovery services help people who've dropped their hard drives.
Disk Self Testing: The Long and Short of It
When your computer spits out an error message alerting you to a failed long or short DST, the common culprit is a broken hard drive. DST, or disk self-test, is a method hard disk drives use to gauge their health.
Hard Disk 3F0 Error: What Is It?
A Hard Disk 3F0 error is a boot error unique to HP desktop and laptop PCs. When this error appears on startup, it means that the computer cannot boot from the hard disk drive.
Hard Drive Beeping: Why It Happens & How We Fix It
Strange noises are a hallmark of severe hard disk drive failure, and one of the more common noises exhibited as symptoms are weak, regular beeping sounds from within the drive.
How to Break Free of a Surface Pro 4 Boot Loop
A boot loop on your tablet is usually a problem you can handle on your own. But sometimes, it's a symptom of a deeper and more severe issue with your tablet's internal storage media.
Dell Error Code 0142: What It Is and How to Fix It
An ePSA Error Code 0142 is a boot error specific to Dell desktop and laptop PCs. Two possible causes for this error are loose SATA cables and failed disk self-tests. The latter is a sign that its health is rapidly deteriorating.