Western Digital Data Recovery
When you've lost data from your Western Digital hard drive, Gillware Data Recovery offers the very best data recovery services available. Our data recovery company is head and shoulders above other data recovery services, with industry leading success rates at affordable price points. As partners with Western Digital, clients referred to us through WD receive discounted data recovery services.
Data loss can be a stressful experience. Our affordable, secure, and world-class data recovery services are designed to help alleviate your stress every step of the way, from the day you contact our recovery client advisers to the day you receive your recovered data from our lab in Madison, Wisconsin. Our customer service representatives will keep you posted on the status of your case, and we only charge our clients after we've successfully met their goals.
The Western Digital data recovery specialists at Gillware are here for you. We can even get your data back to you in as few as two or three business days with our expedited emergency data recovery services. Click the buttons below to submit a service form or get an estimate. This will ensure that proper discounts and any special processing requests are applied to your data recovery case:
Why Gillware Comes Recommended for Western Digital Data Recovery
Gillware is one of the industry leaders in data recovery, and so it should come as no surprise that we are one of Western Digital's recommended data recovery service providers. Gillware's engineers are highly trained and highly skilled to recover data no matter how it has been lost.
There are many ways to lose data from a hard drive. Any of the delicate components within the hard drive can break down as a result of physical trauma or old age. External hard drives and drives within laptops are especially vulnerable to being dropped, which can severely damage a hard drive's internal mechanism. Hard disk drives can also suffer from corruption of their logical volumes or firmware that can prevent them from mounting or make them appear to be blank. Data can also be erased from a hard drive due to an accidental reformat, a system restore, or file deletion.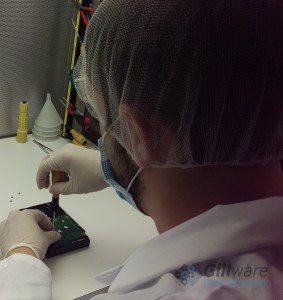 When your Western Digital hard drive is buzzing, beeping, clicking, or smoking, it will need to be repaired by professionals in a clean and dust-free environment using special tools. In our ISO-5 Class 100 cleanroom workstations, examined by an independent auditor for quality assurance four times a year, our engineers can repair hard drives without any risk of their internal mechanisms becoming contaminated.
When data has been lost due to an accidental reformat or file deletion, or due to an ill-advised system restore operation, our data recovery technicians can help you. Experienced technicians well-versed in the ways hard drives store their data know where your data goes when these things happen—and how to get it back.
Affordable Western Digital Data Recovery Services
At Gillware Data Recovery, our services are 100% financially risk-free. We even provide free prepaid UPS shipping labels to all clients within the continental 48 states to cover the cost of inbound shipping. There are no fees for us to examine your Western Digital hard drive and evaluate your data recovery needs. At the end of the evaluation period, we present you with a firm price quote for our data recovery services. If you approve of the price quote, we go ahead with our recovery efforts—and if you don't, there are no cancellation or opt-out fees. We only charge you for our efforts if they produce the results you're looking for—if we can't recover your important data, you don't owe us a dime.
Not only are our prices 40% to 50% below the industry average, but customers referred by Western Digital also receive a 10% discount on all data recovery services. With world-class results at affordable prices, it's easy to see why Gillware comes recommended by Western Digital, as well as computer repair and IT professionals across the United States.
Experienced Engineers and Cutting-Edge Tools for Western Digital Data Recovery
At Gillware Data Recovery, our hard drive specialists have years of experience with every make and model of Western Digital hard drive. Whether your hard drive comes out of your PC or laptop, a My Book or My Passport external device, or a Western Digital NAS, our engineers have the know-how and tools to salvage your data. Our professional data recovery experts have thousands of successful Western Digital data recovery cases under their belts.
To salvage data from failed hard drives and recover deleted data, our engineers use powerful data recovery tools you won't find anywhere outside of our data recovery lab. With our suite of fault-tolerant and intelligent imaging and analysis tools, our engineers excel from recovering data in any type of situation. With the help of our hard disk platter burnishing tools, we can recover data from hard drives with scratched platters—even when other labs can't.
Secure Western Digital Data Recovery Facilities
Gillware Data Recovery's facilities are SOC 2 Type II audited for data security, so you need not worry about your data falling into the wrong hands. At Gillware, we safely and securely wipe all recovered data from our system after closing out your data recovery case, and the only time your data ever leaves our data recovery lab is when we send it on its way back to you.
When we send your recovered data back to you, we send it on a brand-new, healthy Western Digital My Passport or My Book hard drive. The hard drive is fully encrypted with a randomly-generated password for extra security, so that in the event that your recovered data is ever intercepted on its way to you or delivered to the wrong address by UPS, nobody other than yourself can gain access to it. Our security measures make us ideal for dealing with HIPAA-sensitive information and recovering data for government agencies.
Why choose Gillware for Western Digital Data Recovery?
Gillware's data recovery services are affordably priced, technologically innovative and completely secure.
Gillware is trusted, reviewed and certified
Gillware has the seal of approval from a number of different independent review organizations, including SOC 2 Type II audit status, so our customers can be sure they're getting the best data recovery service possible.
Gillware is a proud member of IDEMA and the Apple Consultants Network.