Hard Drive Manufacturers
Gillware's engineers can recover data from any model of hard disk drive in our data recovery lab. All major hard drive manufacturers know us and trust us as data recovery service providers.
At Gillware, we deal with a lot of broken hard disk drives. We've seen drives from just about all of the hard drive manufacturers, and these drives range from the latest models (after all, accidents happen, even to that drive you just bought a month ago) to 20-30-year-old relics. Gillware is experienced with errors such as USB device not recognized and device not detected. We're likely to have seen any given model of hard drive in our lab, if not once before, then dozens or hundreds of times, from ancient Quantum and Maxtor bricks to the sleekest and slimmest modern Western Digital and Seagate models.
In Gillware's lab, you'll find hard drive repair experts with years of training and experience. We aim to provide the very best data recovery services–and with experts like these on our team, it's hard for us not to. No matter how new or old your hard drive is, or which hard drive manufacturers built it, you can trust the experts in our professional-grade clean room lab to do the best job possible to salvage its data.
Fixing Drives from All Hard Drive Manufacturers
Hard drives are like cars. Every hard disk drive works using the same fundamental technologies.
There are always spinning disk platters, and a motor to spin them. There is always a stack of read/write heads. Every hard drive has a printed control board, and every hard drive has firmware (that we often have to repair). They all follow the same basic design principles.
But the exact details of how these components work differ from brand to brand.
A Jeep, an SUV, and a Prius are all very different, but they are all still cars. Likewise, a Western Digital, Hitachi, and Seagate hard drive are all hard drives, but their guts all look just a little different and work just a little differently.
A good hard drive repair technician has to be familiar with every brand of hard drive's idiosyncrasies–intimately.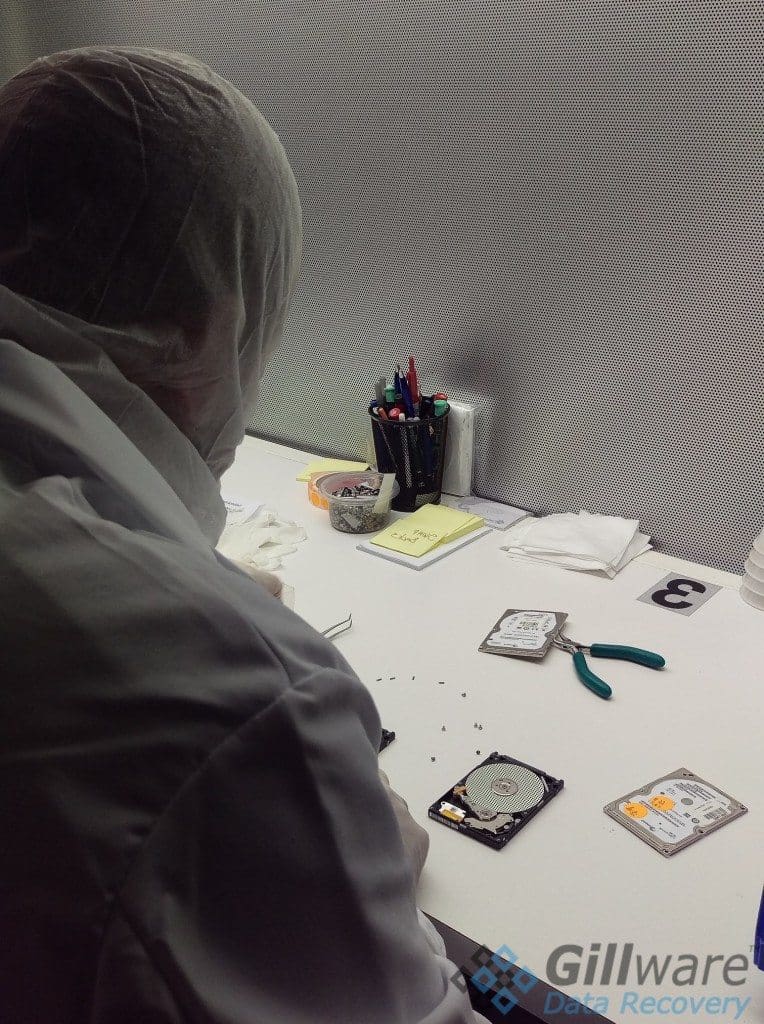 Further complicating matters, the past few decades have seen so many examples of hard drive manufacturers buying their competitors and splitting off that figuring out who produces which model of hard drive can require a flow chart.
When you've been in the hard drive repair business for over a decade, and when you're committed to quality data recovery services, you pick up on the ins and outs of various hard drive models very quickly.
At Gillware, you can rest assured that our data recovery experts can recover data from any manufacturer's brand of hard drives. These include manufacturers such as…
Western Digital
Founded in 1970 as a storage products company, Western Digital began manufacturing hard drive controllers in the 1980s; in 1988, they bought out hardware developer Tandon and began producing hard disk drives of their own.
Western Digital hard drives are among the most popular brand of hard drives, and command a large portion of the market share. As a result, a broken Western Digital hard drive is a common sight in our data recovery lab.
Seagate
Seagate is also one of the more popular hard disk drive manufacturers, making their hard drives no stranger to our data recovery experts. Founded in 1978, Seagate soon became a big name in hard disk drives, developing the first 5.25-inch hard drive for PCs, among other innovations, and pioneering many industry milestones well into the 2000s and 2010s.
They caught the early-00s small gadget boom, producing tiny one-inch hard drives for iPods and other devices (eventually phased out for flash memory as NAND technology became cheaper and more efficient), and created the first hybrid hard disk drive, a drive with NAND solid-state memory to improve performance built into its circuit board.
Samsung
Today, Samsung might be most well-known for their line of mobile phones (including the infamous ones with the exploding batteries), as well as their other entries in the world of consumer electronics. The South Korean company, in business since 1938, is an extremely diversified company, offering electronics, appliances, and even construction and financial services.
In the data storage world, Samsung is perhaps best known today for its line of SSDs. In 2011, Samsung's hard drive manufacturing centers were sold to Seagate, and as a result, you will find many Samsung-branded external hard drives that contain Seagate hard drives (often with Samsung branding and logos on the faceplate, but still identical to Seagate hard drives in terms of design nonetheless).
Hitachi
Hitachi has a lot of irons in the fire, from consumer electronics to construction machinery and defense systems. Their hard disk drives, as suggested by studies done by BackBlaze, seem to be the most resilient, compared to other major manufacturers. But that doesn't stop Hitachi drives from showing up in our lab. After all, whether due to accident, old age, or manufacturer defect, no hard disk drive, no matter how resilient, is completely failure-proof.
Hitachi's hard disk manufacturing wing, Hitachi Global Storage Technologies, is now wholly owned by Western Digital, but still carries Hitachi branding and acts as a separate product line.
IBM
IBM is the oldest player in the hard drive industry, the hard disk drive being one of the many inventions they have been responsible for since 1911. In the 1950s, they were responsible for the world's first hard disk drive, a refrigerator-sized behemoth that held an (at the time) whopping several megabytes of data. Even today, IBM (also known as Big Blue) is a household name in the world of technology.
IBM and Hitachi eventually merged their hard disk drive manufacturing arms. As a result, like with Samsung hard drives, you can find IBM-branded drives that are mechanically identical to Hitachi hard drives.
Toshiba
Like many of the other hard drive manufacturers on this list, Toshiba has an extremely diverse portfolio of products and services, from media devices and other consumer electronics to hard disk drives and solid state technology. It was at Toshiba that, in the early 1990s, engineers pioneered the NAND EEPROM that eventually developed into the solid-state memory used in every smartphone, memory card, USB flash drive, and SSD today.
Even hard disk drive models from lesser-known and long-defunct hard disk manufacturers (most of which have been absorbed into the larger manufacturers) occasionally trickle into our lab–manufacturers like Maxtor and Quantum. We've seen hard drives that were literally so old that if they were people, they could buy alcohol come into our lab.
When you deal in hard drive repair, being able to replace failed or failing components is key. Across various models of hard drives, parts compatibility becomes an issue, as one model of hard drive can reject donor parts from another model (even one from the same brand). Any professional hard drive data recovery company needs thousands or even tens or hundreds of thousands of donor hard drives of widely varying brands and models to be able to successfully tackle so many data recovery cases.
Hard Drive Manufacturers Warranty Support
If your hard drive is still covered by the manufacturer's warranty, you might be a little leery of sending it off to a data recovery lab to have some technicians crack it open. After all, the only way to remove a hard drive's faceplate is to break its warranty seals, which, understandably, voids its warranty. Does that mean you miss out on getting the manufacturer to replace your failed hard drive?
No.
At Gillware, we believe in taking as much of the stress and frustration out of your data loss situation as possible, and that means making sure your broken hard drive doesn't turn into a warranty headache. We here at Gillware have agreements with all major hard drive manufacturers.

Manufacturers like Western Digital and Seagate recognize our handiwork. When we break an under-warranty hard drive's seals to make our temporary repairs and recover data, the drive's warranty is still valid, and you can still ask the manufacturer to offer you a refund or replacement under the terms of the warranty.