Data Recovery New Jersey
Since 2004, Gillware Data Recovery has provided quality data recovery services for clients across the United States and the world. As a resident of New Jersey, you may be skeptical about sending your failed hard drive or other storage device all the way to Madison, Wisconsin. Why not send your hard drive to someone closer to home? But even though we are located in Wisconsin, our experts here at Gillware can provide the best data recovery New Jersey services you can find.
With our financially risk-free data recovery services, free evaluations and inbound shipping for your failed data storage device, and state-of-the-art data recovery technologies and techniques, you need look no further for your data recovery needs. Whether it's a hard drive full of photos of your family, a laptop with your company Quickbooks file, a server with your SQL database, or anything else, Gillware Data Recovery can help you get that data back.
Data Recovery New Jersey – Testimonials
There are plenty of computer repair shops, MSPs, and IT consultants across the state of New Jersey who will happily recommend Gillware to any customers suffering from data loss. With our competitive pricing and world-class data recovery services, our engineers here at Gillware simply cannot be beaten. Here are a few testimonials from a small selection of our satisfied data recovery New Jersey customers:
This was my first time using Gillware to recover data from a defective drive, and I am so relieved! Gillware was very responsive and was able to retrieve a large portion of data off of the ailing drive for us.
Catherine Konno
Syncsort
Woodcliff Lake, NJ
My client suffered a fire in their building and, as a result, damaged hard drives caused by the buildings sprinkler system. Gillware guaranteed their work: they charged no fee unless data could be restored, and charged no shipping cost for sending them the damaged drive. Throughout the restoration process they initiated progress updates and were transparent. My client received their critical data and is extremely happy to have all their QuickBooks information back in tact. A win for everyone.
Damon Marc Savage
DM Savage Technology Support
Camden, NJ
My hard drive went from clicking to dead. When I restored my backup, I found out that I was missing some key files that my program saved to an obscure (not backed up) location. I also lost a big chunk of my email and contact history in Outlook. Gillware did a great job quickly analyzing my data, providing me with a list recoverable files and sending me out a new drive with ALL of my data. The process was easy and painless, and was well worth the expense to retrieve critical data.
Jack Sandler
Certified Public Accountant
Mahwah, NJ
Why Choose Gillware for Data Recovery Services?
Our data recovery lab may be located in Madison, Wisconsin, but that doesn't stop us from servicing the entire United States. For data recovery clients in the continental 48 US states, we happily provide free shipping to our lab.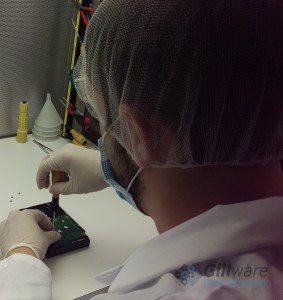 We here at Gillware Data Recovery are committed to our "no data, no charge" policy. That is why we have no upfront data recovery fees, no evaluation fees, and no inbound shipping charges. We only proceed with our recovery efforts once the client has communicated their satisfaction with our price quote. And we only charge our clients once we've successfully recovered their critical data. We provide truly financially risk-free data recovery services while still charging, on average, 40-50% less than other data recovery labs.
But there is more to our lab than affordable data recovery. At Gillware, we simply do not believe in sacrificing quality for cost. Our state-of-the-art hard disk platter burnishing technology and our in-house recovery platform help us recover data from failed hard drives, even when other data recovery labs have given up. We are an industry leader in SSD and flash memory data recovery. Our expert computer scientists have developed groundbreaking data recovery methods for virtual environments, software RAIDs, and RAID servers and SANs.
Gillware Data Recovery is the perfect choice for your data recovery New Jersey needs. We can recover data for any type of client. Whether you're a home user with photos on a dropped external hard drive, a university student with your term paper on a broken USB flash drive, or a business owner with twenty enterprise-grade hard drives in a crashed server, Gillware Data Recovery is here for you.
In a hurry for data recovery services? Check out our emergency data recovery options for a lightning-fast turnaround.
Get Started on Your Data Recovery New Jersey Case
Get in touch with one of our data recovery New Jersey client advisers today to set up your case with us. Our advisers will gladly provide you with a price estimate and walk you through our online case submission process. Whether it's one drive or a dozen, we will cover the cost of shipping your equipment to us.
Why choose Gillware for Data Recovery New Jersey Services?
Gillware's data recovery services are affordably priced, technologically innovative and completely secure.
Technology
Best-in-class engineering and software development staff
Gillware employs a full time staff of electrical engineers, mechanical engineers, computer scientists and software developers to handle the most complex data recovery situations and data solutions
Strategic partnerships with leading technology companies
Gillware is proud to be a recommended provider for Dell, Western Digital and other major hardware and software vendors. These partnerships allow us to gain unique insight into recovering from these devices.
RAID Array / NAS / SAN data recovery
Using advanced engineering techniques, we can recover data from large capacity, enterprise grade storage devices such as RAID arrays, network attached storage (NAS) devices and storage area network (SAN) devices.
Virtual machine data recovery
Thanks to special engineering and programming efforts, Gillware is able to recover data from virtualized environments with a high degree of success.
Security/Pricing
SOC 2 Type II audited
Gillware has been security audited to ensure data safety, meaning all our facilities, networks, policies and practices have been independently reviewed and determined as completely secure.
Facility and staff
Gillware's facilities meet the SOC 2 Type II audit requirements for security to prevent entry by unauthorized personnel. All staff are pre-screened, background checked and fully instructed in the security protocol of the company.
We are a GSA contract holder.
We meet the criteria to be approved for use by government agencies
GSA Contract No.: GS-35F-0547W
HIPAA compliant
Our entire data recovery process can be handled to meet HIPAA requirements for encryption, transfer and protection of e-PHI.
Pricing
No obligation, no up-front fees, free inbound shipping and no-cost evaluations.
Gillware's data recovery process is 100% financially risk free. We only charge if the data you want is successfully recovered.
Our pricing is 40-50% less than our competition.
By using cutting edge engineering techniques, we are able to control costs and keep data recovery prices low.
Instant online estimates.
By providing us with some basic information about your case, we can give you an idea of how much it will cost before you proceed with the recovery.
We only charge for successful data recovery efforts.
We work with you to define clear data recovery goals for our technicians, and only charge you upon successfully meeting these goals and recovering the data that is most important to you.