Synology Storage Pool Crashed/Synology Volume Crashed: What Do You Do?
If you're having questions related to your Synology storage pool, especially if you have a storage pool that has crashed or become degraded, look no further. Find out how serious the problems with your Synology NAS's storage pool are, whether you can fix them on your own, and who you can turn to when you can't.
Synology Storage Pool Crashed: Frequently-Asked Questions
Don't panic—a degraded storage pool or even a crashed storage pool might not be the end of the world. No matter how severe the problem is, there is always something you can do and someone who can help.
Not sure about the recovery process?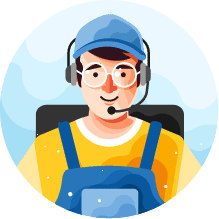 What does it mean if my Synology storage pool crashed?
A Synology storage pool crashed error message indicates that enough hard disk drives in your NAS have fallen offline to render the entire RAID array nonfunctional. For a simple spanned JBOD volume, a single-disk NAS, or RAID 0, it takes only a single hard drive failure to bring down the entire array. RAID 5 can afford to lose one hard drive and keep going, RAID 6 can lose two drives, and a RAID 10 NAS can lose up to half of its hard drives.
The fact that a hard disk drive has been taken offline does not necessarily mean the hard disk drive has broken. You may be able to run a SMART diagnostic and find no issues.
The problem can be the result of a momentary hiccup, either with the affected hard disks or with the NAS device's hardware itself. There might also be file system errors causing your NAS to drop one or more disks in your storage pool.
If all of the disks seem healthy upon a reboot, but the storage pool is still crashed and you still cannot access it, you may be able to restore all of your data by running an mdadm command to resync the array.
If the fault is in your NAS hardware, you can recover the data from your hard drives by connecting them to a PC and following Synology's instructions here. If the storage pool is degraded, you can repair it by opening the Storage Manager, going to Overview, and clicking on the link marked Repair.
How to Repair a Synology Storage Pool:
Open the Storage Manager
Go to the Overview Tab
Click on the link marked "Repair"
RELATED ARTICLES:
What if the repair option for my storage pool is grayed out?
If your Synology storage pool has crashed due to hard disk failure, your options to repair it and recover your data are limited. The repair option only works when the storage pool is degraded.
Hard disk drives are sensitive pieces of equipment that can only be repaired in a professional cleanroom data recovery lab by extremely well-trained experts with special equipment, and even then only temporarily.
If you are dealing with one or more failed hard disks that have caused your storage pool to crash, you will need the help of a lab like Gillware to salvage the files from your Synology NAS.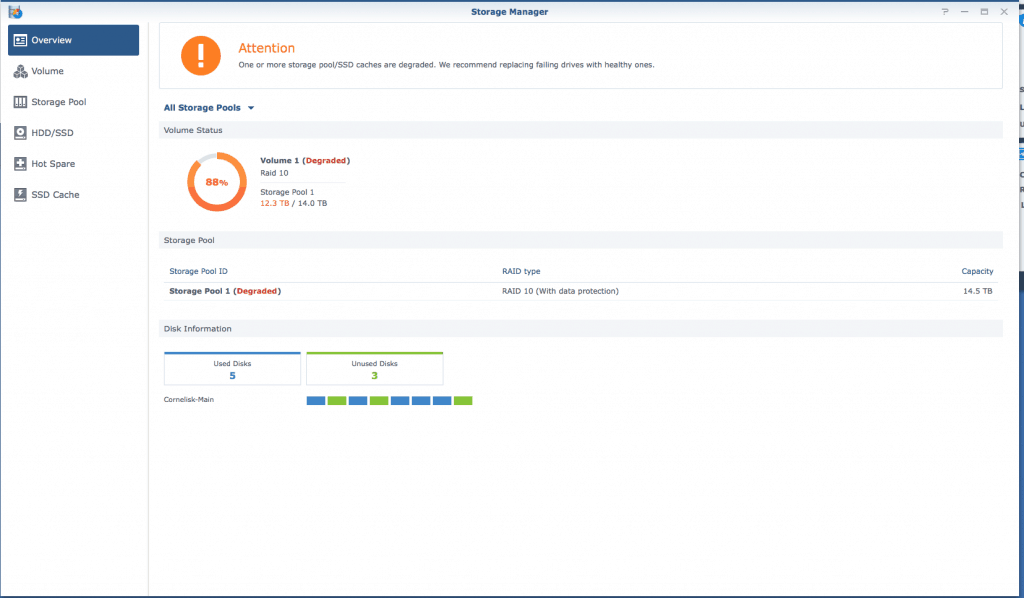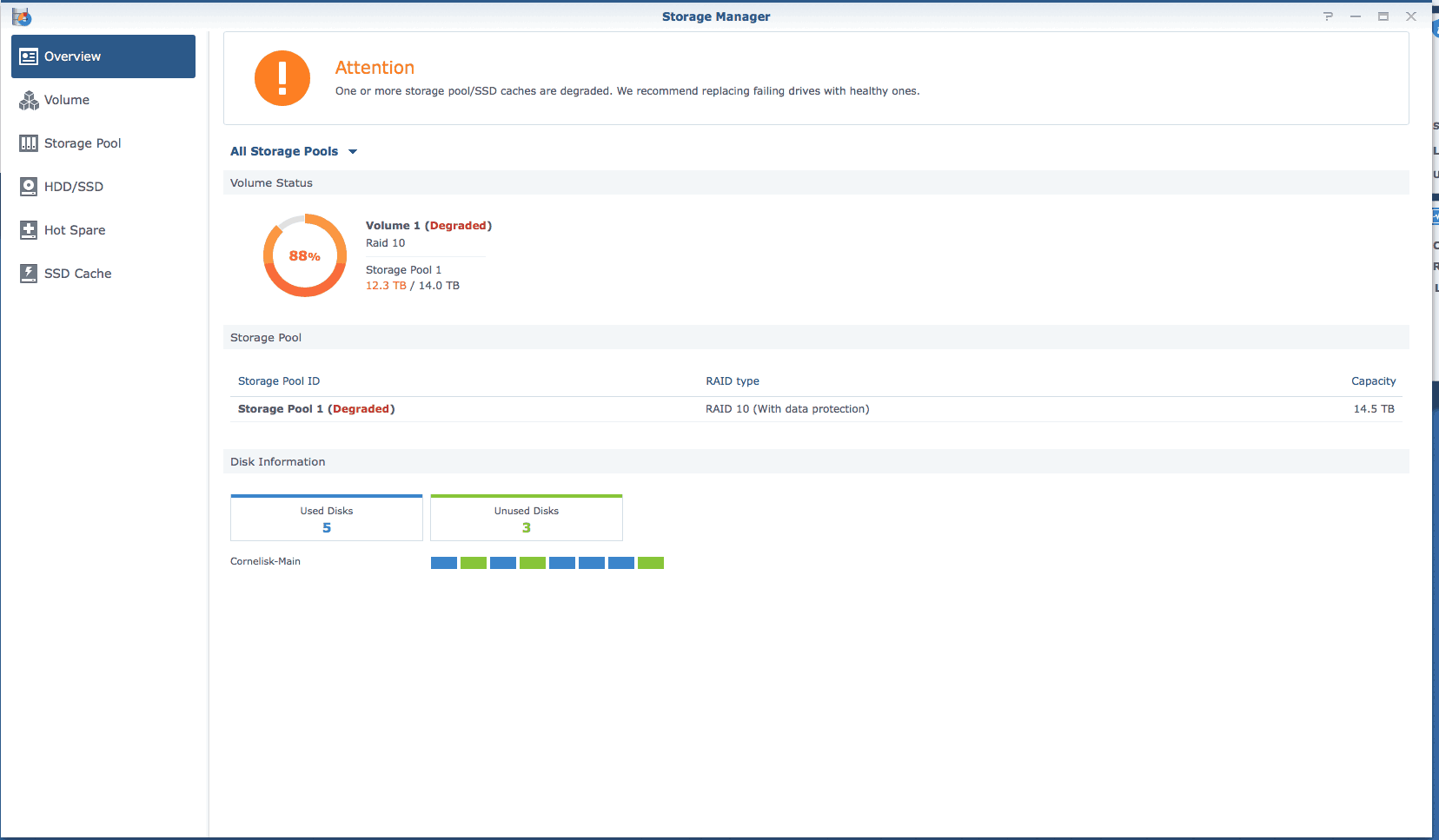 Is it a bad thing if I get a Synology storage pool degraded error message?
A Synology storage pool degraded error message is not necessarily a sign of imminent doom, but it is a sign of impending doom. For a storage pool to be degraded means that it has lost some or all of its redundancy. In other words, one of the drives in your NAS (or more, depending on the configuration) has died. This is the point where you'll want to swoop in, replace the offending drive(s), and repair the storage pool.
Repairing a degraded storage pool is not something you'll want to procrastinate on. The longer you wait, the more strain you put the healthy drives in your NAS under, and if you put it off long enough, repairing your storage pool could cause healthy drives to crash, taking down the storage pool and all your data with it. If that sounds unlikely to you, believe us, we've seen this exact scenario happen countless times in our lab.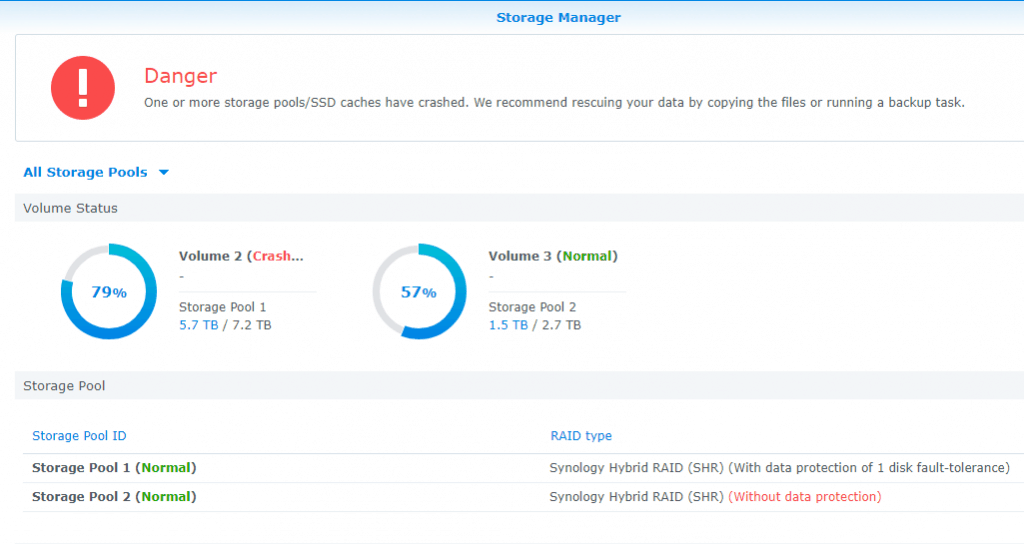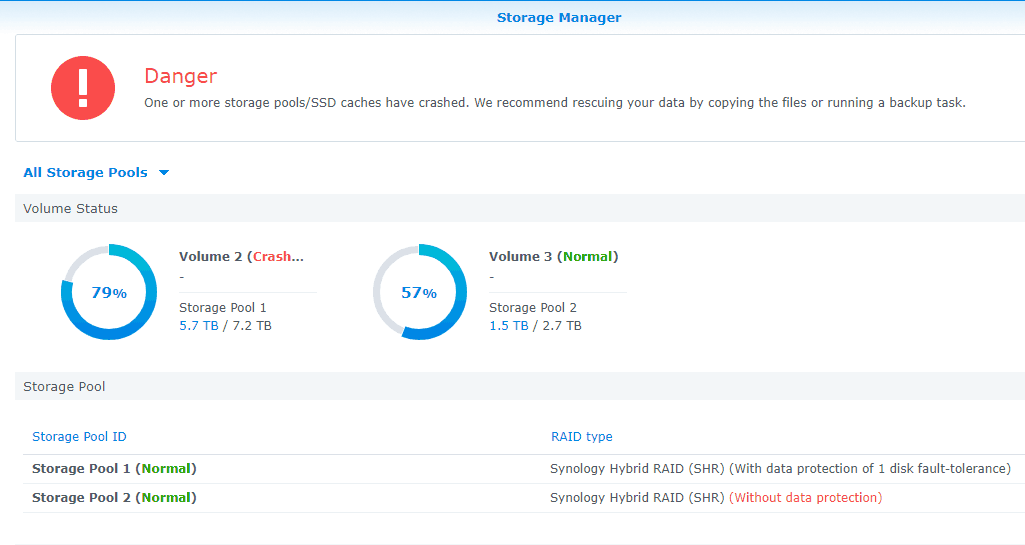 Need help getting your data back?
Depending on what exactly is wrong with your NAS, it can be difficult or even impossible for you to salvage any of your files from it on your own. That's where our engineers come in.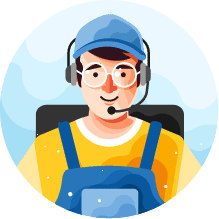 A Quick Guide to Synology Warning Lights
This is a brief rundown of which types of warning lights on Synology DS3612xs and Synology DX1215 NAS devices should worry you when you see them, and what they mean.
What does it mean when my Synology DS3612xs status light is orange and blinking?
A blinking orange status light on your NAS indicates that the Synology volume is degraded. What this means is that one or more hard disk drives are not functioning properly, but enough drives are still functional for whatever RAID array you are utilizing (one for RAID 5, two for RAID 6, up to half of the drives for RAID 10, etc.) to remain functional. A degraded array should be rebuilt by replacing the failed drive(s) as quickly as possible. Hesitation could lead to complications down the road as more strain is placed on the remaining drives.
Data Recovery Software to recover
lost or deleted data on Windows
If you've lost or deleted any crucial files or folders from your PC, hard disk drive, or USB drive and need to recover it instantly, try our recommended data recovery tool.
Retrieve deleted or lost documents, videos, email files, photos, and more
Restore data from PCs, laptops, HDDs, SSDs, USB drives, etc.
Recover data lost due to deletion, formatting, or corruption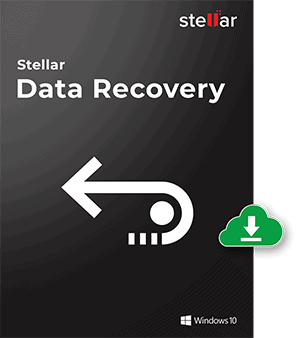 What does it mean when my Synology DS3612xs hard drive status indicator light is orange?
When the hard drive status indicator on one of your NAS device's drive bays is orange, it means your NAS has encountered an error and cannot read data from or write data to the drive. This could be an indication of hard disk failure, which is very serious, but can also indicate connection issues or a momentary glitch. If the light persists upon a reboot and the connection seems fine, replace the hard drive in question immediately.
What does it mean when my Synology DS3612xs alert light is orange and blinking?
When the alert light on your NAS is orange and blinking, this indicates that your system fan isn't working. You might also be able to tell if your NAS sounds quieter than usual. If your NAS device's fan isn't working properly, the system will eventually overheat and shut down. You can contact Synology to have your NAS device repaired or order replacement parts off of their website.
What does it mean when my Synology DX1215 status light is orange and blinking?
When the status light on your NAS is orange and blinking, it indicates a degraded Synology volume. This means that one of your hard drives has failed, but not enough drives have failed to cause your NAS to crash. For example, a RAID 5 that loses one hard drive still has enough built-in redundancy to keep going, and a RAID 6 can lose two drives and keep on ticking. This is the prime opportunity to replace the failed drive and rebuild the RAID; if you wait too long to rebuild a degraded RAID array, the chances that more drives could fail under the strain increase.
What does it mean when my Synology DX1215 status light is red and blinking?
When the status light on your NAS is red and blinking, it means the system fan is malfunctioning. If your NAS cannot properly cool itself, it will shut itself down when its internal temperature reaches a certain threshold. If your NAS is under warranty, you can easily send it to Synology to have it repaired. You can also order replacement parts to repair it yourself.
What does it mean when my Synology DX1215 status light is off?
If the status light on your NAS is off, but the device is receiving power, it means that no volume has been detected. If the hard drives in your NAS haven't been removed, this could be a sign that the volume has crashed. Check the individual hard drive status lights to assess each drive's condition.
What does it mean when my Synology DX1215 drive status light is orange?
If any of the hard drive status lights on your NAS are orange, it is an indication of a hard drive error. This might not necessarily mean that the drive has suffered a catastrophic failure. Some NAS devices will take a hard drive offline if it experiences a momentary performance hiccup and may come back online after a reboot. If the hard drive status light continues to show up as orange after a reboot, you should replace the drive.