Seagate Barracuda with Boot Error
A Sweet Windows 10 Upgrade Turns Sour
Back in the spring and summer of 2015, Microsoft made a huge show out of its brand-new Windows 10 operating system. Many Windows users were excited. Windows operating systems seemed to follow the same alternating-between-good-and-bad pattern as Star Trek feature films do, and Windows 8 had been less than well-received by users. Other PC owners were cautious about the new O/S.
But regardless of how the end users felt, the folks at Microsoft sure were proud of Windows 10. They were so proud of it, in fact, that they pushed it for free on as many of their customers as possible. Many users of Windows 7 and 8 today have grown quite accustomed to the familiar popup ad urging them to upgrade to Windows 10. It's probably less despised on the whole than the infamous Clippy, but at least Clippy wasn't being mistaken for malware.

The client's first instinct was to blame Windows 10 on their computer troubles. But when a local computer repair technician took a look at the client's computer, they couldn't access the data on the hard drive itself. Rather than Windows 10 causing the hard drive to crash, the errors the client had been getting while using Windows 10 may have actually been caused in part or in whole by the gradual degradation of their hard drive. The client brought their failed hard drive to us for data recovery.
File recovery after a Windows 10 error stops your PC or laptop from starting can be a simple procedure. But in this case, the hard drive itself was at fault. Our hard drive data recovery engineers inspected the client's Seagate ST100DM003 drive. They found that the computer's operating system wasn't the only thing that had failed. The hard drive's firmware had failed as well. When hard drive firmware fails on an external hard drive, you may be presented with a computer not recognizing hard drive or USB device not recognized error.
Don't let firmware problems keep you from your data.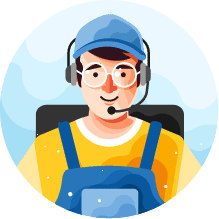 Hard Drive Firmware Repair
A hard drive's firmware is essentially the drive's own operating system. However, when your computer's operating system fails and puts your computer out of commission, you can repair or reinstall the O/S with a recovery CD or USB flash drive. There are no such easy techniques for hard drive firmware repair. Recovering files from a failed hard drive with firmware issues is a delicate operation. Only a handful of computer scientists in the world have spent years and thousands of hours becoming experts in the hard drive firmware repair process. Gillware has a good portion of them.
After our skilled hard drive data recovery technicians had repaired the hard drive's firmware and gotten the client's hard drive running again, they found that there were thousands of bad sectors spread across the hard drive platters. The part of the firmware that had failed was, in fact, the part that tells the hard drive what to do when its magnetic read/write heads encounter a bad sector.
When the read/write heads are in the early stages of failure, this firmware bug can manifest itself. The heads may not properly write data to the table of bad sectors stored in the firmware. As a result, the drive's firmware crashes as soon as the heads encounter a bad sector on the platters.
Recovery Case Results:
Hard Drive Firmware Repair Case Study: Windows 10 Errors Symptom of Firmware Issues in Seagate Hard Drive
Drive Manufacturer: Seagate
Drive Capacity: 1 TB
Model Name: ST1000DM003 Barracuda
Operating System: Windows 10
Main Symptom: Hard drive firmware had failed
Type of Data Recovered: Family photos, iTunes music library, assorted documents
Binary Read: 46.4%
Gillware Data Recovery Case Rating: 9
In this data recovery case, our client finally took the plunge and upgraded their computer to Windows 10. Things worked fine for a little while. But then their computer started throwing out startup errors, and eventually, boot errors. At first, it seemed Windows 10 would shoulder all of the blame. But our engineers found the true culprit. A firmware bug was preventing the hard drive from working. Our hard drive firmware repair technicians could reunite this client with their family photos and documents.
91.8% of the client's files were fully recovered due to our hard drive firmware repair efforts. The client looked over our list of the files we had recovered, including their family photos, iTunes music library, and other assorted documents. The client decided that the file recovery procedure was a success and paid for our services. We rated this case a 9 on our ten-point data recovery scale.