RAID 1 Data Recovery
There are many ways you can arrange multiple hard drives together in a redundant array of disks. One of the simplest and most fundamental RAID setups is the RAID 1 "mirrored" array. RAID 1 creates a local full-image backup of the data on your array in real time. But it's not the same as having a safe, offsite backup of your data. If you've lost data from your RAID 1 array, our RAID 1 data recovery experts can help you get it back.
What Is RAID 1?
If RAID-0 sacrifices all data redundancy for performance boosts, then RAID 1 is its opposite number. In a RAID 1 array, there are almost always two hard drives. RAID 1 mirrored arrays with more than two drives are theoretically possible, but the vast majority of RAID controller cards available don't support that arrangement. At any rate, it wouldn't make sense to have more than two drives in a RAID 1 array. Even if you could find a RAID controller that would support that configuration, it would be far less useful than having those same drives in a RAID 5 or RAID 6 array.
Whenever you write data to one drive in a two-drive RAID 1 setup, a copy of the data is written to the other drive. Every change you make has to get made twice, so you are duplicating every single write command you send to the array. As a result, RAID 1 arrays have decreased write speeds. If you tried to make a six-drive RAID 1 array for whatever reason, you would be adding even more duplicate write commands. This further decreases your setup's performance to the point where your hypothetical six-drive RAID 1 could take six times longer to write a single block of data than one drive on its own! And no matter how many drives you had, the total capacity of your array would never be more than that of a single drive.
In a RAID 1 mirrored array, your data is a lot safer than it would be in a RAID-0 (then again, your data is safer in a single drive than it is in a RAID 0). With RAID 1, all of the drives in the array have to fail before you lose data. Granted, this still works out to be a fault tolerance of one drive, which RAID-5 offers as well. RAID 1 is ideal for consumers who only care about fault tolerance in their storage media and aren't interested in shelling out the cash for three or more hard drives and a RAID enclosure big enough to fit them all. RAID 1 was designed with two drives in mind. If you want to put more than two drives into a RAID array that provides fault tolerance, there are plenty of more useful options.
How Can RAID 1 Data Loss Occur?
If anything happens to one drive in your RAID 1 array, you don't have to panic. The good news is you have your own local backup right there. The bad news is… you have your own local backup right there. If your RAID 1 is in an external enclosure, a fall off your desk or table could damage both hard drives. Or a power surge could short out both drives' electronics. Heaven forbid you fall victim to a flood or house fire. Furthermore, if both of the drives in your RAID 1 array were manufactured too close to each other, their lifespans may be nearly identical. Since they both see the same amount of use, they could fail simultaneously just due to age.
Both drives in your RAID 1 array won't always fail at the same time. But if you don't notice when one hard drive in your RAID 1 mirrored array fails, you'll be caught off guard when the second fails. Once one drive has failed, your RAID 1 array isn't a RAID anymore. If you don't replace the failed drive soon enough, you could lose your data when the remaining drive fails.
RAID-1 also has no protection against file deletion. If you delete files from a RAID 1, the changes you make to the filesystem are made to both hard drives. This isn't a unique fault of RAID 1, though. No other RAID array has safeguards against file deletion either. Basically, RAID 1 isn't all that great of a backup option as it might seem at first glance, and it can't save your bacon the way a good offsite backup service can.
The RAID 1 Data Recovery Process
If you've lost data from your mirrored RAID 1 array, look no further. Our entire RAID 1 recovery service is financially risk-free. We abide by a "no data, no charge" policy for all of our RAID 1 recovery cases. We even provide free inbound shipping labels for any potential clients in the continental US.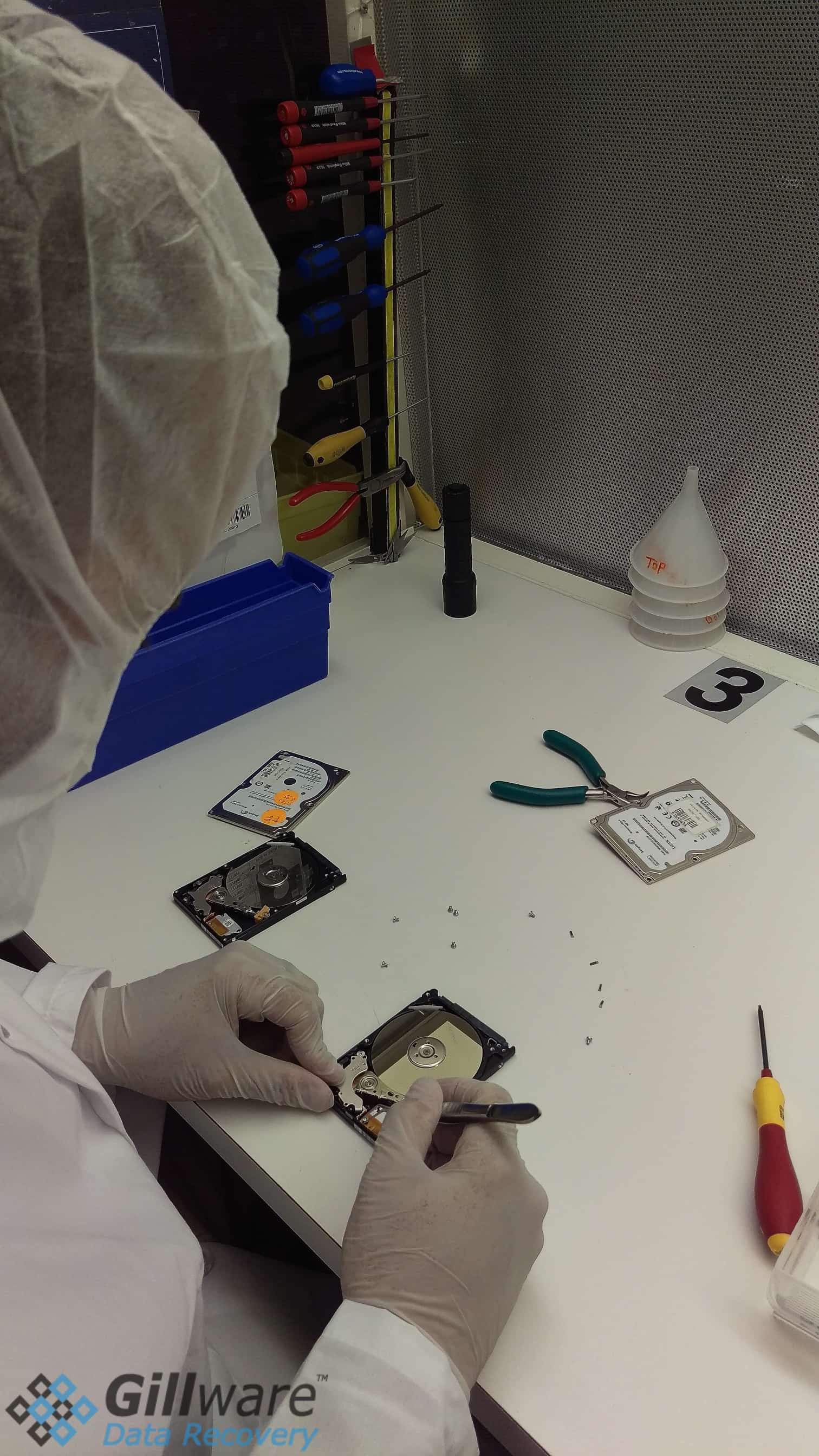 Free RAID 1 Recovery Evaluation
We always start with a free evaluation. As soon as we receive the drives in your array, they head over to our RAID 1 recovery engineers for an initial analysis. We report back to you within two business days to give you a firm price quote, probability of success, and an estimated time to completion. If you approve of these terms, we go on ahead with the recovery work.
Independent Analysis of Your RAID 1 Array's Hard Drives
Recovering data from a RAID 1 array isn't usually significantly more difficult than recovering data from a single hard drive. Unlike other RAID levels, there is no disk striping or parity data to complicate things. There are just two drives. You can actually take one hard drive in a RAID 1 array and use it just like a normal drive, which is something you can't do with the individual drives from any other RAID array.
In logical RAID 1 data recovery cases where both drives are physically healthy, only one of the drives needs to be worked on. After all, each drive is a duplicate of the other. But when we see RAID 1 recovery cases in our lab, it is usually because both of these drives have failed.
When your RAID 1 fails, the hard drive that failed most recently has the most recent copy of your data on it. We call the other drive "stale" because its data is out-of-date. This isn't relevant if the drives failed simultaneously or within minutes of each other, but in most cases, our RAID 1 recovery engineers have to analyze both hard drives in order to determine whether or not one of the drives is stale. Our goal is to make sure we are truly recovering the most recent version of the data you've lost in your RAID 1 crash.
Regardless of how the drives in your mirrored array have failed, our RAID 1 recovery engineers will do what it takes to get the drives back into shape. Hard drives can fail for many reasons. And our engineers have seen all of these types of hard drive failure countless times.
Reuniting You with Your Data
We don't send you a bill until we've met your RAID 1 recovery goals and recovered as much of your critical data as possible. After your case has been paid for, we extract your data to a new, healthy hard drive. We make sure that there is zero chance of your data falling into the wrong hands. The drive is password-protected, and the password is only shared with you, the drive's intended recipient. We send you the new drive, and hold onto our copy of your data for a little while after you receive it to give you time to just make sure everything you need is really there and really works. Five business days after your data is delivered, we wipe it all from our system using our data sanitizing equipment.
Still on the fence? Check out some of these case studies for our RAID 1 recovery services.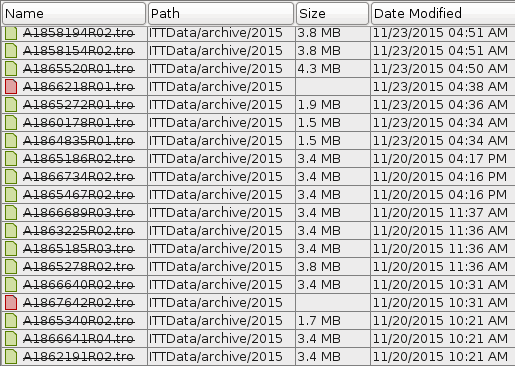 Why choose Gillware Data Recovery?
Gillware's data recovery services are affordably priced, technologically innovative and completely secure.
Best-in-class engineering and software development staff
Gillware employs a full time staff of electrical engineers, mechanical engineers, computer scientists and software developers to handle the most complex data recovery situations and data solutions
Strategic partnerships with leading technology companies
Gillware is proud to be a recommended provider for Dell, Western Digital and other major hardware and software vendors. These partnerships allow us to gain unique insight into recovering from these devices.
RAID Array / NAS / SAN data recovery
Using advanced engineering techniques, we can recover data from large capacity, enterprise grade storage devices such as RAID arrays, network attached storage (NAS) devices and storage area network (SAN) devices.
Virtual machine data recovery
Thanks to special engineering and programming efforts, Gillware is able to recover data from virtualized environments with a high degree of success.
SOC 2 Type II audited
Gillware has been security audited to ensure data safety, meaning all our facilities, networks, policies and practices have been independently reviewed and determined as completely secure.
Facility and staff
Gillware's facilities meet the SOC 2 Type II audit requirements for security to prevent entry by unauthorized personnel. All staff are pre-screened, background checked and fully instructed in the security protocol of the company.
We are a GSA contract holder.
We meet the criteria to be approved for use by government agencies
GSA Contract No.: GS-35F-0547W
HIPAA compliant
Our entire data recovery process can be handled to meet HIPAA requirements for encryption, transfer and protection of e-PHI.
No obligation, no up-front fees, free inbound shipping and no-cost evaluations.
Gillware's data recovery process is 100% financially risk free. We only charge if the data you want is successfully recovered.
Our pricing is 40-50% less than our competition.
By using cutting edge engineering techniques, we are able to control costs and keep data recovery prices low.
Instant online estimates.
By providing us with some basic information about your case, we can give you an idea of how much it will cost before you proceed with the recovery.
We only charge for successful data recovery efforts.
We work with you to define clear data recovery goals for our technicians, and only charge you upon successfully meeting these goals and recovering the data that is most important to you.
Gillware is trusted, reviewed and certified
Gillware has the seal of approval from a number of different independent review organizations, including SOC 2 Type II audit status, so our customers can be sure they're getting the best data recovery service possible.
Gillware is a proud member of IDEMA and the Apple Consultants Network.