Data Recovery Los Angeles
For data recovery Los Angeles services, you can't choose a better data recovery lab than Gillware. Whether you're a home user whose laptop hard drive won't boot, a small business owner with a corrupted SQL database, or a business owner with a virtualized enterprise-grade server, Gillware Data Recovery is here for you.
At Gillware, our data recovery experts each have thousands of successful recoveries under their belts from all manner of storage devices and setups. Don't let data loss cripple your business or destroy your family memories. Send your failed data storage device to Gillware and let us help you get back onto your feet.
3 Reasons to Choose Gillware for Data Recovery Los Angeles
Our data recovery lab is located in Madison, Wisconsin. Why send your failed hard drive or RAID server such a long way for data recovery? There are three simple reasons that, all together, raise us head and shoulders above our peers. For these three reasons, there is no need to choose any other data recovery lab but Gillware: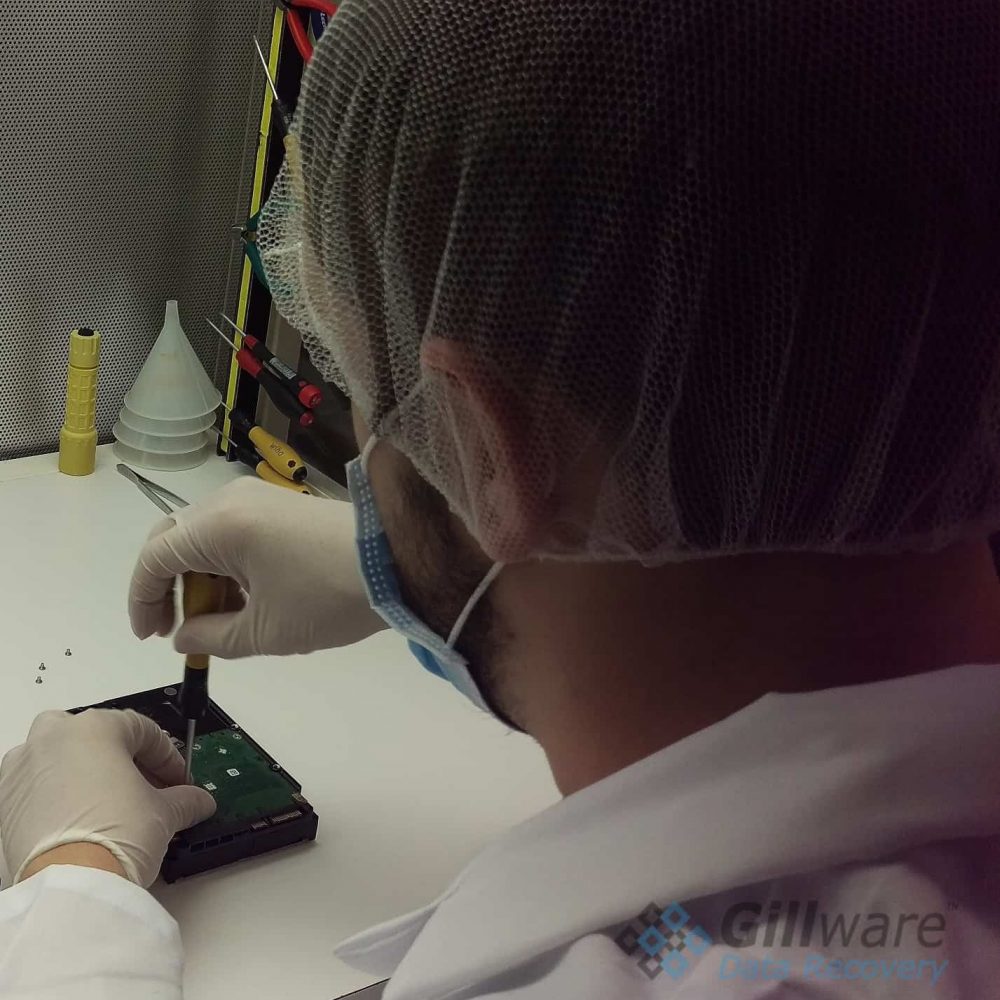 1. World-Class Data Recovery: Gillware is one of the world's leading data recovery labs, with ISO-5 Class 100 cleanroom workstations and cutting-edge hard drive repair techniques and technologies. We lead the way in RAID server recovery, SSD recovery, and virtual machine data recovery. Thanks to tools such as our platter burnisher, we have been able to recover data from failed hard drives, even when our competitors couldn't.
2. Affordable Services: Our choice of venue helps us keep our operating costs down, and that gets passed down to our clients. On average, our data recovery services tend to be almost half the cost of our competitors' data recovery Los Angeles services. Gillware Data Recovery's services are completely financially risk-free. We charge no evaluation fees or upfront data recovery fees. We abide by a "no data, no charge" policy for all of our data recovery clients, which we have stuck to since our founding over 12 years ago. Our clients only pay for our services once we've recovered their critical data at an acceptable price.
3. Free Inbound Shipping: We are more than happy to cover the cost of inbound shipping for all data recovery Los Angeles clients. If you are in need of emergency data recovery services, we happily provide next-day shipping free of charge. This is just one of the many ways we ensure a completely financially risk-free data recovery service for all of our clients in the continental US.
Data Recovery Los Angeles Testimonials
Gillware has solved data recovery cases for hundreds of Los Angeles data recovery clients. In the city of Los Angeles, dozens of computer repair experts and MSPs will happily recommend our services to victims of data loss. Here is just a small sample of testimonials from satisfied customers of our data recovery Los Angeles services:
I needed to recover a file from a hard drive that physically damaged, Gillware recovered the file and send it back to me. I was very happy with their services and communication. Highly recommend them for data recovery.
Ali Sadr
University of Southern California
I would recommend their recovery services to anyone in the unfortunate position of needing this. Professional, quick and a standardized process that was very reassuring. They also beat, by far, the price of any local recovery services I found.
Peter Milford
Preferred Legal Support
Gillware is a first rate organization. I was impressed with our down to earth conversation about my specific problems and concerns. Everything was done as explained – no surprises. I was given updates and a timeline for the recovery. I hope I don't make this mistake again but if I have another data recovery problem, Gillware will be my first call. I would recommend Gillware without hesitation. Great job.
Raul Vega
Raul Vega Photography
Gillware has hundreds of computer repair and MSP partners not only in Los Angeles, but across the state of California as well. We've built up positive relationships with IT consultants throughout the state with our years of expert data recovery service. Our data recovery Los Angeles partners, as well as our partners in the rest of the state, know that Gillware is the best choice for data recovery services when a client comes to them with data recovery needs.
Contact Gillware for Your Data Recovery Los Angeles Needs
Whether you've got a single crashed hard drive, data deleted from an enterprise-grade RAID-50 SAN, a corrupted SQL database, or any other data loss issue, Gillware can help. Contact one of our data recovery Los Angeles client advisors to get your case set up with Gillware Data Recovery.
Why choose Gillware for Data Recovery Los Angeles Services?
Gillware's data recovery services are affordably priced, technologically innovative and completely secure.
Technology
Best-in-class engineering and software development staff
Gillware employs a full time staff of electrical engineers, mechanical engineers, computer scientists and software developers to handle the most complex data recovery situations and data solutions
Strategic partnerships with leading technology companies
Gillware is proud to be a recommended provider for Dell, Western Digital and other major hardware and software vendors. These partnerships allow us to gain unique insight into recovering from these devices.
RAID Array / NAS / SAN data recovery
Using advanced engineering techniques, we can recover data from large capacity, enterprise grade storage devices such as RAID arrays, network attached storage (NAS) devices and storage area network (SAN) devices.
Virtual machine data recovery
Thanks to special engineering and programming efforts, Gillware is able to recover data from virtualized environments with a high degree of success.
Security/Privacy
SOC 2 Type II audited
Gillware has been security audited to ensure data safety, meaning all our facilities, networks, policies and practices have been independently reviewed and determined as completely secure.
Facility and staff
Gillware's facilities meet the SOC 2 Type II audit requirements for security to prevent entry by unauthorized personnel. All staff are pre-screened, background checked and fully instructed in the security protocol of the company.
We are a GSA contract holder.
We meet the criteria to be approved for use by government agencies
GSA Contract No.: GS-35F-0547W
HIPAA compliant
Our entire data recovery process can be handled to meet HIPAA requirements for encryption, transfer and protection of e-PHI.
Pricing
No obligation, no up-front fees, free inbound shipping and no-cost evaluations.
Gillware's data recovery process is 100% financially risk free. We only charge if the data you want is successfully recovered.
Our pricing is 40-50% less than our competition.
By using cutting edge engineering techniques, we are able to control costs and keep data recovery prices low.
Instant online estimates.
By providing us with some basic information about your case, we can give you an idea of how much it will cost before you proceed with the recovery.
We only charge for successful data recovery efforts.
We work with you to define clear data recovery goals for our technicians, and only charge you upon successfully meeting these goals and recovering the data that is most important to you.