Data Recovery Services Denver
For hard drive recovery in Denver, Colorado, Gillware Data Recovery is happy to meet your needs. Gillware Data Recovery's data recovery Denver services are second-to-none, with affordable rates 40-50% lower on average than those of our data recovery competitors. Our data recovery lab in Madison, Wisconsin is the perfect place to send your failed hard drive, crashed server, broken thumb drive or SSD, or corrupted database for recovery.
MICRO CENTER –
DENVER, CO
ADDRESS:
8000 E. Quincy Ave
Denver, CO 80237
STORE HOURS:
Mon – Sat: 10 – 9, Sun: 11 – 6
There is no better choice for our data recovery Denver clients than Micro Center and Gillware Data Recovery. The many computer repair shops and IT consultants in Denver who will happily attest as much are proof of that. Gillware Data Recovery has partnered with Micro Center to offer secure, affordable data recovery services with world-class results. Our engineers and computer scientists are experts at recovering data from all types of data loss situations.
Our data recovery experts can help you recover from data loss that occurs as a result of physical damage or logical damage and corruption. Our recovery experts can recover lost data from failed hard drives, solid state drives, USB flash drives and SD cards, and even mobile phones. We have thousands of successful RAID server and SAN recoveries under our belts, including data recovery and restoration for lost or corrupted SQL databases or Exchange mail server databases. Our experts pioneer data recovery techniques and technologies for virtual servers, RAID arrays, and solid state devices.
Whatever your data recovery needs, whatever your device may be, Micro Center and Gillware Data Recovery can help you. Our data recovery Denver services are world-class, and financially risk-free to boot.
Hard Drive Recovery Denver
Gillware Data Recovery offers world-class hard drive recovery services for data recovery Denver clients. Hard disk drives have very sensitive internal components. Everything, from the read/write heads to the hard disk platters, operates within nanometer-scale tolerances. Any dust and particles that enter the drive can cause massive and irreversible damage and data loss. When your hard drive needs internal repairs, you need to send it to a data recovery lab with a safe cleanroom environment.
Gillware Data Recovery's expert engineers use modular cleanroom workstations to do their repairs. Our cleanrooms are ISO 5 Class 100 workstations. They are audited on a quarterly basis by an independent investigator to ensure that our data recovery lab is a safe environment in which we can perform delicate HDD repairs.
With our fault-tolerant forensic recovery tools and state-of-the-art platter burnisher machine, we can salvage data from hard drives, even if the platters have been damaged. It is not uncommon for Gillware to see hard drives that were pronounced "unrecoverable" by other data recovery labs, but could have data salvaged from them with the help of our platter restoration technology.
Secure, Financially Risk-Free Data Recovery Denver Services
At Gillware Data Recovery, our world-class data recovery services come with a safety guarantee and our financially risk-free data recovery guarantee. Our entire data recovery system is SOC 2 audited. Data recovery Denver clients can rest easy knowing that their data is safe, from the day we receive their device in our lab to the day they receive their recovered data on a healthy, password-protected external hard drive. Our clients can review their recovery case results on a secure, password-protected online case viewing portal and have small amounts of critical data sent to them via secure FTP.
Gillware Data Recovery proudly upholds a "no data, no charge" policy. Since our founding in 2004, we have only charged clients for successfully completed data recovery cases. Our data recovery evaluations are completely free, and we only continue on with recovery work after our clients give their approval of our price quotes. We don't show any of our clients a bill until we have successfully recovered their critical data.
We even offer to have our clients' storage devices shipped to us on our dime, using prepaid UPS shipping labels! Whether you have a failed hard drive or a crashed RAID server, you don't have to pay a dime for our data recovery Denver services unless we successfully recover your critical data.
If your device has physical damage, or is making clicking or beeping noises, it may need to be sent to our Madison, WI lab for further evaluation. However, if there is no physical damage and/or data was simply deleted on accident, often times the data can be recovered the same day at your local Micro Center location.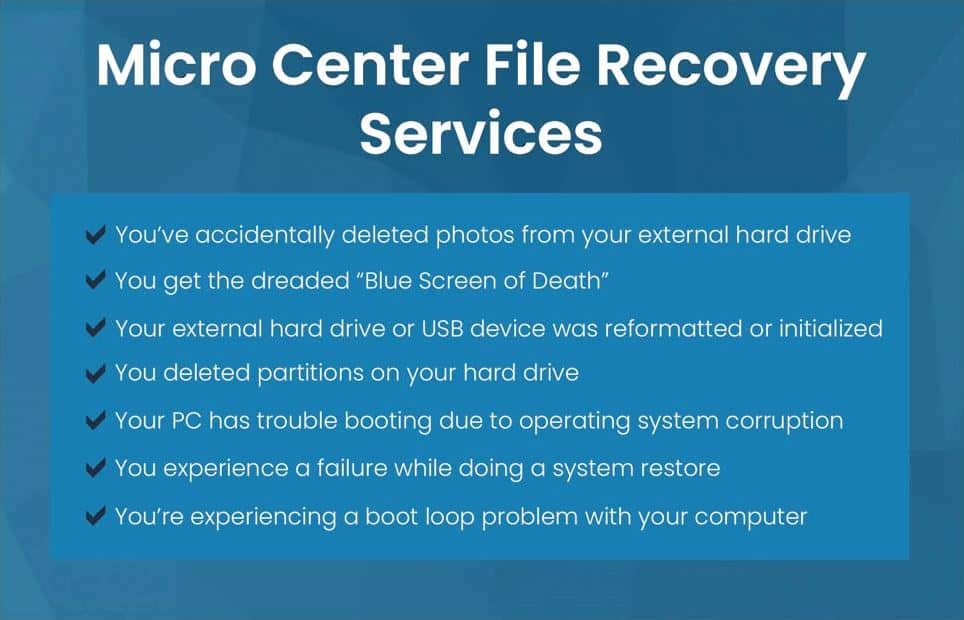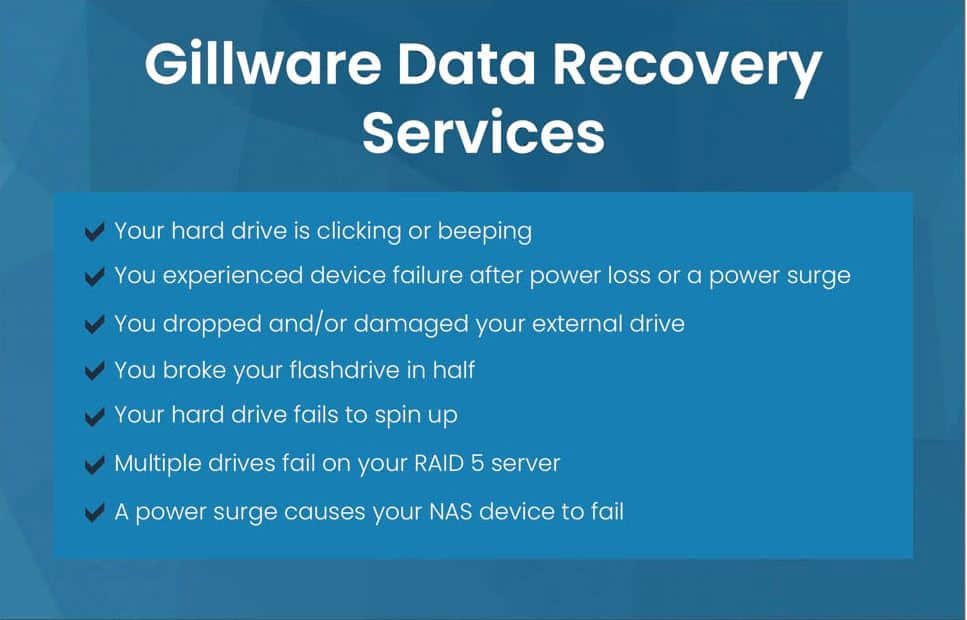 Let us get your data back!
If you have questions about our process or pricing, please click on the button below for ways to contact us.