Stellar Data Recovery
Powerful Data Recovery Software for Mac
Effortless recovery of lost or deleted data from Mac devices
Recover emails, documents, photos, videos, audio, etc.
Retrieve files from crashed or non-booting Mac systems
Recover files from corrupt drives, lost partition, unrecognized volume
Professional Data Recovery Software for Mac
As one of world's leading data recovery software for Mac, we offer you a fast and easy way to recover your deleted data without the need for any technical expertise.
Recover data from MacBook Air®, MacBook Pro®, iMac®, Mac mini®, etc.
Recover data from APFS, HFS+, FAT32, exFAT, and NTFS drives
Supports macOS Big Sur 11.0 and older versions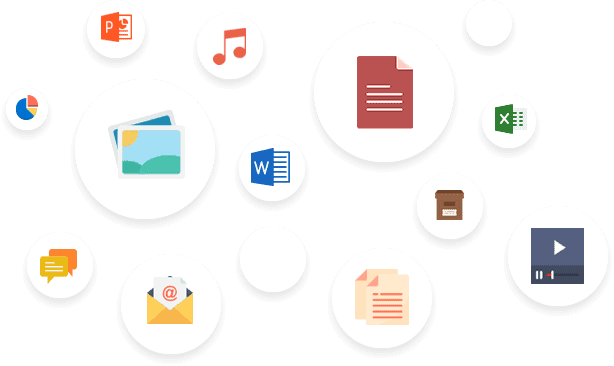 SUPPORT FOR ANY FILE FORMAT
Recover Any File Format Supported on Mac
Recovering lost or deleted files is no longer a problem when you use Stellar Data Recovery for Mac. This powerful software can restore any file format with ease.
Recover Word, PowerPoint, Excel, and other documents
Recover Photos, iMovie, GarageBand, Pages, & files from other apps
Restore any file format with customized recovery
COMPREHENSIVE SUPPORT FOR MAC STORAGE
Recover Data from All Mac Devices
Using Stellar Data Recovery for Mac, you can recover your lost or deleted data from all types of Mac systems as well as external storage media.
Recover data from HDD, SSD, 4K/2K Drives, Fusion Drive®, SD card, etc.
Supports Thunderbolt 3 (USB-C) and other USB storage devices
Recover data from Mac storage devices with 5 TB+ capacity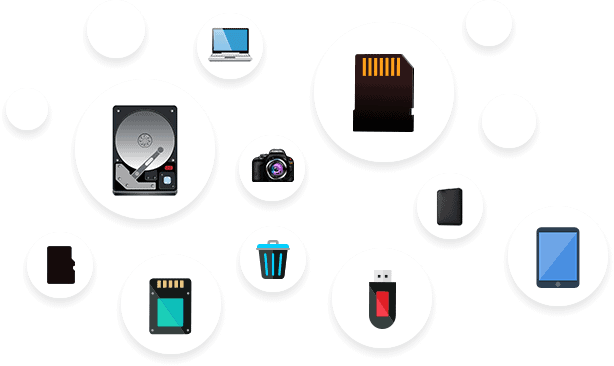 More Great Features

Recovers data from an emptied Mac Trash
Our Mac data recovery software restores data removed or emptied from the Trash bin. It allows you to scan the specific volume, enabling a quick and effortless recovery of all the permanently deleted files. You can simply launch the software, select the location and type of file, and click Scan to start the recovery process.

Recovery from Crashed Mac System
A Mac device may crash or become unbootable due to problems with your operating system (OS) or because of faulty updates. The data stored in a crashed Mac is inaccessible if the drive is not initialized in disk management. Stellar Data Recovery Professional, Premium, and Technician editions create bootable recovery media that allows you to restore data from a crashed Mac.

Recovers from Corrupted Partitions
Corruption of APFS or HFS+/HFS file systems is a common reason for loss of data on a Mac. Accessing a corrupt partition like that is not possible unless you re-format it. However, formatting a disk will result in loss of data. Stellar Data Recovery software recovers data from corrupted Mac partitions, thereby preventing it from getting lost permanently.
Disk Imaging & Cloning
The software facilitates fast and safe recovery from hard drives with lots of bad sectors. It allows you to create an image of the bad hard disk drive or clones it on a healthy drive, enabling data recovery using the software. This feature avoids failure of the original hard disk, which could happen if data recovery was performed directly.

Repairs Corrupt Photos
The Premium and Technician editions of the software can fix corruption in photos shot with a DSLR, digital camera, drone, Android device, etc. These software variants can efficiently repair distorted, grainy, blurred, pixelated, & greyed-out images and restore the images to their original state.

Recover Data from Lost Partition
Stellar Data Recovery Professional Edition can retrieve data from lost, undetectable, and deleted partitions. If your partition reports as RAW, Stellar software can scan the storage volume to search and locate all the lost partitions on the drive. The tool scans the lost partitions and allows you to instantly preview and restore the data on your Mac device or to an external hard drive.

Allows Recovery from Formatted Partitions
Aside from deletion of data or lost partition, formatting a disk is a common cause for loss of data, which can happen mistakenly or deliberately while performing another process. Stellar Data Recovery software performs deep scanning on the formatted partitions and volumes, recovering the data in its original form.

Supports File Vault®-Encrypted Volumes [New]
The latest version of Stellar Data Recovery for Mac supports recovery from File Vault encrypted volumes. It scans the encrypted Mac volume after the decryption key is entered and recovers the data efficiently, allowing you to restore it to a location of your choice.

Recovers from Time Machine
Using the software, you can recover lost or deleted files from your Time Machine backups. The software scans the Time Machine backup and allows you to recover specific files instead of restoring all the data. Stellar Data Recovery for Mac supports APFS Time Machine and works effectively in corruption and formatting cases.

Repairs Corrupt Videos
Stellar Data Recovery Premium and Technician editions can repair corrupt video files shot from all types of cameras such as DSLR, action camera, drone, CCTV camera, etc. These variants can fix choppy, blurred, stuttering, and other types of corrupt videos. The software supports all leading camera brands such as Canon®, Sony®, GoPro®, etc.
Software Walkthrough
Select the Type of Data
Select the file types you wish to recover and click "Next."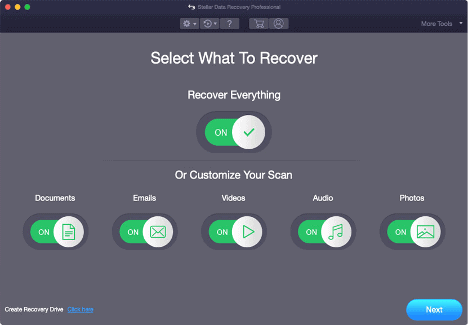 Select the Location
Select the drive or volume where the data is lost from.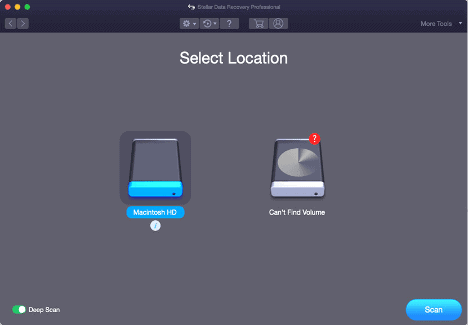 Scan & Recover
Scan, preview and recover files from the Mac storage disk.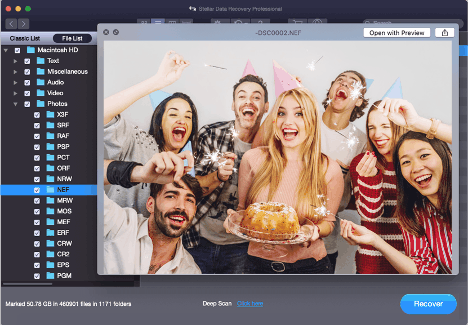 Quick Comparison
| | Free | Professional | Premium | Tehnician |
| --- | --- | --- | --- | --- |
| Recover Data | Up to 1GB | Unlimited | Unlimited | Unlimited |
| Free Trial | Free Download | Free Download | Free Download | Free Download |
| Installations | Single System | Single System | Single System | 3 Systems |
| Os Required | macOS | macOS | macOS | macOS |
| Recovers Deleted Photos, Videos and other Critical Files | | | | |
| Recovers from Formatted Systems | | | | |
| Recovers from Any Storage Media | | | | |
| Recovers Data from APFS, HFS+, NTFS, ex-FAT, FAT(FAT16/FAT32) | | | | |
| Recovers from Non-Booting macOS | | | | |
| Recovers Files from Lost Partition | | | | |
| Optical Media Recovery (CD, DVD, HDDVD, Blu-ray Disc) | | | | |
| Creates Disk Image | | | | |
| Monitors Hard Drive Health (SMART) & HDD Cloning | | | | |
| Repairs Corrupt or Distorted Videos | | | | |
| Repairs Corrupt or Distorted Photos | | | | |
| Repairs Multiple Videos or Photos simultaneously | | | | |
| Extracts Thumbnails of Images | | | | |
| Price | 0 | $79.99 | $99.99 | $149 |
| | Free Download | Buy Now | Buy Now | Buy Now |
Technical Specifications
About Product
---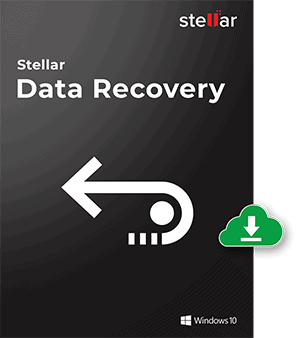 License
Single User License Can use only on a single system
Edition
Free, Standard, Professional, Premium, Technician, Toolkit
Language Supported
English, German, French, Italian, Spanish
System Requirements
---

Processor
Intel-compatible (x86, x64)
Operating System
macOS Big Sur 11, Catalina 10.15, Mojave 10.14, 10.13, 10.12 & 10.11
Memory
4 GB minimum
(8 GB recommended)
Hard Disk
250 MB free space
TRY IT OUT FOR FREE
Recover 1GB data, absolutely free
*Recover up to 1 GB lost or deleted data for free