---
Almost every portable data storage device today relies on NAND flash memory to do its job. You can find NAND chips inside your SSD, your phone, your thumb drive, and your memory cards. You can even find a NAND chip augmenting some of your traditional spinning-platter hard drives. At Gillware Data Recovery, we have flash drive data recovery experts who can assist you with your flash media-related data recovery needs, regardless of what the device is.
"Flash" media stores data quite differently from the way your hard drive does. There are no spinning disks or moving parts that store data magnetically; instead, the data is stored electronically on nonmoving chips of non-volatile RAM.
When you plug a USB flash drive into your computer or boot up a PC that runs on a solid state drive (SSD), what you see on your computer looks the same as what you'd see on a hard disk drive. However, the way NAND flash memory devices store data is very, very different on a fundamental level.
---
Flash Memory/Solid State Data Recovery
Flash memory is far more advanced than the traditional magnetic forms of data storage such as hard disk drives. To get your data back from a NAND flash storage device such as an SSD, smartphone, tablet, or USB flash drive requires a particularly large pool of talent, resources, and expertise. Fortunately, Gillware has all these things in spades, making us your best option when you need files retrieved from a broken or malfunctioning flash device.
Only a professional data recovery lab with an ISO-5 Class 100 cleanroom, skilled technicians, and dedication to research and development to stay on the cutting edge of NAND flash memory file recovery tools and techniques can reliably perform the complex work needed to rescue the data from solid state devices.
We are available for:
Free flash memory recovery consultation
Free in-lab evaluation
Free inbound shipping
Our services include data recovery from flash memory storage devices including:
USB Flash Drives
Solid State Drives (SSDs)
Apple Fusion Drives
SD and microSD Cards
Smartphones and Tablets
Gillware handles enterprise- and consumer-grade flash media from all major manufacturers, including:
Kingston
Samsung
Intel
SanDisk
---
NAND flash memory devices come in all shapes and sizes. Gillware provides file recovery services for flash devices such as...
What Is Flash Memory?
Flash memory is a form of non-volatile random-access memory, which is a fancy way of saying all the data on the device doesn't vanish when you take away its supply of power.
Random-access memory, or RAM, has always been much faster than other forms of data storage. It takes the same amount of time to read and write data to and from any area of a RAM chip, but with direct-access memory, including hard disk drives, CDs, and DVDs, the time it takes to read and write data depends on the physical location of the data on the media.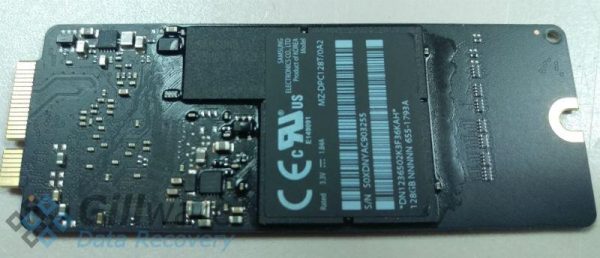 What is NAND?
Most flash memory devices you see today store your data on a NAND memory chip. But what does "NAND" mean?
NAND isn't an acronym, though it might look like one. NAND actually refers to the Boolean logic operator NOT AND.
What does this have to do with data storage, though?
We digitize data by making it binary; e.g. true vs false or zero vs one, because a circuit can either have sufficient power flowing through it or not. NAND logic is used to set up a particular type of gate in a circuit, and this circuit forms the basis for the most commonly-used forms of flash memory in existence today.
Despite these benefits, though, integrated-circuit RAM chips had a few drawbacks that made it unsuitable for filling the same role. If you stopped running power to the chip, all of the data stored within would vanish. For this reason, RAM is typically used in your computer to temporarily store data so that it can be quickly accessed while your computer is in use.
Flash memory is somewhat related to RAM in that the data is stored electronically on microchips, but different in that the data you read from and write to it remains intact after the chip loses power. Initially developed in the 1980s by Toshiba, it took a few decades for flash memory to become a viable alternative to direct-access storage media. Due to the compact nature of flash memory compared to spinning disks and the great leaps and bounds over the past decades in storage density, flash memory has been one of the driving forces behind the miniaturization of our portable devices.
---
Why Choose Gillware for Flash Memory Recovery?
File recovery software can't always help you recover data from a failed flash device. Sometimes the only thing that works is a world-class lab with world-class technicians.
Gillware's file recovery services are affordably priced, technologically innovative and completely secure.
Flash storage devices tend to be more durable than other forms of storage media that involve moving parts. But they aren't immune to failure. And like other forms of data storage, they don't need to break to prevent you from getting to your photos, documents, or other files. Corrupt filesystem sectors or human error in the form of accidental deletion or reformats are just as likely to affect your SSD, SD card, or USB flash drive as any hard disk drive.
However, because flash memory works so differently than direct-access data storage, the recovery process for flash devices can be much different. To extract data from a failed flash media device when the device is broken down and file recovery software programs can't do the job alone sometimes requires delving deep into the peculiarities of flash memory.
At that point, your best hope for recovering your critical files from flash memory devices that have failed rests in the hands of a professional data recovery lab. In order to deal with the constant evolution of flash memory, data recovery companies must commit heavily to research and development in order to continue to provide world-class data recovery services.
Gillware's expert computer scientists, computer engineers, and software engineers make up some of the top flash memory data recovery specialists in the world. We've worked with SSD manufacturers to find new ways to unlock data from their devices when they stop working correctly, developed groundbreaking methods to extract data directly from monolithic NAND chips used in USB flash drives and microSD cards, created proprietary software programs to make sense of data directly pulled from NAND flash memory chips, and refined new forensic hardware and software techniques to rescue data from smartphones.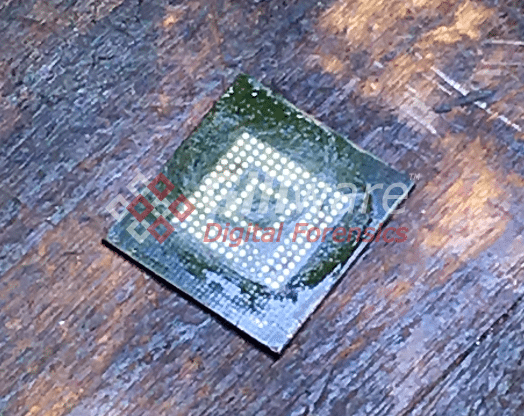 Learn More About Gillware's Most Advanced Flash Memory Recovery Capabilities
NAND flash memory comes in all shapes and sizes, and all the variations in their design and use constantly keep our engineers on their toes. Read on to learn more about the advanced flash memory recovery expertise on display in Gillware's data recovery and digital forensics lab.
Monolithic Flash Device Recovery
When USB flash drive manufacturers such as Kingston began using monolithic chip designs in their products, it represented a new hurdle for data recovery professionals when asked to retrieve data from these storage devices. Unlike older designs of USB flash drives, the NAND chip seemed utterly inaccessible, which represented a pressing problem when it came to trying to extract data directly from the chip of a nonfunctional flash drive. Discovering how to access the chip on these USB devices as well as microSD cards and newer SD cards, which also use such construction, was imperative to continue to provide world-class data recovery expertise to as many people as possible.
Advanced Forensic Smartphone Data Recovery Techniques
Much of the data on your smartphone lives in an embedded multimedia chip (eMMC) within the phone. For unencrypted smartphones that have suffered severe damage, removing this chip and extracting the data from it is no big feat for our skilled data recovery engineers. However, when the eMMC is encrypted, whether by default or by the user, much more advanced techniques are required to effectively extract the data and decrypt it.
The Challenges of Flash Memory Architecture and "Amnesia"
Retrieving accidentally deleted files or extracting data after an accidental reformat or initialization of a memory card usually lies on the easier end of the flash memory data recovery continuum. However, sometimes the many quirks of how flash memory operates get in the way and make what looks on the surface to be a simple data recovery operation into a case which requires cutting-edge tools and professional digital forensic insight.
SSD Data Recovery White Paper: Benefits of Industrial Cooperation (2014)
Hours of painstaking work crafting the perfect PowerPoint presentation, thousands of irreplaceable memories stored as impeccably organized photos, or years of research locked in hundreds of Word documents—regardless of what kind of data it is, losing it is an extremely painful experience. Solid-state drive technologies offer a reliable way to store electronic data. This fact, however, does not mean the SSDs are impervious to failure.
Cutting-Edge Technology
Best-in-class engineering and software development staff
Gillware employs a full-time staff of electrical engineers, mechanical engineers, computer scientists and software developers to handle the most complex data recovery situations and data solutions
Strategic partnerships with leading technology companies
Gillware is proud to be a recommended provider for Dell, Western Digital and other major hardware and software vendors. These partnerships allow us to gain unique insight into recovering from these devices.
RAID Array / NAS / SAN data recovery
Using advanced engineering techniques, we can recover data from large capacity, enterprise-grade storage devices such as RAID arrays, network attached storage (NAS) devices and storage area network (SAN) devices.
Virtual machine data recovery
Thanks to enterprise-grade engineering and programming efforts, Gillware full-time recover data from virtualized environments with a high degree of success.
Secure Data Recovery Facilities
We are SOC 2 Type II audited
Gillware has been security audited to ensure data safety, meaning all our facilities, networks, policies and practices have been independently reviewed and determined as completely secure.
We have a secure facility and staff
Gillware's facilities meet the SOC 2 Type II audit requirements for security to prevent entry by unauthorized personnel. All staff are pre-screened, background checked and fully instructed in the security protocol of the company.
We are a GSA contract holder
We meet the criteria to be approved for use by government agencies.
We are HIPAA compliant
For HIPAA-covered entities and business associates, our entire data recovery process is handled to meet HIPAA requirements for encryption, transfer, and protection of e-PHI.
Sensible Pricing
No obligation, no up-front fees, free inbound shipping and no-cost evaluations
Gillware's data recovery process is 100% financially risk-free. We cover the cost of you sending your device to our lab, offer completely free in-lab evaluations, and only charge if the data you want is successfully recovered.
Our pricing is 40-50% less than other professional labs
By using cutting-edge engineering techniques, we are able to control costs and keep data recovery prices low.
Instant online price estimates
By providing us with some basic information about your situation, we can give you an idea of how much data recovery will cost before you submit a case.
We only charge for successful data recovery efforts
We work with you to define clear data recovery goals for our technicians, and only charge you upon successfully meeting these goals and recovering the data that is most important to you.
---
Your data can vanish in a flash.
One minute, your phone could be sitting comfortably in your hand. The next, it could be lying at the bottom of a pool.
All it takes is one slip of your elbow or knee to snap your USB flash drive in two while it's plugged into your PC.
One day, your computer might just suddenly stop booting up from its SSD altogether.
The SSD half of the Fusion Drive in your iMac could die at any time.
The SD card from your camera or the microSD card from your phone might just suddenly prompt you to initialize it the next time you plug it into your computer.
Data loss can strike at any time, but Gillware's expert technicians will always do the most we can to rescue you when disaster strikes.
Simply submit a case online and we'll set you up with everything you need to send your flash device to our lab for a free evaluation by the best data recovery specialists in the world: