Data Recovery Services in Columbus, Ohio
Does a broken cellphone have you without important family photos? Is your external hard drive that housed valuable Quickbook files for your small business completely dead? No need to fret! Micro Center and Gillware have teamed up to provide top notch data recovery services for Columbus and the surrounding areas.
Don't waste your time with complicated, ineffective data recovery software. Let the experts at Gillware and Micro Center take care of it for you! We know that losing critical financial documents, wedding videos, or baby pictures can be an extremely stressful time in people's lives. Our goal is always to recover all of your data as quickly and effectively as possible.
Gillware's proprietary software and expertise allow us to provide local data recovery services for customers in the Columbus area. Our in-house lab allows us to keep costs low and offer our world-class data recovery services for a fraction of what other data recovery companies charge. We provide data recovery solutions for a variety of different situations and devices. Whether it be a chipped SD card or a flash drive that got snapped in half, Gillware services them all. In many cases, we are able to salvage data even when other recovery labs cannot.
For in-store data recovery, head to Micro Center's flagship store in Olentangy Plaza right off the Olentangy Freeway. This location is currently serving the Columbus area including Clintonville, Upper Arlington, Worthington, Dublin, Westerville, Hilliard, and New Albany. Simply bring your device to the service desk and a Micro Center employee will walk you through the data recovery process. In many cases, your data is able to be recovered in-store within the same day that you lost it. In other cases, it may take a bit more time and effort to retrieve data from a damaged or broken device.
MICRO CENTER – COLUMBUS
ADDRESS:
Olentangy Plaza
747 Bethel Rd
Columbus, OH 43214
STORE HOURS:
Mon – Sat: 10 – 9, Sun: 11 – 6
Your data recovery solution is right around the corner
at the Columbus Micro Center store.
If you are experiencing issues such as a clicking hard drive, a broken flash drive, NAS device failure, or damaged external drives your device will need to be sent directly to Gillware's Madison, WI headquarters for us to take a closer look. See below to determine whether your device will need to be sent to us, or if it is eligible to be serviced in-store at Micro Center.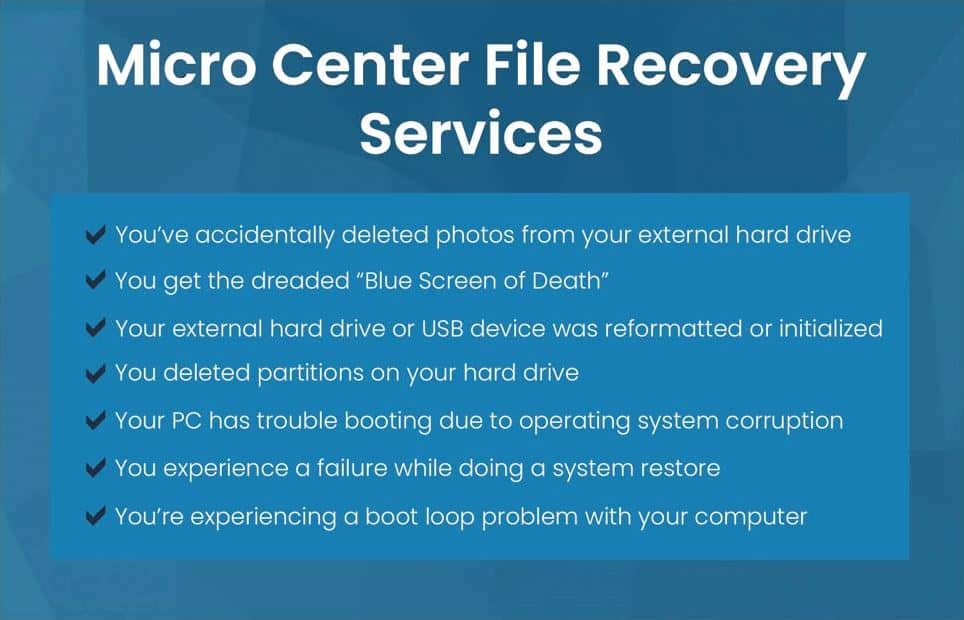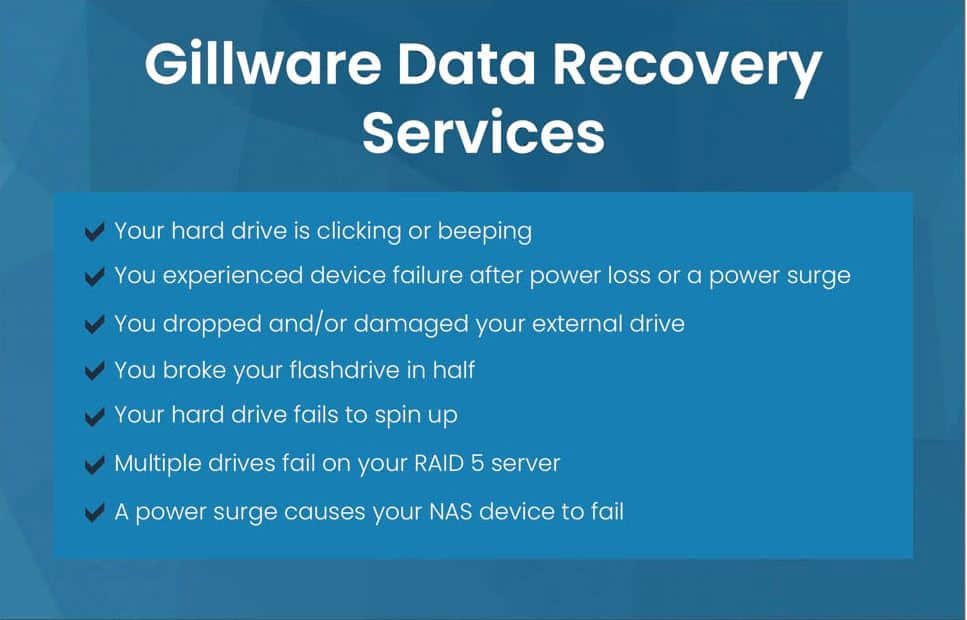 Let Gillware and Micro Center help with your data recovery needs!
If you have any questions about the data recovery process, contact us by clicking the button below