Professional Data Recovery
As a managed service provider, your client expects you to be able to help when they have an IT emergency or full-blown disaster on their hands. When a client comes to you after the computer containing all of their documents crashes or accidentally gets reformatted, or when someone accidentally deletes all their tax records for the past year, or when their mission-critical server goes belly-up, you need to be able to refer them to a trusted and professional data recovery service.
What Is Professional Data Recovery?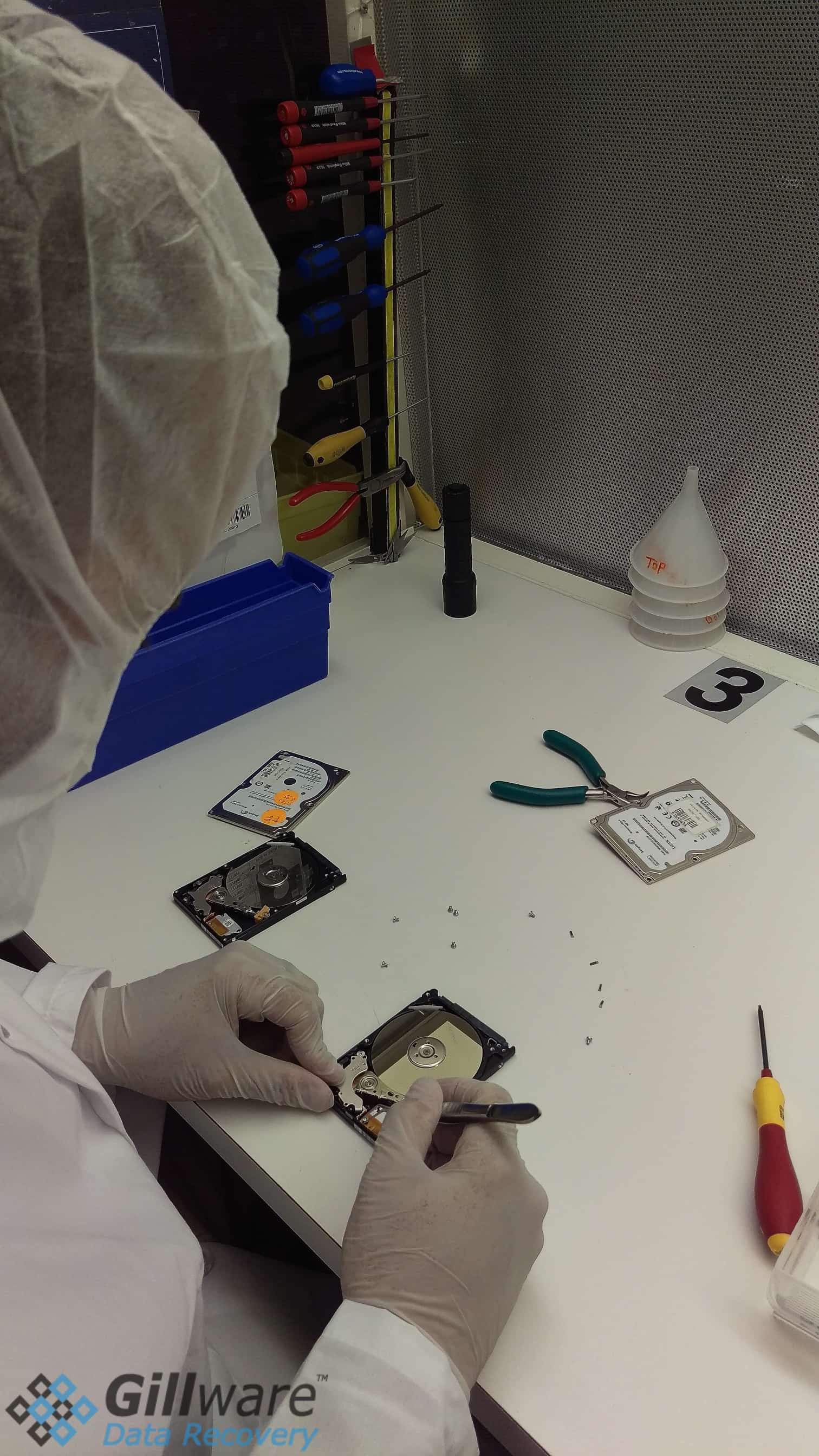 To provide professional data recovery services, you need the tools, technology, and experts to tackle any data recovery issue head-on. Data recovery is a niche industry with only a handful of major players in the world. Widely-available data recovery software provides some opportunities for users to recover data in cases of minor hard drive failure or simple file deletion or reformat issues. However, most data loss situations should be left to the experts in the industry.
Data Recovery Specialists
A professional data recovery service relies on well-trained and highly-skilled data recovery specialists. The recovery experts in a professional lab have years and thousands, even tens of thousands of hours of experience. Data recovery specialists must be well-versed in the specifics of hard drive repair.
While all hard disk drives operate under the same basic principles, every manufacturer has its own unique variations. An expert must know how to deal with every brand of hard drive under the sun. One wrong move can lead to irreversible data loss (and an unhappy customer). A professional company also has experts who can not only repair and replace the failed physical components of a hard drive, but also explore and repair its firmware as well. Each make and model of hard drive has slightly different critical firmware. Many firmware modules are completely unique to each individual drive.
Thorny issues of logical data loss—data loss caused by a change in the logical file system, such as deletion, reformatting, or a system restore—requires specialists with in-depth knowledge of the way a hard drive's file system organizes and arranges the data inside it.
Knowing all these things takes the kind of expertise you're sure to find in a truly professional data recovery lab.
Flash Memory Data Recovery—It Takes a Pro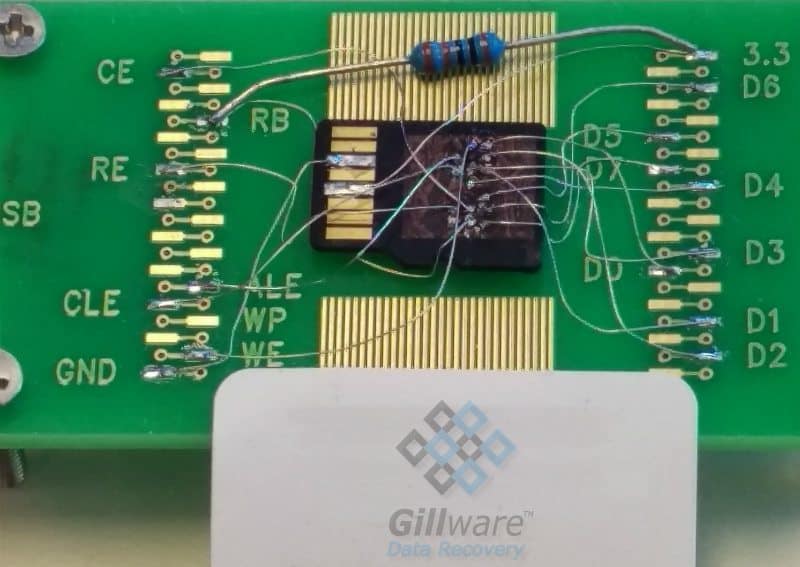 Advances in flash memory data storage makes professional data recovery more important than ever. More and more people are using solid state drives in their computers. USB flash drives and microSD cards have become truly ubiquitous. SD and microSD cards live inside our cameras and smart phones. They often contain gigabytes of meaningful data (usually in the form of photos). These solid state devices are "black boxes" when they fail; unlike hard disk drives, which often have audible and very noticeable failure symptoms, solid state storage devices usually do not.
Flash memory works fundamentally differently than spinning-disk data storage. A professional data recovery provider has the experts needed to explore the intricacies of flash memory data storage and pioneer new and effective flash memory data recovery methods in this rapidly-changing field. Gillware's experts have partnered with solid state drive manufacturers to develop new techniques to recover data from these devices.
Data Recovery Lab, Tools and Equipment
When it comes to hard disk drive repair, a clean room lab is essential. The interior of a hard drive is extremely sensitive to dust and other contaminants; due to its sensitivity, any attempt to open up and repair a hard drive in an unclean environment and without the proper tools will most likely only make things worse.
Gillware's data recovery lab uses ISO-5 Class 100 cleanroom workstations to safely repair broken hard drives. In our cleanroom, we use specialized technology, most of which we've developed in-house, to get the best results.
Gillware's own engineers have developed the kind of software data recovery tool a cleanroom needs to image failing and repaired hard drives alike. These hard drives need a gentle, guiding hand. Our software tools give a well-trained engineer the ability to manage and control a hard drive's performance to a high degree. This helps us salvage data even if no other software tool can read the drive.

Our hard disk platter burnisher is based on the same technology used by hard disk drive manufacturers to polish platters on the factory floor. The burnishing technology in our lab plays an instrumental role in salvaging data from extremely damaged hard drives. Severe platter scratches and rotational scoring scatter dust across the platter surfaces. In order to salvage the remaining data from these platters, our engineers must clean the dust off first. Platter burnishing is the most effective way to accomplish this.
The tools to reliably recover data from flash devices outright does not exist outside of professional data recovery labs. In our lab, we've pioneered new and innovative flash memory data recovery techniques. For example, we can even recover data from the monolithic chips found in modern USB drives and microSD cards.
Professional Data Recovery Service Helps in an Emergency
One of the most important aspects of a truly professional data recovery service is being able to help clients who are in truly dire straits.
When you get a desperate call from a client whose RAID-5 server just crashed in the middle of a rebuild, their entire business might have stalled as a result. The longer they go without the data on that server, the more business, revenue, and customers they'll miss out on. They need that data back on the double—they can't afford to wait any longer than absolutely necessary.
Data recovery professionals know that there are all sorts of situations where time is of the essence. Whether a case takes a day or a week from start to finish can mean the difference between life and death. Being able to turn cases around in as low as a single day matters.
This is why Gillware offers expedited data recovery services. A typical case tends to spend around four to eight business days in our lab from the day. An expedited emergency case, however, immediately becomes the top priority for our engineers as soon as it arrives in our lab. In many situations we can have a priority client's recovered data on its way back to them by the end of that very same day.
Unlike an average case, the average turnaround time for a typical priority case is one to three business days. These are the cases where, if necessary, our engineers will work overtime to complete. We will forgo family, hobbies, and even sleep to get the job done right ASAP—no matter how many pots of coffee it takes. True professionals know what it takes to deliver quality emergency data recovery services.
Secure Data Handling
Anyone who deals in data recovery handles gigabytes upon gigabytes of other people's data every day. In any large-scale lab, you can expect thousands of gigabytes of data to flow in and out on a daily basis. Just like any professional data storage or backup service provider, a professional data recovery lab has to make sure all of its customer's data is secure. Secure data recovery services are a must, especially when your clients are coming from financial, healthcare, educational, and government organizations.
Any professional managed service provider and IT consultant knows the importance of data security. That is why security breaches like Cloudbleed make the headlines. At Gillware, we work hard to maintain our facilities secure. Our data recovery personnel are all trained in proper security measures. We make sure that data only ever leaves our lab on its way to its proper recipient. We even password-protect the recovered data to prevent the possibility of unwanted interception.
Gillware is SOC2 Type II audited, GSA contracted, and HIPAA compliant. As a result of our security measures, all of our clients can rest easy knowing that from the day they send their failed storage device to our lab in Madison, Wisconsin to the day their data comes back from them, their data has been resting in safe, secure hands.