Each month, Gillware participates in a blog exchange with backup and disaster recovery leader StorageCraft Technology. We'll feature a post from their Recovery Zone blog and they'll share a post from the Gillware blog. This post was written by Casey Morgan, Marketing Content Specialist at StorageCraft. We hope you enjoy it, and you can look forward to another like it next month!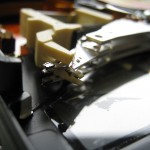 About a year ago, we at StorageCraft decided to poll our partners about hardware failure. Obviously it's a major issue, and indeed, it's one of the biggest reasons why we need backup and recovery (second only to user error, of course). But there's always more you can learn about how hardware failure affects businesses, and it's always great information to have in the back of your mind if you're an IT provider hoping to sell more backup services. As we know, backups are a great way to make sure hardware failure has the least amount of impact on businesses. Here are some stats to keep in mind.
Unsurprisingly, out of nearly four hundred partners (consisting mainly of managed service providers and value-added resellers), 99 percent of them said they had experienced some type of hardware failure in the past. Additionally, 71 percent of the respondents said they had worked with a client during a major data loss. It's clear from these numbers that if you haven't had some type of hardware failure, you almost certainly will.
But this data leads us to wonder an even bigger question. What type of hardware is failing the most? There are a number of things that can fail, from optical disk drives to motherboards and so forth, but according to our partners, hard drive failure accounts for more than majority of failures; 80 percent claimed it's the most common. The runner-up was power source failure, with a tiny 4.7 percent.
It may seem obvious, but we also discovered that of the pieces of equipment found in a typical office, clients said desktops and servers failed the most often, gaining 55 percent and 38 percent of the votes respectively. This should come as no surprise since desktops are usually the most abundant pieces of equipment.
Oddly enough, however, a lot of businesses don't take regular backups of desktop machines, despite the fact that desktops fail most commonly, and the fact that hard drive failure is the most common issue. It's worthwhile for any business to consider not just the impact that hardware failure can have on them, but the steps they can take to reduce the likelihood that hardware failure will cause major downtime or financial loss. As always, taking regular backups—of both desktops and servers—is a crucial part of keeping a healthy network and business.
Hardware failure is really just one issue plaguing the modern IT network.  Have a look at our infographic "The Crippling Cost of Data Loss" to learn about the various threats you have the power to avoid.