Gillware: From Hard Drives to Skydives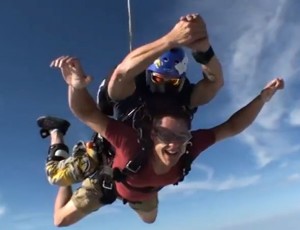 Gillware does more than just recover data, we recover memories. We get calls every day with customers that have lost their invaluable pictures and videos. So when Gillware found out that one of our employees was going skydiving for the first time, but couldn't afford the video—we had to step in. Gillware knows firsthand that memories like that are priceless.
Oliver Dutta is currently going to school and doing a programming coop with Gillware. Here is Oliver's story:
I wanted to see exactly what it felt like for my hero, Joe Kittinger, when he stepped off "the highest step in the world." Yes, I know that Austrian daredevil Felix Baumgartner recently destroyed my idol's previous highest altitude skydive record, but did you know that before Baumgartner's record jump in 2012—with the gear akin to what I consider to be a Ferrari, Joe Kittinger did something very similar in 1960 with a metaphorical beat up Ford pickup. Kittinger, working with the Air Force, took a balloon 102,800 feet into subspace and made a freefall dive that lasted 4 minutes and 36 seconds while reaching speeds of 614 miles per hour. In contrast, I jumped from 13,000 feet and was in freefall for roughly a minute.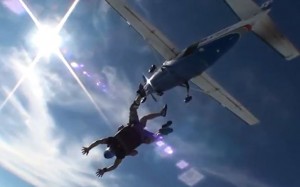 On my birthday last Saturday, I drove 3 hours northwest of Madison to a place called Skydive Twin Cities. Surprisingly, tandem training was minimal. You are told to crab walk up to the airplane door and squat with toes at edge. You hold on to your shoulder straps, and wait for the signal. You get a tap on your shoulder, and out the door you go. So I got fitted into a harness and jumped out of a plane strapped to a guy named Sparky while being filmed by a guy in a wingsuit named Smiley. My final thoughts? Must keep jumping! Seriously. The only mildly traumatizing part of the experience was the plane ride up, when Sparky glanced oddly at my harness and said, "Ooops… did I grab the XL straps?" I'll admit to a few moments of panic, but he and his buddy started laughing so I realized they were just having their fun scaring their students half to death. I rapidly relaxed; in fact, during the final 1000 foot climb my heart rate had almost completely returned to normal. Then, I jumped. Words cannot describe the liberating feeling of freefall, so I will not try, but if you can imagine the massive wind forces screaming at you and the rush of adrenaline combined with the gorgeous aerial views of the Earth…then you'll kind of get the picture.
Oh, full disclosure. I initially didn't plan on getting a video, but Gillware convinced me otherwise, and now I'm very glad I got it. Thanks Gillware, you're awesome! Anyway, who doesn't want to see themselves jumping off a plane for the first time for the rest of their lives, right? Right? So, I did it, it was great, and I want more.
I guess I'll tell you the other and most important reason I jumped. I recently had a really close friend of mine die from cancer. One of the things on her bucket list was skydiving, and she did it, of course. It was awesome and she was smiling the whole time in her sweet video. In comparison, I look like a big dork. I don't think I could ever be as fearless as she was, and that's why, on a whim, I bought a ticket to jump. You can't always hang out with your friends when they've taken a long trip, but you can sure follow in their footsteps from time to time. What better way to do it than skydiving?
Oliver is now working on getting a class A license so he can go on solo jumps. He encourages everyone to skydive and we're happy that we helped him preserve the memory of his first jump.