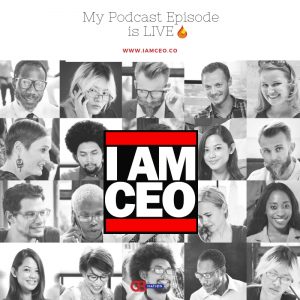 Season 2, Episode 498
The I Am CEO Podcast aims to provide effective ways to build relationships, generate sales, and grow your business without having to listen to lengthy interviews.
Recently, our Chairman Brian Gill was a guest on Gresham's podcast and shared a few pieces of advice and some insight into his journey from computer scientist to CEO.
Whether your company is 3 people working out of a basement or 50 people in an office building, the information in this podcast is relevant to you.  You may be thinking "my company is too small to ever be targeted", but the truth is in today's digital world, no company is truly safe from the dangers of ransomware and/or hackers. Fortunately, Gillware is here to help. We offer a comprehensive, free Ransomware Stress Test™ for business owners and IT professionals to evaluate current configurations and procedures. The result is an in-depth overview of any warning signs and how to remedy them.  Click here to take the Ransomware Stress Test™.
Brian also talks about two very important things for all entrepreneurs to keep in mind: IT security and automatic data backup. One way to make sure your data and company information is secure is to implement two factor authentication. Two factor authentication is a two-step process to login to a network where you enter your username and password and a secure code after that as well. This helps to ensure that people logging onto your companies' network are authorized and keeps it more secure.
Automatic data backups are a busy entrepreneur's best friend. No entrepreneur has time to remember to backup their data daily, weekly, monthly, etc. As Brian mentions in the podcast, "Almost all of our data recovery clients had a backup, until they checked." Most business start with the best of intentions to backup their data on a regular basis, but then forget over time. Unfortunately, this means that when they do lose their data, their most recent backup is from nearly 2 years ago and they've lost everything they saved since then. Don't let this happen to you! Backup your data automatically.
"Almost all of our data recovery clients had a backup, until they checked."
Last but not least, at the end of each I Am CEO Podcast Gresham asks his guests for a CEO hack, a CEO nugget, and what being a CEO means to them. See Brian's answers to these questions below.
CEO Hack (What makes you more effective/efficient?): Delegating effectively
CEO Nugget (Advice): You may spend more than you think you need on IT
CEO Defined (What does being a CEO mean to you?): Leader and responsibility holder
_____________________________________________________________________
Click HERE to Listen to the Podcast