Right to Repair PowerPoint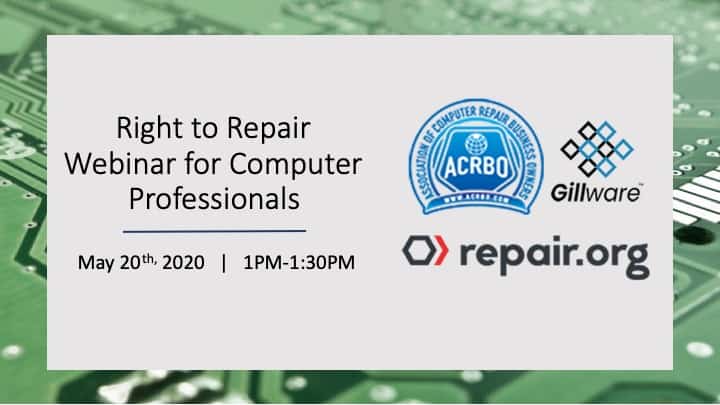 Repair.org PowerPoint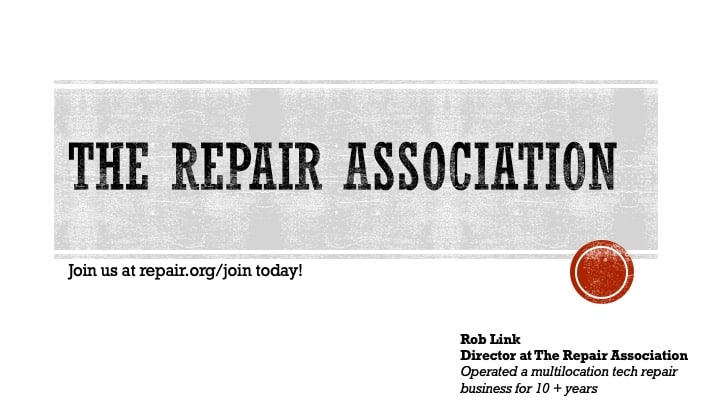 Recently, Gillware teamed up with repair.org and the ACRBO to put on the first ever Right to Repair Webinar for Computer Professionals. This webinar took a dive into the world of repair to discuss the challenges it faces today, future obstacles, and why these problems exist.
The first panelist to speak was Mike Harris. Mike is a corporate strategy expert who spent several years running one of the largest service and repair organizations in the consumer electronics field. Mike talked about some of the historical battles there have been to keep things repairable, as well as what he sees in store for the future of the repair industry.
Next to present was Jason Braun. Jason is founder of PC-Protechs LLC and a lifelong farmer who is located in Manitowoc Wisconsin. Jason discussed how many different industries, including the farm equipment industry, currently rely on devices remaining repairable and also will in the future. As a rural MSP, he also touched on the issues he experiences when repairing electronic equipment for his clients.
Frank Gurnee, Director of Vendor Relations for the Association of Computer Repair Business Owners, was next to speak. Frank spoke about some of the issues he is hearing about from the repair community as a whole.
The next panelist was Greg Andrzejewski. Greg is the Director of Research and Development at Gillware. He shared the ways that the data recovery industry is directly impacted by keeping electronics repairable. Greg also discussed the latest generation of recovery challenges he is experiencing when recovering data.
Last but not least, Rob Link, Director at repair.org, presented information about the organization including their efforts, goals, accomplishments, and ways to get involved and support their efforts.
To learn more about any of these organizations or the panelists included in the webinar, please see below.