"The Parameter is Incorrect" Error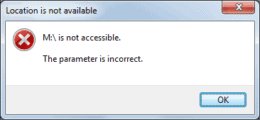 If you are visiting this page you may have recently got the "parameter is incorrect" error message on your external hard drive, USB drive, or SD card. This is one of the most common errors associated with partitions. This error usually occurs in Windows 10/8/7 and prevents you from accessing data and opening the partition.
This error may present itself for a number of different reasons including:
the disk being removed incorrectly
cable or USB port issues
hard disks damaged by viruses
outdated Windows operating system
While there are ways to resolve this issue, it can be difficult to do so without losing data, especially if the error is not fixed as soon as possible. Some things you can try to stop the "parameter is incorrect" error from showing up include:
If none of these fixes work for you, it may be time to start looking into data recovery options. If your device is having other issues, such as the external hard drive making clicking or beeping noises, or damage to your USB drive or SD card. you may not be able to solve the problem using the suggestions above. In these cases, you will most likely need the help of a professional data recovery company to get the data saved on the device recovered. Here at Gillware, we can help you recover data from the parameter is incorrect error. We provide financially risk-free data recovery services including a free evaluation and in-bound shipping. To get the data recovery process started, click the button below.