Data Recovery Services in Philadelphia, Pennsylvania
Has your home NAS device quit working, leaving you without important financial documents? Did you drop your cellphone in water and lose all of your photos? Gillware and Micro Center have partnered together to provide data recovery services for situations like these at the St. Davids location.
MICRO CENTER –
ST. DAVIDS
ADDRESS:
St. David's Square
550 E Lancaster Ave
St. Davids, PA 19087
STORE HOURS:
Mon – Sat: 10 – 9, Sun: 11 – 6
If you are in need of data recovery, look no further! We provide data recovery services for St. Davids and the surrounding areas, including Radnor, Wayne, Villanova, Strafford, Rosemont, Bryn Mawr. Located west of I-476 in St. Davids Square, Micro Center has been the go-to destination for all things computers since 1991. Today, Micro Center and Gillware are proud to work together to also provide data recovery services at this location.
Whether a chipped SD card has you without meaningful family photos, or you simply deleted important files from your computer, Gillware and Micro Center can help. Unfortunately, we see situations like these and more on a daily basis. Fortunately, this has made us experts in the field. Through the use of our proprietary technology, we are able to recover more data than most other data recovery companies at a fraction of the cost. Our in-house lab allows us to keep operating costs low, and provide superior recovery services at the same time.
For in-store recovery, simply head to the service desk and a Micro Center employee will be happy to assist you. In most cases, data can be recovered on the same day it was lost. In more complicated cases where devices are broken or damaged, they may need to be sent into our lab in Madison, WI for more in-depth servicing.
Gillware and Micro Center have partnered up to provide world-class data recovery services.
We understand that there are many different situations during which data loss can occur. Please review the situations below to determine whether your device is eligible to be serviced in-store, or if you will need to send your device directly to us here at Gillware.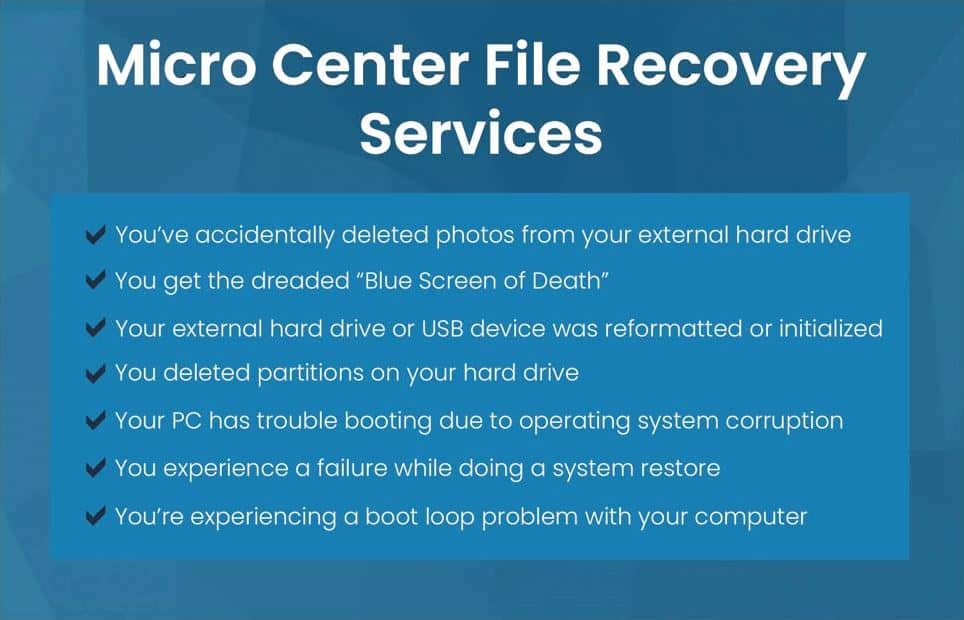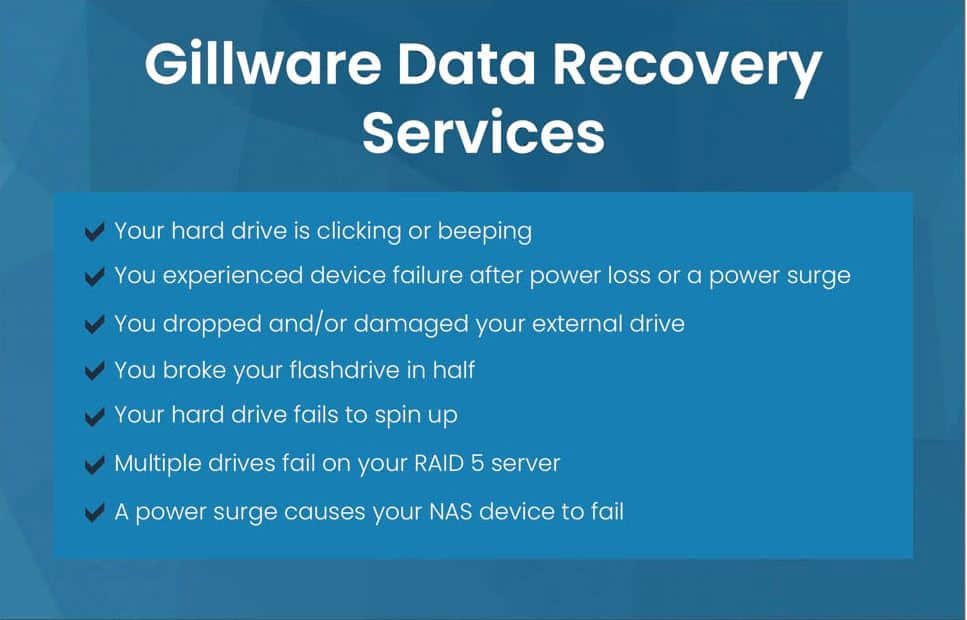 Gillware and Micro Center are your data recovery experts in
Philadelphia and the surrounding areas.
If you have questions about our process or pricing, please click on the button below for ways to contact us.