Data Recovery Services in Kansas City, Kansas
If you are in need of data recovery assistance for your phone, computer, or external hard drive, look no further. Gillware and Micro Center have partnered together to offer professional data recovery services to the greater Kansas City, Kansas area.
MICRO CENTER – OVERLAND PARK
ADDRESS:
Regency Park Shopping Center
9294 Metcalf Ave
Overland Park, KS 66212
STORE HOURS:
Mon – Sat: 10 – 9, Sun: 11 – 6
Did you lose those family photos from your trip to the Chief's game? No need to "fumble" around looking for ways to recover them, let Gillware and Micro Center take care of it for you!
We provide services for anything from hard drive recovery to SD card restoration.
If you need help recovering photos, videos, or other data you may have accidentally deleted or lost, simply take your device to the service desk at your local Micro Center, and your data will be recovered in-store. See the list of Micro Center file recovery services below for more information on the services offered in-store.
If you need help recovering data from a device that has been physically damaged or is making strange noises, it may require more in-depth services for which a lab is needed. If this is the case, send your device directly to Gillware. Once we receive your device, we will assess the damage and perform the recovery process in our in-house certified clean room. See the list of Gillware data recovery services below for more information on situations where your device will need to be sent to us.
Data loss can happen to anyone. With so much of our lives being digitized and stored on our phones and computers, losing files can be detrimental. Whether you need to recover deleted family videos, or lost files for your business, you can rest assured knowing that Gillware and Micro Center are here to help during those stressful times.
Don't waste your time using complex software to recover your data. Our team of experts can handle it for you.
Gillware's proprietary software and expertise allow us to provide local data recovery services for customers in the Overland Park area. In some cases, your device may need to be sent to our Madison, WI headquarters for further examination. See the lists below to determine if your recovery can be done in store, or if it will need to be sent to us.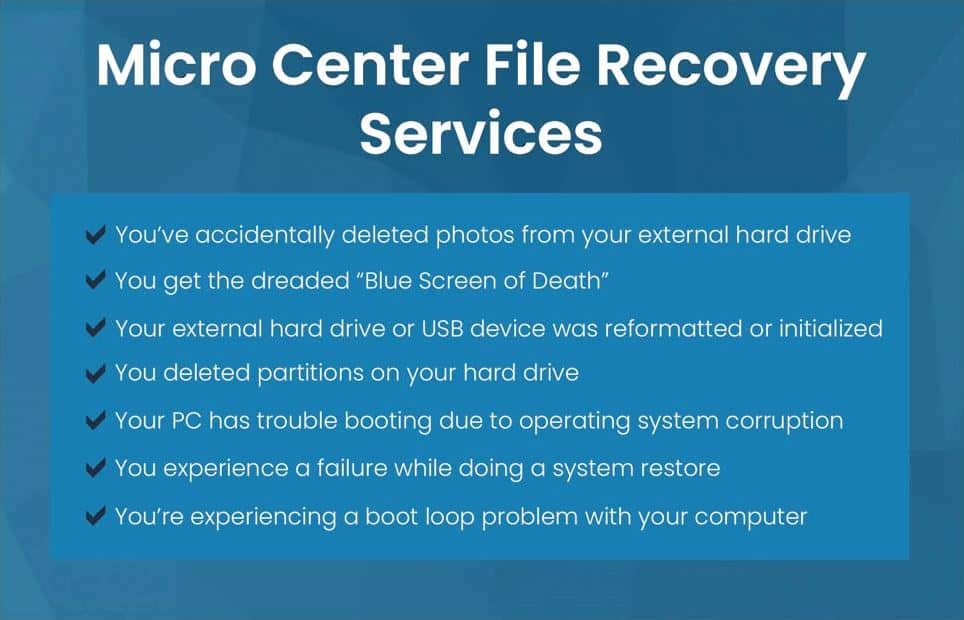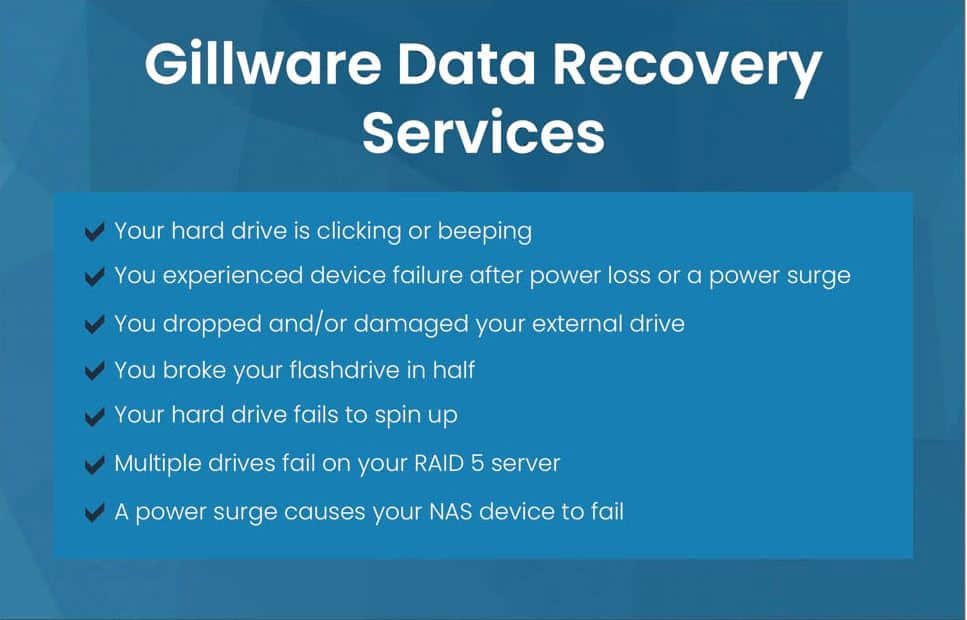 Gillware and Micro Center are your data recovery experts in Overland Park and the surrounding areas.
If you have questions about our process or pricing, please click on the button below for ways to contact us.