Data Recovery Services in Chicago, Illinois
Gillware has partnered with Micro Center to provide world-class data recovery services in their Downtown and Westmont locations. Our proximity to the Chicago area allows us to utilize our technology and engineering skills to help those in data loss situations in the Windy City.
Maybe you accidentally reformatted your external hard drive, wiping out all the family pictures, and are in need of deleted photo recovery services. Or you're a photographer who mistakenly deleted wedding photos from an SD card without making a copy, requiring SD card recovery engineers to find the data.
Unfortunately, there are many different data loss situations that you could find yourself in. Fortunately, Micro Center and Gillware are help you out. Whether you are in need of video recovery services to recover priceless family videos, or require deleted file recovery services to help find the QuickBooks file your new employee accidentally deleted.
Gillware offers world-class data recovery for many different situation and many different devices. Our lab allows us to keep our operating costs low, while still providing superior data recovery services. With our cutting-edge hard drive repair and recovery tools on our side, we can recover your data, even when other data recovery labs cannot. Hundreds of partner computer repair specialists and MSPs in Chicago recommend Gillware for hard drive data recovery.
MICRO CENTER – CHICAGO
ADDRESS:
2645 Elston Avenue
Chicago, IL 60647
STORE HOURS:
Mon – Sat: 10 – 9, Sun: 11 – 6
MICRO CENTER – WESTMONT
ADDRESS:
80 East Ogden Avenue
Westmont, IL 60559
STORE HOURS:
Mon – Sat: 10 – 9, Sun: 11 – 6
Don't like the idea of installing and trying to use software to recover your data? Let the experts at Micro Center and Gillware handle this for you at a similar price.
Gillware and Micro Center have partnered up to provide world-class data recovery services to the Greater Chicago area.
In each of Micro Center's Chicago-area stores, Gillware has provided our technology and expertise, allowing us to offer local data recovery services for customers. In some cases, your device may need to be sent to our headquarters in Madison, WI for more in-depth recovery services. See the lists below to determine which course of action is best to take with your device.
If your device has been physically damaged or making noises, please review the situations below under "Gillware Data Recovery Services" to see if you device needs to come directly to our lab at our Madison, WI headquarters. Please contact us and we will be more than happy to help you through the recovery process.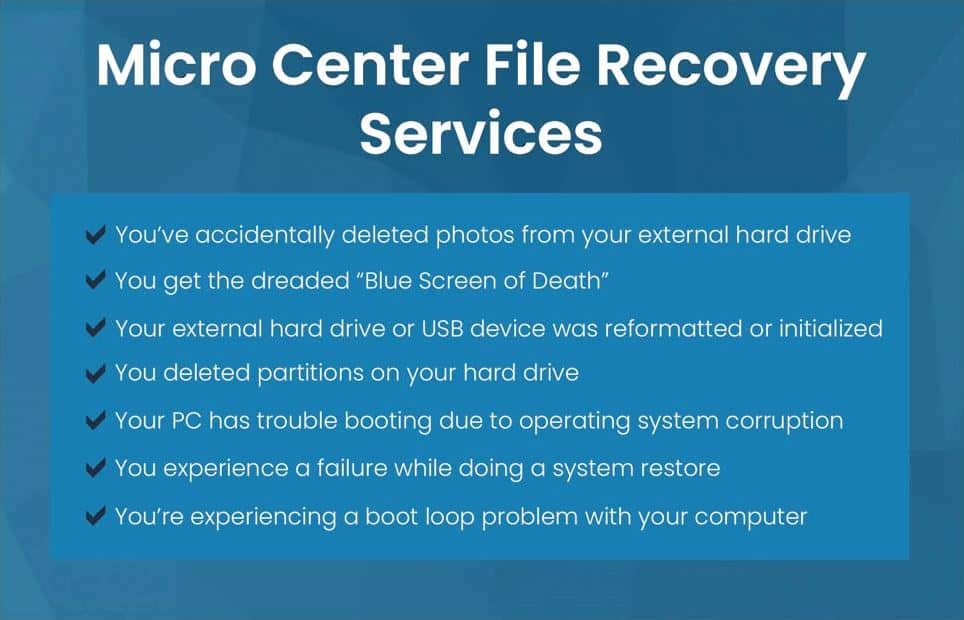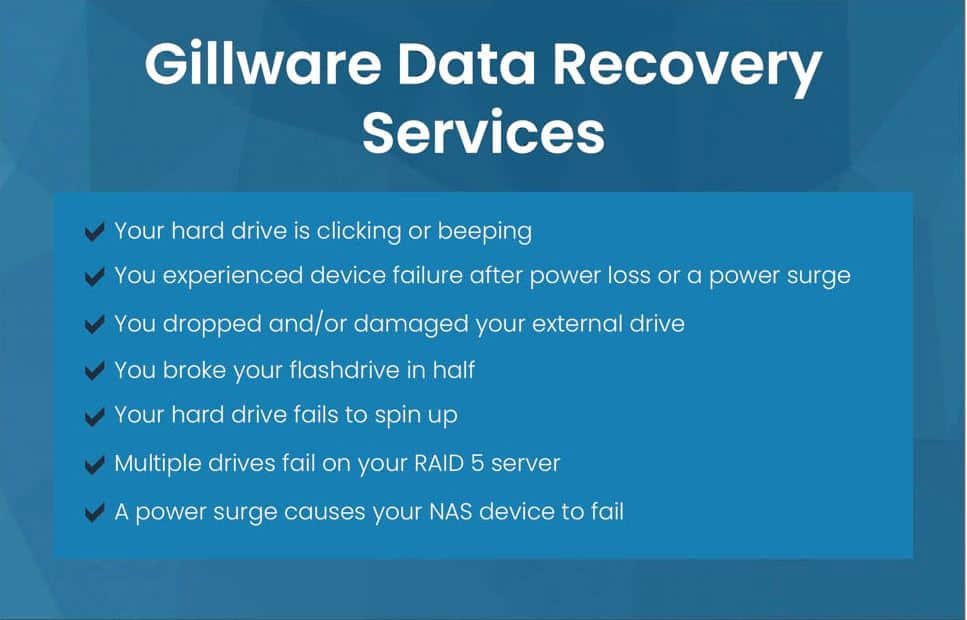 Let us get your data back!
If you have questions about our process or pricing, please click on the button below for ways to contact us.