Data Recovery Services in Boston, Massachusetts
If you are in need of data recovery near Cambridge, look no further! Gillware and Micro Center have partnered together to provide data recovery services for Boston and the surrounding areas.
MICRO CENTER – CAMBRIDGE
ADDRESS:
730 Memorial Dr.
Cambridge, MA 02139
STORE HOURS:
Mon – Sat: 10 – 9, Sun: 11 – 6
Losing valuable data can be an extremely stressful experience. Gillware and Micro Center are here to help during these trying times. Using our state-of-the-art technology, we are able to provide data recovery services right around the corner at the Micro Center in Cambridge. Whether you damaged your flash drive, or simply deleted data from your computer, you're in the right place.
Unfortunately, there are many different ways that data loss can occur. We are able to recover data in nearly all circumstances. From broken devices to human error, we see it all on a daily basis. Not only does Gillware's proprietary software allow us to recover more data than most other data recovery companies, but our in-house lab allows us to keep our costs low as well. Hundreds of computer repair specialists nationwide recommend Gillware for data recovery.
Don't want to waste time downloading and trying to use expensive software to recover your data? Let the experts at Micro Center and Gillware take care of it for you.
While many data loss issues are able to be resolved in-store, some data loss cases may need to be sent to our lab in Madison, WI for further examination. Most times, if your device is damaged or making beeping or clicking sounds, you will need to send it in to our lab. However, if you simply deleted data on accident or are experiencing a boot loop issue, your data will most likely be able to be recovered in-store. See below for clarification on which course of action is best for you.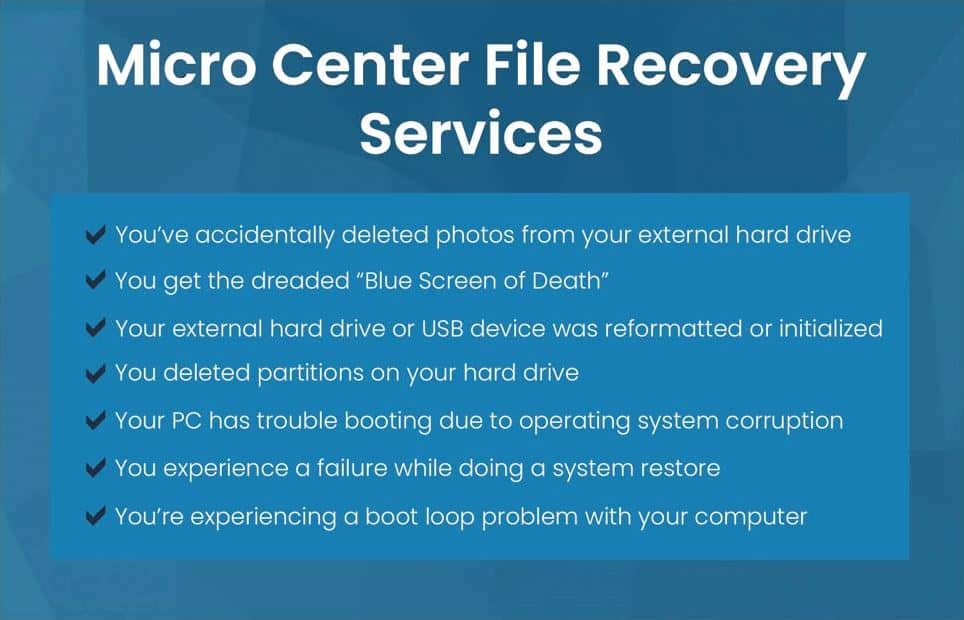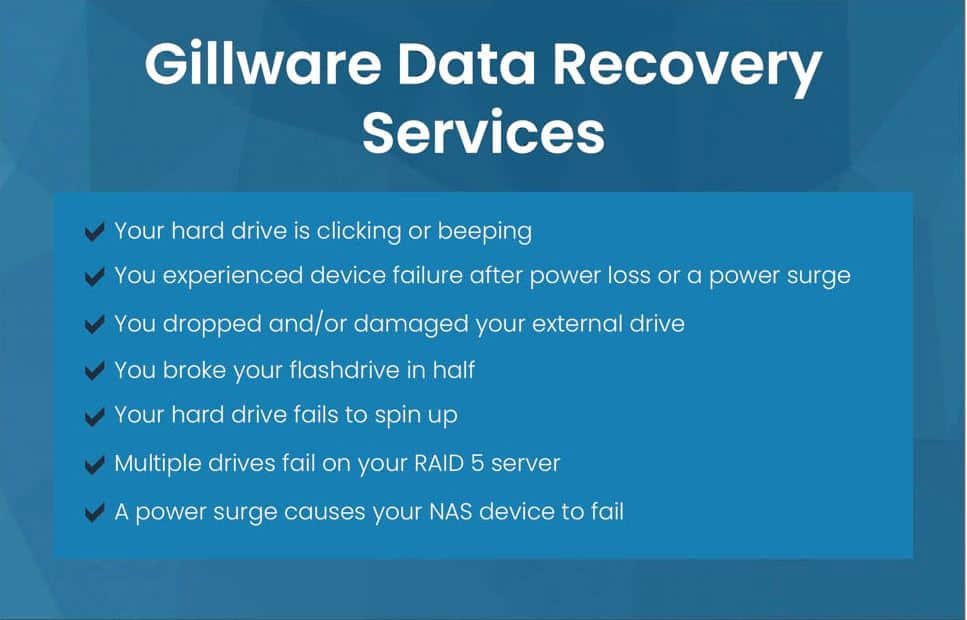 Gillware and Micro Center are your data recovery experts in the greater Boston area.
If you have questions about our process or pricing, please click on the button below for ways to contact us.