Cybersecurity and Information Risk Management Program
Now, more than ever, organizations need to take a risk-based approach in order to introduce substantive protective measures. Our team works alongside yours to identify vulnerabilities, implement safeguards, test current protections, and prepare for the worst-case scenario.
A
New Approach

to Cyber Risk Management
In a time where organizations are more vulnerable to cyberattacks than ever before, Gillware Risk Management collaborates with you to identify your evolving risk profile. We take it a step further and develop your tailored course of action, serve as your trusted advisor throughout implementation, and periodically test how your improvements perform against staged threats.
Avoid "information overload" and cookie-cutter assessment scores.
We tailor our risk assessment to your organization's sector, compliance requirements, and overarching strategic objectives. The result is a custom plan of action to address your needs and most pressing vulnerabilities.
Take steps in the right direction, with help from the experts.
Once we complete the risk assessment and develop your remediation roadmap, we stick around and collaborate on a monthly basis to help you navigate, and implement, our recommendations.
Continuously improve your organization's information security, year after year.
We consistently reevaluate your risk assessment and update your roadmap to address your largest weaknesses. We also annually deploy tests to double-check new safeguards and identify further areas for improvement.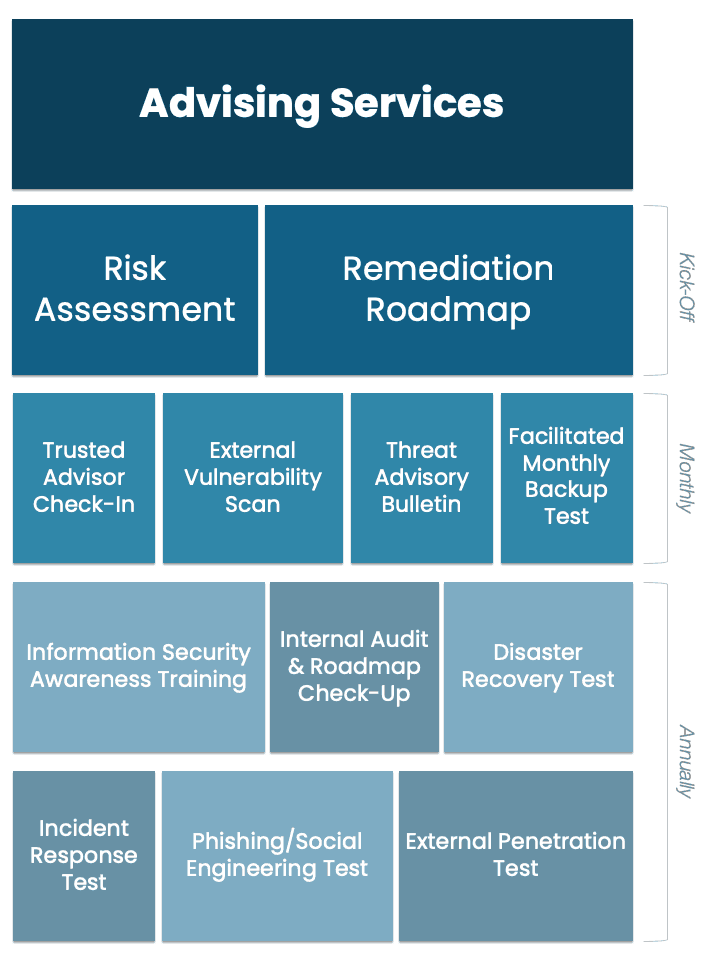 Our Cyber Risk Management Process
Assess and Address
We work with you gain a full understanding of your organization's team, processes, priorities, and requirements. Using the NIST CSF Controls and the CIS-CSC App Security Standards, we identify your areas of weakness and then develop a clear plan to address them.
Risk Assessment
At the kickoff of our work together, our risk management team works closely with your team to gain a full understanding of your operation, staff, systems, and protocol. Based on your particular industry, size, and priorities, we establish our target and then determine how to reach it.
Remediation Roadmap
Once the Risk Assessment is complete, Gillware develops your custom Remediation Roadmap. This living, breathing plan of action prioritizes the improvements that are most critical for your organization. We also keep an eye on the latest threats and update the Roadmap, keeping you ahead of the curve.
Trusted Advisor Check-Ins
Unlike most technical risk assessment offerings, Gillware remains present to serve as a resource and champion with monthly check-ins to evaluate progress or adjust the roadmap
External Vulnerability Scans
External vulnerability scans provide an excellent picture of your network's exterior posture, as well as a check on the improvements your team implements after the assessment.
Threat Advisory Bulletin
Keeping up with the constant change in the technical and information security world is a difficult task. To combat this, Gillware sends monthly email bulletins alerting you to the latest threats particularly relevant to your organization.
Facilitated Backup Tests
Our extensive incident response and recovery work consistently uncover that very few organizations have effective backup solutions in place. To ensure your organization can recover from an incident efficiently, we will guide your team through a backup test to ensure everything is routinely backed up successfully.
Strategic Prioritization Meets Vigilance
Once we complete the technical risk assessment and develop your custom roadmap, Gillware works with your organization to address the high-risk, low-commitment controls while also keeping watch on emerging threats.
Testing, Testing, 123
As we work with your team to implement safeguards, we then put them to the test with various activities. This allows us to further evaluate progress and identify additional changes that need to be made.
Information Awareness Security Training
Considered an essential component to an organization's information security program, Gillware provides annual training to ensure compliance and team understanding.
Disaster Recovery & Incident Response Tests
Preparation for the unexpected is neccessary to ensure reasonable and efficient reaction and recovery time. We work with you to facilitate a tabletop exercise and business continuity test, provide a full report detailing all actions taken, and update your Roadmap to address any gaps.
Phishing/Social Engineering Test
Malicious actors are more and more sophisticated in their phishing and social engineering attempts. We deploy mock attacks to test your team and expose them to common attempts to build awareness.
External Penetration Test
You are only as strong as your weakest link. That's why we attempt to "hack" your organization at random to emulate a real-world threat and document test findings.
Internal Audit and Roadmap Check-Up
Gillware revisits and reassesses the technical risk assessment annually to verify that expected controls are in place and functioning as designed. We also map out the upcoming year on your Remediation Roadmap to continue the steady security improvements.
Our Cyber Risk Management Team
Nathan Little
Vice President of Digital Forensics and Incident Response, Partner
---