Digital Forensics in Wisconsin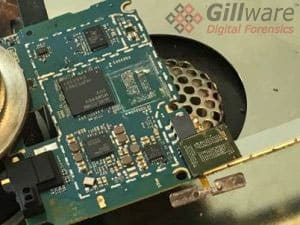 As people begin to rely more and more on their personal electronic devices, the amount of data they hold is increasing at an alarming pace. Laptops, tablets, smartphones, even thermostats are all connected at all times. The data they create and store can hold valuable information about what the user has been doing at any given time. When digital forensic examiners seek digital evidence on these devices, they can use the information stored within to paint a picture of the user's activity using things like text messages, call history, GPS data and more. A key concept of digital forensics is that every digital interaction leaves a trace. Digital forensics experts aim to find these traces left behind on a device and use them to construct a better picture of what the user has been up to. The expert analysts at Gillware Digital Forensics have decades of experience conducting forensic investigations on an array of devices and different situations. Gillware's digital forensics Wisconsin experts have the skills necessary to conduct even the most complex of forensic investigations.
Digital Forensics Wisconsin
When you need Wisconsin digital forensics services, Gillware Digital Forensics is here to help. Our digital forensics Wisconsin lab is an industry leader in forensic tools and techniques to increase success rates in all types of digital forensic analyses.
Gillware Digital Forensics is a key player in the Wisconsin digital forensics community. Gillware Digital Forensics has over 25 years of digital forensics and data recovery and retrieval experience, between our co-founder and President, former Madison Police Department detective Cynthia A. Murphy M.Sc. and the engineers from Wisconsin company Gillware Data Recovery.
For more than a decade, Gillware has been at the forefront of digital forensics Wisconsin. In 2004, brothers Brian and Tyler Gill founded the company to offer data recovery services from failed storage media. Their team of expert engineers and computer scientists, along with many years of data retrieval experience are an asset to the forensic investigations taken on by Gillware Digital Forensics.
After spending 30 years in law enforcement and over 17 years working in mobile and digital forensics, Cindy Murphy is a well-known figure in the Wisconsin digital forensics world. From earning her M.Sc. in Forensic Computing and Cyber Crime Investigation at University College, Dublin in 2011 to all of her other certifications, trainings and awards in the field, Cindy's industry expertise helps Gillware Digital Forensics go above and beyond in all areas.
Digital Forensics Wisconsin Process
Gillware Digital Forensics wants to make the process of a digital forensic investigation simple. Our easy four-step process allows you to get exactly the services you need and tailor them to your unique situation.
Step 1: Initial Assessment – Using Gillware's digital forensics starter kit, ship the device to us. Examiners will write an assessment report of the state of the device and an estimate of the type of data they believe can be extracted and analyzed. Additionally, you will receive a 30-minute phone consultation with the examiners regarding next steps, if desired.
Step 2: Data Extraction and Analysis – Next, forensic examiners complete the work necessary to access and extract the data held within the device. They will assemble a report of the data assets and give you a one-hour phone consultation to explain the report and discuss next steps, if necessary. If you require no further analysis, the report and data can be returned at this step.
Step 3: Forensic Analysis and Report – If you would like the extracted data to undergo further analysis, Gillware's forensic experts can compile a thorough, peer-reviewed forensic report. In addition to the report, the examiner that worked on the case will provide a consultation to explain the results.
Step 4: Expert Testimony – Although not always necessary, Gillware Digital Forensics also provides expert testimony services for forensic investigations related to court cases. Our forensic investigators have courtroom experience and will make sure the results of the examination are clearly and accurately explained as testimony.
Learn more about Digital Forensics Wisconsin
To speak with one of our forensic examiners about a forensics case, or to talk more about the digital forensics Wisconsin services Gillware provides, you can click the button below to request a consultation. A Gillware forensic expert will get in touch with you within one business day to answer questions and explain more about the work we do.