"To develop a complete mind: Study the science of art; Study the art of science. Learn how to see. Realize that everything connects to everything else."  – Leonardo Da Vinci
Digital Forensics as Art and Science
Last week was a really fun week here at Gillware Digital Forensics.  It was the sort of week that makes me really love my profession. On Sunday, before the traditional work week started, I spent an hour on Google Hangouts with two friends and fellow musicians, Ryan Pittman (from NASA) and Matt Linton (now at Google, formerly from NASA), both  of whom are also digital forensics professionals. We were brainstorming about a talk (and performance) we want to do related to music and forensics at an upcoming conference .
We discussed the benefits we each reap as forensic examiners because we are also musicians.  Not only are each of us musicians, but we all three play multiple instruments in multiple styles and continually push ourselves to "play" as a way to grow and enhance our abilities to think analytically. This conversation warmed me up to thoughts about the science of art and the art of science.
On to the official work week.
At GDF, it seems we're always pushing the limits of what's possible. This means thinking creatively about the way we do things and trying new and innovative things.  This week, we "played" with a chip off method that involves grinding down through the printed circuit board to the target chip, rather than removing that chip with heat methods.  We're not the first to do this, and we're not the only ones doing it either. But we're playing with some subtle differences to make the process more efficient and safer for the targeted chip.  As I worked with two of my chip-off engineers, Mike and Cody, I was struck by the sheer art of the technology we were working with.
The pure visual art of these chips is incredible in and of itself, reminiscent of Piet Mondrian or Paul Klee.
Take a look at these pictures, and think about the intricate beauty of a circuit board, and the amazing science and technology that allows electrons to flow along the highways and byways of that board or chip, to nearly magically transform into phone calls and text messages and pictures and tweets.  It's all really incredible if you think about it.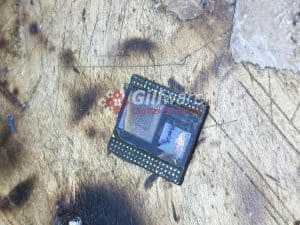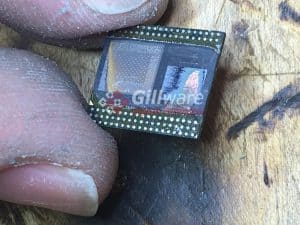 I'm not talking about perfection of methodology at this stage.  We were experimenting – playing with and adjusting the chip-off method on test phones. What I'm talking about is practice. Rehearsing, even.  With a perfectly even grinding job, the delicacy of the layered copper wouldn't have been so apparent though, and I might have missed that beautiful art!
Synchronicity
As any musician or artist can attest to, sometimes the most beautiful things come out of practice and playing around. What seem at first to be outright errors can lead to epiphanies and breakthroughs. (Or, as painter Bob Ross would say, we don't make mistakes, we have happy little accidents!)
All of this reminds me of a conversation I had years ago with iconic drummer Clyde Stubblefield, a native of Madison, WI.  Madison is definitely a music town, and one of the great benefits to that are the opportunities to sit and talk with amazing musicians.  Turns out Clyde is a friend of a friend who introduced me to him during a break. (Actually, he's friend to several of my friends, but still refers to me as "Young Lady.") Clyde was incredibly generous with his time.
Clyde asked me what I did for a living. Rather than tell him I was a cop (which I've found tends to shorten social conversations considerably,) I told him I was a digital forensics practitioner. I asked him about the amazing rhythms, syncopation, and ghost notes – the groove he achieves, and where it comes from. There's math there for sure… incredibly amazing math.  Clyde told me that it came from practice, sure. But mostly he felt it and played around and experimented until what he felt worked with the music, or as the base for music.  Then we talked about art and science, and where they meet. Clyde's observation: "It's all in how you see and hear the world around you. That's synchronicity!"
Synchronicity.  This is where the art in science is found, and where the science in art is found. If you stay open to it, it can change the way you see the world around you.
Update:
On February 18th, 2017, Clyde Stubblefield passed away of kidney failure. His brilliance will shine on for a long time to come in his original and sampled music.  The larger universe has gained a good dose of groovy funkiness for having absorbed his spirit and energy.  Those of us who were lucky enough to meet him, to know him, to hear him play live – we will all miss his presence dearly, but we have been blessed for having had the opportunity to interact with him.
As for me? The drumsticks Clyde gave me during our great conversation about art and science have become an even more precious token of that interaction and of the man himself.  They will remind me to stay open minded and keep searching.
As quoted by a close friend of his:
"The universe owns the beat. Our job is to find it."
If anyone can find the universe's beat, Clyde will.  In fact, it most certainly lived within him all along.
Clyde's family could use some financial assistance with funeral costs.  If you'd like to contribute to the cause and help send Clyde off in style, please contribute through their gofundme campaign.