Synology NAS Data Recovery
If you have a Synology NAS system that's failed on you, you're probably looking into NAS data recovery. Network Attached Storage, or NAS, devices have proven to be massively useful to both individuals and businesses of all sizes. Your NAS contains data that you rely on every day. That's why you have a NAS array in the first place; it allows flexibility and fast access for a relatively low price. When your Synology NAS fails, you can count on the Synology NAS data recovery experts at Gillware to help you back on your feet.
When a Synology NAS Array Fails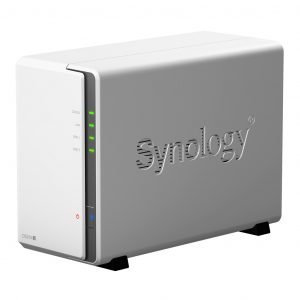 Synology NAS data storage can fail, especially used in ways that the manufacturer contraindicates. You may hot swap disks, which can, over time, damage either the disks or the hardware, itself, causing a critical failure. Then, your data NAS suddenly becomes unreadable and the status light is glowing orange with a warning. Maybe it's beeping at you and you get a message saying hard disks are not present. Getting a message that there are no disks can be frustrating. Removing the disks from the cabinet and attaching them to a Windows machine will not work , because the disks aren't formatted for Windows but a version of Linux. Even if you can connect the disks to a Linux system, there's no guarantee you'll be able to read them.
What Kind of Synology NAS Storage Array Do You Have?
Synology NAS data storage supports several RAID types, depending on how the NAS has been configured. Assuming the hard disk drives have failed, you will need to know how your NAS array was configured for complete NAS recovery. Some Synology volumes aren't even RAID configured. Under no circumstances should you try to guess your Synology NAS's RAID configuration.
Your Synology NAS array may be formatted in the following configurations:
RAID-0 disks — usually for low end or consumer level NAS Arrays, they are usually two disks which provides faster access than a normal disk.
RAID-1 disks — these are two disks where one is a clone of the other, providing backup should one fail.
RAID-5 disks — these are multiple disks that provide fast access to data and provide enough redundancy so that data can be recovered if one disk fails.
RAID-6 disks — these are multiple disks that provides fast access to data and has more redundancy than even RAID 5 disks. You can
recover data if two disks fail.
SHR — provides fast access to data. If there are two to three drives, there is enough redundancy to recover from one drive failure. If there are more than four drives, you can recover data from one to two failed drives.
BASIC — one drive without redundancy.
JBOD — more than one disk connected, acting as though it were a since volume. No redundancy if there is a failure.
RAID-10 disks — these are multiple disks that provide fast access and cloning so that there is backup regardless of how many of the original disks fail.
When you have a NAS array failure, the problem may lie within the disks, or the enclosure which houses and controls them. In some arrays such as RAId 5, RAID 6, SHR, or RAID 10, one of the hard disks will fail, but you can still access your data normally. This is called a "degraded" array. If a second or third disk fails, the NAS will fail completely, which is why the faulty disk needs to be replaced as soon as possible.
Synology NAS Data Recovery Expertise
If you need Synology NAS data recovery, you need it done by experts. Here at Gillware, we provide fast, affordable, and customer-friendly Synology NAS data recovery services. We offer our expert services with a financially risk-free guarantee. If we can't get your data back, you don't pay. Period. We offer free evaluations in our cleanroom lab, and even provide free inbound shipping. That way, you can be sure that we can recover your data and not waste your time or your money.
Our NAS recovery experts work in an ISO-5 Class 100 certified cleanroom, to ensure there is no further damage to your equipment. We have SOC 2 Type II audited data recovery facilities which means you can put your trust in us to handle your data with the utmost care and discretion. Gillware's data recovery experts can recover your data for you. Contact us today to get an estimate and arrange a free evaluation with our engineers.
Why choose Gillware Data Recovery?
Gillware's data recovery services are affordably priced, technologically innovative and completely secure.
Best-in-class engineering and software development staff
Gillware employs a full time staff of electrical engineers, mechanical engineers, computer scientists and software developers to handle the most complex data recovery situations and data solutions
Strategic partnerships with leading technology companies
Gillware is proud to be a recommended provider for Dell, Western Digital and other major hardware and software vendors. These partnerships allow us to gain unique insight into recovering from these devices.
RAID Array / NAS / SAN data recovery
Using advanced engineering techniques, we can recover data from large capacity, enterprise grade storage devices such as RAID arrays, network attached storage (NAS) devices and storage area network (SAN) devices.
Virtual machine data recovery
Thanks to special engineering and programming efforts, Gillware is able to recover data from virtualized environments with a high degree of success.
SOC 2 Type II audited
Gillware has been security audited to ensure data safety, meaning all our facilities, networks, policies and practices have been independently reviewed and determined as completely secure.
Facility and staff
Gillware's facilities meet the SOC 2 Type II audit requirements for security to prevent entry by unauthorized personnel. All staff are pre-screened, background checked and fully instructed in the security protocol of the company.
We are a GSA contract holder.
We meet the criteria to be approved for use by government agencies
GSA Contract No.: GS-35F-0547W
HIPAA compliant
Our entire data recovery process can be handled to meet HIPAA requirements for encryption, transfer and protection of e-PHI.
No obligation, no up-front fees, free inbound shipping and no-cost evaluations.
Gillware's data recovery process is 100% financially risk free. We only charge if the data you want is successfully recovered.
Our pricing is 40-50% less than our competition.
By using cutting edge engineering techniques, we are able to control costs and keep data recovery prices low.
Instant online estimates.
By providing us with some basic information about your case, we can give you an idea of how much it will cost before you proceed with the recovery.
We only charge for successful data recovery efforts.
We work with you to define clear data recovery goals for our technicians, and only charge you upon successfully meeting these goals and recovering the data that is most important to you.
Gillware is trusted, reviewed and certified
Gillware has the seal of approval from a number of different independent review organizations, including SOC 2 Type II audit status, so our customers can be sure they're getting the best data recovery service possible.
Gillware is a proud member of IDEMA and the Apple Consultants Network.