NAS Data Recovery
NAS, which stands for "network-attached storage", refers to storage devices you can connect to wirelessly. NAS storage devices see use both in homes and small businesses, meeting a wide variety of data storage needs. Like any other storage device, though, these devices can and do break down, leaving their users without access to their data. There are all sorts of components in a NAS device that can fail and cut you off from your data, including the hard drive (or hard drives) within the device. If you have a broken or malfunctioning NAS device, Gillware Data Recovery's world-class experts can assist you with all of your NAS data recovery needs.
There are many different brands and models of NAS device on the market. Many NAS device manufacturers also sell external USB hard drives and servers for businesses of all sizes. NAS devices manufactured for personal use include Western Digital World Books, which Western Digital sells alongside desktop-sized My Book external hard drives. NAS devices manufactured for use by small businesses, freelancers, or hobbyists, such as the Buffalo Terastation or Drobo 5N, are more like miniature and low-cost servers, often with four or five hard drives arranged in a RAID array.
What Makes NAS Devices Different from External Hard Drives?
The most striking difference between a NAS device such as Western Digital's World Book and a My Book external hard drive by the same manufacturer is the lack of USB port. A normal external hard drive plugs into your computer via a USB cable, allowing you to read data from and write data to the device. Instead, a NAS device will plug into your Internet router via ethernet cable. You can access the data stored on the device from your computer just like any other external hard drive, but your computer doesn't have to be tethered to it. In addition, any other computer connected to your wireless router can also access the NAS device.
Small NAS devices will often have a single hard drive inside them, like most external drives. But other models will have two hard drives, combined in a mirrored RAID-1 array for data redundancy. Hobbyist or freelance musicians, photographers, and video editors whose data takes up a lot of space can purchase NAS devices with four or five drives arranged in higher level RAID configurations.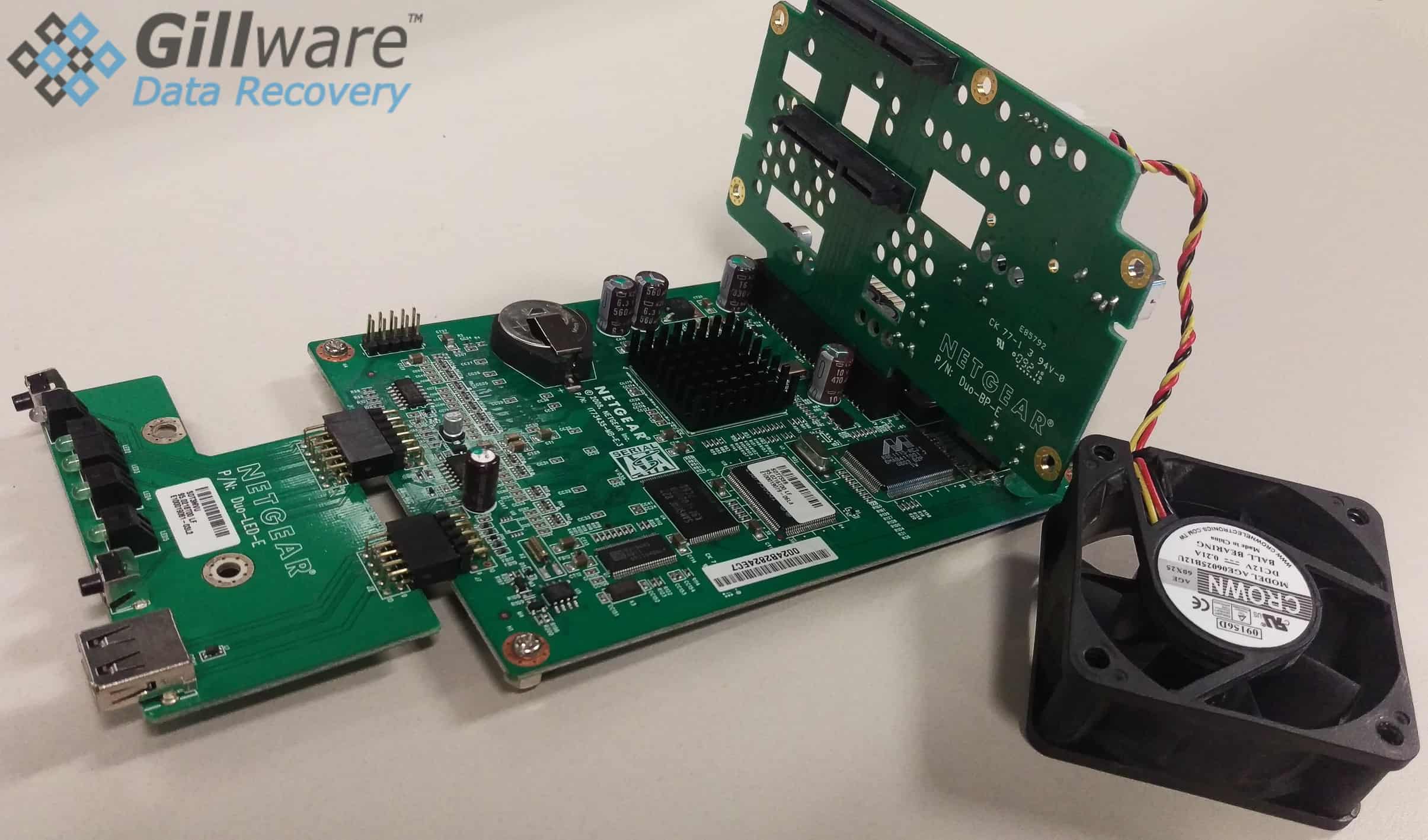 Inside the typical external hard drive is usually a normal and unmodified hard disk drive, along with a small USB bridging dongle that plugs into the drive's SATA port. This is usually the only other piece of hardware in the device. A NAS device, by comparison, has a lot more. Connecting to your computer via Wi-Fi is more complicated than connecting to your computer via USB and requires more than a simple bridging dongle. A NAS device has a CPU, RAM, and sometimes even a small fan, especially if the device has two or more hard drives in it. It's actually a miniature computer all on its own—in terms of hardware, NAS devices are in fact very similar to servers.
What Makes NAS Devices Different from Servers?
NAS devices see a lot of use in small businesses as a small and low-cost alternative to large enterprise-grade servers. Generally, NAS devices have many of the same components as a server and can perform the same function, only scaled down. For a small business that only needs a four- or five-drive RAID-5 array to store and manage its Exchange email database or SQL database, a cheap NAS device is much more cost-effective and less budget-busting than a Dell PowerVault or PowerEdge server with a dozen hard drive bays.
There is, of course, a downside to using a NAS device in lieu of a more powerful (and expensive) server. These devices are made to be cost-effective. The components they use, such as their RAM and CPU, are cheaper and less powerful than those found inside full-fledged servers, and can often fail and break down more easily than the components found in enterprise-grade server setups. This also includes the hard drives used inside the device as well.
A full-fledged server will usually use enterprise-grade hard drives, which often have high-performance SCSI or SAS ports instead of the SATA ports found on consumer-grade drives. These drives also have specially-optimized firmware designed to make the hard drive better at doing the kinds of things it has to do in a server (as opposed to the hard drive in your computer). NAS devices, however, will have the same kinds of hard drives you can find inside your computer. They aren't the best of the best, they're not designed to run 24/7, and they likely all came off of the assembly line within minutes of each other. When one hard drive fails (which the device will often be fault-tolerant enough to withstand), a second or third hard drive failure might not be far behind.
The Dangers of NAS Devices
Multiple-drive NAS devices, from the personal-use devices with two-drive RAID-1 mirrors, to the mini-servers with five-drive RAID-5 arrays, have a degree of fault tolerance. When one drive fails, the array keeps going without any data loss. But if you don't replace the failed drive, it only takes one more drive failure to cut you off from your data.
A NAS device can notify its owner via email when one hard drive has failed and needs to be replaced, and can even inform the user how to contact the manufacturer to receive a replacement hard drive. However, since it's so easy to just start using a NAS device right out of the box, many users forget to set up these alerts. When one drive fails, another can fail days, weeks, or months later, without the user even realizing that the first drive had failed at all. When the next drive fails, the whole NAS device goes belly-up.
NAS devices can also fail as a result of any of their other components going bad. Think of the NAS device like a miniature computer, then imagine how many ways your computer can fail. The CPU can break down, the RAM can go bad, the operating system can become corrupted, something on the motherboard could short out…
In addition to physical failure, accidents, such as an accidental quick format, can also spell doom for the data on a NAS device. Some NAS device manufacturers, such as Drobo, use proprietary filesystems in their devices, which the user doesn't notice but can confound freely-available data recovery software tools.
Regardless of the reason, when you've lost data from your NAS device, sometimes you really need to get it back. In these NAS data loss situations, Gillware is here for you with our NAS data recovery experts.
NAS Data Recovery by Gillware
When your NAS device fails, Gillware's NAS data recovery experts can retrieve your valuable data. With highly-skilled hard drive repair engineers in our certified clearoom data recovery lab and our expert logical data recovery technicians, the experts at Gillware Data Recovery can handle whatever your failed NAS device can throw at us.
Hard drives have very sensitive and delicate moving parts inside them. When they fail, often one or more of these delicate components are often to blame. Gillware's professional engineers can repair and replace failed hard drive components, such as read/write heads, control boards, and spindle motors. When hard disk platters become scratched or coated with debris, our state-of-the-art burnishing tools can clean the platters and save your data.
Our logical technicians can recover your data after an accidental reformat or reset erases the contents of your NAS device. Even if your NAS device uses a proprietary filesystem or twists the data you write to it in an unusual way, our NAS data recovery experts can recover and piece your data back together. No matter the problem, Gillware's data recovery experts are in your corner when you need data recovered from your NAS device.
Why Choose Gillware for NAS Data Recovery?
Gillware's NAS data recovery services are completely financially risk-free. We charge no evaluation fees. We can even provide an inbound UPS shipping label for you on our dime. We don't charge you unless we successfully fulfill your data recovery goals. If we cannot meet your needs or the price quote for our NAS data recovery services just doesn't work for you, you owe us nothing. We only ask for you to cover the cost of return shipping if you want your device returned to you (otherwise, we recycle your device free of charge). With prices 40-50% lower than other professional data recovery labs, Gillware Data Recovery makes our NAS data recovery services affordable as well as world-class in quality.
In Gillware's ISO-5 Class 100 certified cleanroom and SOC 2 Type II audited data recovery facilities, you need not worry about the health of your NAS device or the security of your data. You can sleep well at night knowing that your failed NAS device and the data we recover are both in good hands. No customer data ever leaves our building unless it's headed to its rightful recipient, and with encryption we ensure that nobody can intercept your critical data.
If your small business needs your data recovered from a crashed NAS server on the double, have no fear. Gillware Data Recovery is here. With our expedited emergency data recovery services, we can complete your data recovery case and send your data back to you in as little as one or two business days.
Why choose Gillware Data Recovery?
Gillware's data recovery services are affordably priced, technologically innovative and completely secure.
Best-in-class engineering and software development staff
Gillware employs a full time staff of electrical engineers, mechanical engineers, computer scientists and software developers to handle the most complex data recovery situations and data solutions
Strategic partnerships with leading technology companies
Gillware is proud to be a recommended provider for Dell, Western Digital and other major hardware and software vendors. These partnerships allow us to gain unique insight into recovering from these devices.
RAID Array / NAS / SAN data recovery
Using advanced engineering techniques, we can recover data from large capacity, enterprise grade storage devices such as RAID arrays, network attached storage (NAS) devices and storage area network (SAN) devices.
Virtual machine data recovery
Thanks to special engineering and programming efforts, Gillware is able to recover data from virtualized environments with a high degree of success.
SOC 2 Type II audited
Gillware has been security audited to ensure data safety, meaning all our facilities, networks, policies and practices have been independently reviewed and determined as completely secure.
Facility and staff
Gillware's facilities meet the SOC 2 Type II audit requirements for security to prevent entry by unauthorized personnel. All staff are pre-screened, background checked and fully instructed in the security protocol of the company.
We are a GSA contract holder.
We meet the criteria to be approved for use by government agencies
GSA Contract No.: GS-35F-0547W
HIPAA compliant
Our entire data recovery process can be handled to meet HIPAA requirements for encryption, transfer and protection of e-PHI.
No obligation, no up-front fees, free inbound shipping and no-cost evaluations.
Gillware's data recovery process is 100% financially risk free. We only charge if the data you want is successfully recovered.
Our pricing is 40-50% less than our competition.
By using cutting edge engineering techniques, we are able to control costs and keep data recovery prices low.
Instant online estimates.
By providing us with some basic information about your case, we can give you an idea of how much it will cost before you proceed with the recovery.
We only charge for successful data recovery efforts.
We work with you to define clear data recovery goals for our technicians, and only charge you upon successfully meeting these goals and recovering the data that is most important to you.
Gillware is trusted, reviewed and certified
Gillware has the seal of approval from a number of different independent review organizations, including SOC 2 Type II audit status, so our customers can be sure they're getting the best data recovery service possible.
Gillware is a proud member of IDEMA and the Apple Consultants Network.