Congratulations to all who entered our first cartoon caption contest!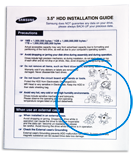 Thank you for your submissions and for taking part in something light-hearted with this blog. Data recovery is a highly technical field and the work determines whether someone will get their information back from a failed drive — whether it's a whole network's business data on a RAID-5 or an entire childhood's worth of family photos on the laptop. It's a responsibility we take extremely seriously and after it's successful, we always enjoy the breath of relief from our data recovery clients and the chance to have some laughs together.
So, here's our second cartoon caption contest using little drawing that we've scanned and magnified from a Samsung 3.5″ hard drive installation guide.
This time the drawing is:


Original Samsung Quote:
Do not touch the circuit board with hands or tools.
Protect the HDD from Electronic Discharge(ESD). MR Head is very sensitive in Electrostatic. Keep the HDD in their shielding bag.

Once again, the rules are simple.
Submit your caption to the cartoon above as a comment below.  We'll reveal some of the best entries and award some minor prizes based on how much Gillware stuff we have around the office when the contest closes.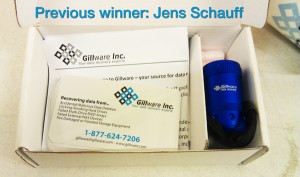 To give you an idea of what we're giving out, we took a photo of the prize package we gave to the first contest's winners.
Follow our tweets @gwdatarecovery and like us on facebook (Gillware Data Recovery) for announcements about the contest. The deadline for this one is Oct. 21, so submit as many entries as you like between now and the end of Oct. 21.
Be sure to always backup your data, but in case you don't, we're here to help.