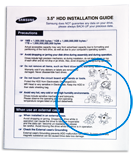 We recently came across the Installation Guide for a new Samsung 3.5″ hard drive. Alongside the instructions are tiny, goofy cartoons  — a bit like Sergio Aragonés drew in the margins of Mad Magazine — of hard drives in various modes of duress.
These tiny illustrations are supposed to be warnings about what not to do to a hard drive. To us, they look like examples of what might send a hard drive to our data recovery laboratory.
But we thought they could also be good for a little cartoon caption contest. Here is the cartoon under extreme magnification:
Original Samsung Quote:
Do not remove all items, such as Hard drive label, warranty label.
Warranty void if any stickers or labels are removed or damaged. Never disassemble hard drives.
The rules are simple:
Submit your caption to the cartoon above as a comment below.  We'll reveal some of the best entries and award some minor prizes based on how much Gillware stuff we have around the office when the contest closes.
Follow our tweets @gwdatarecovery and like us on facebook (Gillware Data Recovery) for announcements about the contest. We'll say the deadline for this one is Sept. 30, and we'll have more contests ahead.
We look forward to reading what you've got.