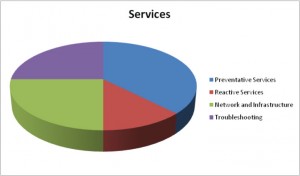 If you mapped out a breakdown of your managed service offerings, what different sections would there be? A significant portion of any MSP's service offerings should focus on preventative services. Of those preventative services an MSP offers, data backup and protection are a key component.
However, as important as these services are to the continuity of daily operations and the overall success of your clients' businesses, getting business owners and other key decision makers to spring for the level of data backup coverage they need can be difficult. Most of this difficulty is caused by frequently advertised and ultra-inexpensive backup software solutions that can be appealing to business owners looking to control costs.
So how do you, as an MSP, convince the decision maker of a small business that the $59 per year data backup solution they heard about during halftime of the Super Bowl is NOT the solution they should trust to protect their most critical business data assets?
The simple answer is this: You need to change the conversation from one about software to one about services. You need to be offering your customers a premium backup and data protection service, not just backup software.
All too often the conversation surrounding backup begins and ends with a list of software features. Does your software support AES encryption? Does it employ a differential backup algorithm? Can it retain multiple revisions of files? The list of specifications goes on and on, and unfortunately it's the wrong conversation to be having with your clients. The reality is that virtually all backup solutions perform these, and a slew of other backup related tasks.
When talking about a truly comprehensive backup strategy, the only question that should really be asked is the one that almost never gets asked:
How will my backups be monitored and tested, and who will be responsible for doing it?

With a $59 per year backup solution, the answers are "they won't" and "no one".
You can have the most full-featured backup solution in the world, but unless it is properly configured and monitored, there is absolutely no assurance that the data your client needs will be there when a data loss event occurs.
To steal a line from Ron Popeil, a proper data backup implementation is not a "set it and forget it" situation. Regardless of features, every backup solution is rendered totally useless without the input of a skilled technician to ensure it's properly configured, and the human eyes of that same technician to monitor the backups over time. As it turns out, human beings, not the backup software, are the critical cog in the data backup machine.
Your clients need to understand that it's YOU, not the backup software, which is solely responsible for protecting their data.
It goes without saying that if you are going to be selling your customers a premium backup SERVICE, you need to be able to deliver exactly that, otherwise that $59 solution starts to look pretty attractive. Delivering on this promise means picking the right backup provider. When evaluating providers remember to focus less on the mechanisms they use to actually back up the data and more on the management tools available that you, the MSP, will use to administer the solution on a daily basis.
The right provider will have a full suite of management, monitoring and reporting features that allow you to sleep easy at night knowing you are providing the level of backup service and protection your clients are paying a premium for.
So evaluate your backup provider options carefully, test them thoroughly, and good luck selling the best backup SERVICE on the market.